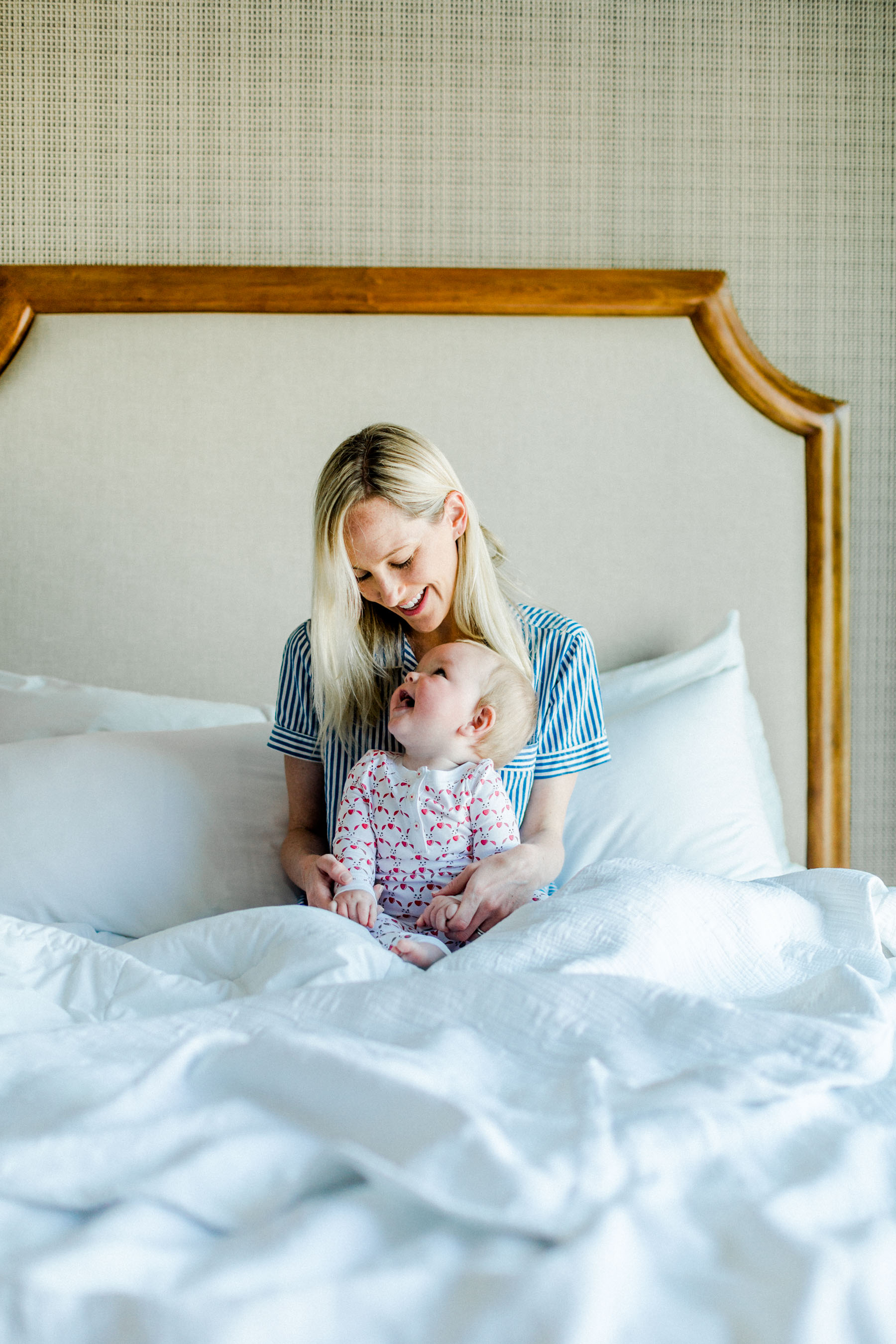 ThirdLove Maternity Bra / AG Legging Jeans on sale / Hooded Sweater on sale / Scalloped Cami / Emma's Dress (Similar here) / Emma's Pajamas
Over my (almost) year of motherhood, I've learned that breastfeeding is quite the controversial topic. So today, I'm teaming up with ThirdLove–which just came out with a new line of maternity bras–to talk openly and honestly about my experience with nursing my baby. My hope is that I'm able to start a meaningful conversation while driving home the idea that every mother, baby and family is different. Mom-shaming is real, and it's never been more important to support each other! We're all doing our best and care deeply about our children's wellbeing, after all. :)
~
I found breastfeeding to be extremely difficult. The act itself wasn't hard; I was very lucky that Emma latched immediately and my milk came in quickly. But nearly everything else was a challenge. First, I was (personally) very uncomfortable with breastfeeding in public, and felt like a prisoner in my own house. Once in a while, I had no choice and I had to do it in public… and I freely admit that I never so much as received a disapproving glance from a stranger. (So nice!) But I've always been a conservative girl, and I hated doing it. I fumbled with my bra and the clasps were constantly getting stuck; I'd blush a deep shade of red, fearing I'd flashed the world. (But did you hear?! ThirdLove just came out with the best nursing bras. I'll definitely be using them for Baby #2, if we're so lucky!) Similarly, when friends and family would come over, I felt the need to disappear for 45 minutes to feed Emma. I was bummed, as I desperately needed the social interaction, and I missed everyone! Finally, and this is undoubtedly the most important part, Emma wasn't getting the calories she needed from it. I know, I know. It's hard to believe, considering what a chunker she is today. ;) But she was so comforted by breastfeeding that she'd fall asleep five minutes into it. We tried everything we could to keep her eyes open, but it just didn't work that well. She'd wake up ridiculously upset because she was so hungry, I'd feed her, she'd fall asleep… and then we'd repeat the same process over and over again–well into the wee hours of the morning.
Somewhere in the middle of the fourth month, our pediatrician recommended that we start integrating formula into Emma's feedings to develop good routines and to help her pack on the pounds. It helped so much, and it actually allowed me to continue breastfeeding longer than I think I would have had we not gone that route. Emma's crying tapered off, she started sleeping through the night, and we were able to get out of the house way more often.
When the idea was first proposed to me, I was pretty upset. I felt like a failure; like I couldn't provide for my own daughter. And I was sad to give up bonding time. But after a few weeks, I realized that it was the right move for our family. Emma was happier and healthier, and I was happier and healthier. Mitch was happier too! I still fed Emma the majority of the time, but he was able to give her the bottles, which he loved… and it allowed for a few extra hours of shuteye for Mom. ;) By the end of the fourth month, I'd stopped completely.
Long story short, I'm really glad I breastfed Emma for the time that I did, but I'm not ashamed of the fact that our family decided to transition her to formula during month four. Yes, there are mothers out there who are able to do it for much longer, and their babies are able to thrive. I'm just not one of them, and that's okay. Maybe with Baby #2, things will be different. Or maybe they'll be the same. I'm just reminding myself that every mother, child and family is different and has different needs. Playing the comparison game is such a waste of time.
But back to ThirdLove. The brand, known for its beauty and comfort, carries 47 sizes and 15 styles. And now, ThirdLove has a maternity line. While it wasn't around when I first had Emma, I've been testing out the bras for a while now, and I can't believe how wonderful they are! Buying a maternity bra wasn't at the top of my to-do list when I was pregnant, but I now realize that it should have been. I just grabbed one at a local store and called it a day. But the no-name bra poked me in all the wrong places, and it really added to my discomfort during my recovery. (Which, if you remember, wasn't exactly a cakewalk.) It was also straight-up ugly, haha, which wasn't very helpful, considering my self-esteem kind of took a hit right after childbirth.
The ThirdLove bras, however, are magical. First of all, you can't even tell that they're maternity bras. They look like regular bras and they feel like regular bras. The only real difference is that there are clips up top to let the cups down, and three clips in the middle, giving moms another feeding option. Unlike my old bra, the clips don't get stuck; they work. This would have been HUGE for me! I think I would have felt a lot more comfortable feeding in public and in front of other people had I had this. I also love the bra's gold accents. (So pretty.) And those pleated straps? Functional (they don't dig into my shoulders) and adorable.
My favorite part about the maternity bras, however, is that they come with underwire or without underwire–while still offering great support. When I first had Emma, I only had maternity bras with underwire in them, which made for incredibly uncomfortable nights. (Couldn't sleep without a bra on, otherwise I'd end up soaked by morning. TMI, I know, but you need somewhere to put those nursing pads.) I've fallen asleep in my ThirdLove bra several times, though (#hotmess), and no discomfort whatsoever. I'm a big fan. :)
Some other awesome facts about ThirdLove: The company's bras are designed from the real measurements of millions of real women, and they come in exclusive half-cup sizes. They feature tagless labels, straps that won't slip, ultra-soft fabrics, and lightweight memory foam cups that reform after each wash. The best part? You can try of the company's best-selling bras for free for 30 days. If you don't love your bra, simply send it back… no questions asked.

Anyway, we'd love to start a discussion and hear your breastfeeding story if you're open to sharing it. :) And if you'd like to try ThirdLove, shop the new maternity line above!
Shop the post:
ThirdLove Maternity Bra / AG Legging Jeans on sale / Hooded Sweater on sale / Scalloped Cami / Emma's Dress (Similar here) / Emma's Pajamas

In collaboration with ThirdLove, but all opinions are my own. As always, thank you so much for supporting the brands and partnerships that keep Kelly in the City up and running!
SaveSave