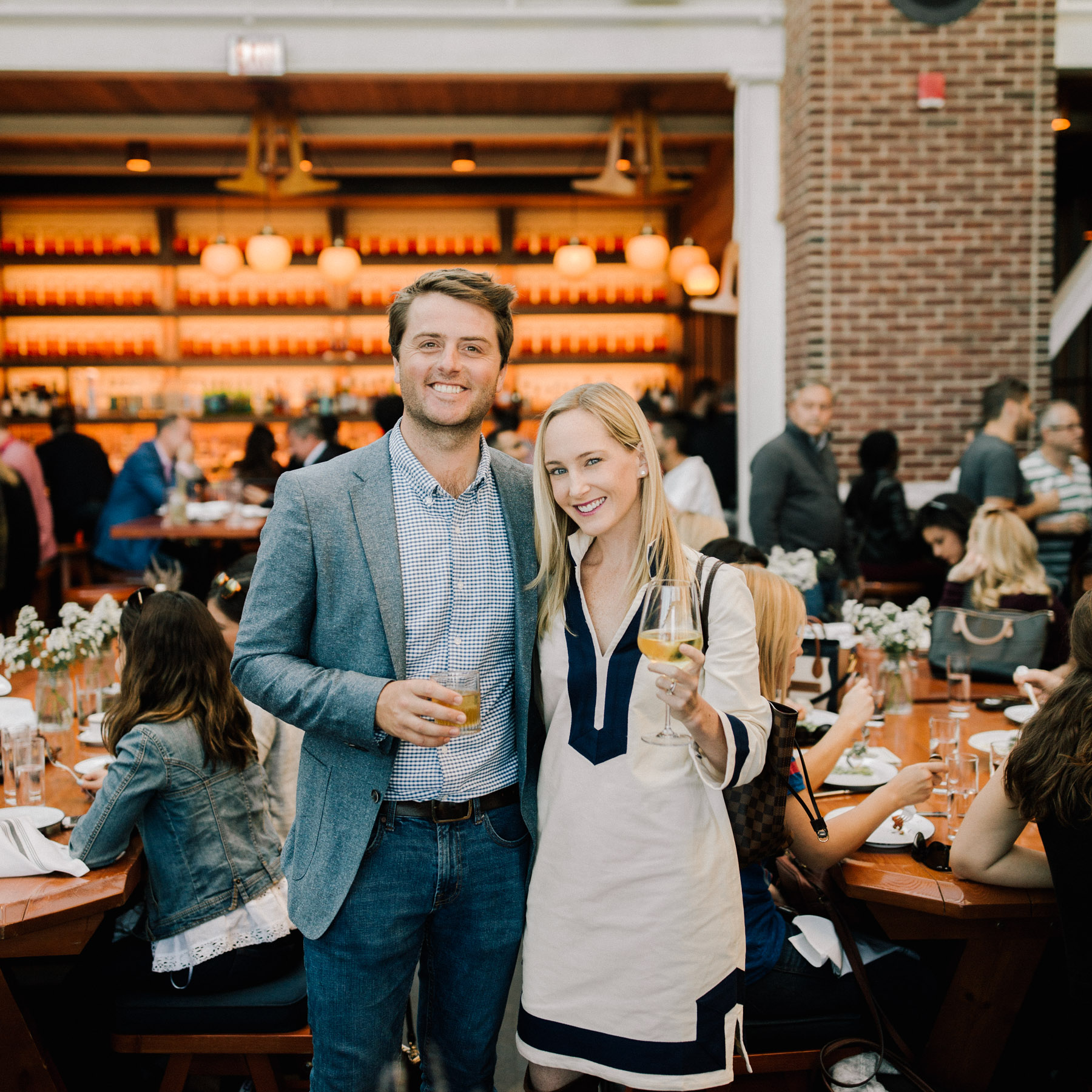 Sail to Sable Dress c/o / Stuart Weitzman Lowland Boots (In brown here. More affordable here.) / Louis Vuitton Tote (Available here, here and here. Looking for an affordable brown tote? Kelly LOVES this one!)
Mitch here!
I never considered how hard it would be to leave my kid with a babysitter. As it turns out, leaving little Emma behind is really tough. She needs me to cut her grapes in quarters, pop up from the staircase and surprise her, and sing "Twinkle, Twinkle Little Star" (her current favorite) at nap time. It takes quite the offer to pull me away from those responsibilities!
But such an offer came in the form of an invitation from The House of Angostura to the Grand Cochon Punch King LAST CALL bartending competition last weekend, and though I still felt guilty leaving Emma at home, I couldn't say no. Here's why:
A chance to dress up and take my beautiful wife out on the town? Done! Kelly and I hadn't been on a date for months and on our last date, I fell asleep with my mouth wide open during a Ryan Adams concert.
We'd spend the day on a sunny rooftop overlooking Millennium Park and Lake Michigan? Easy one! I don't know if you've heard, but a winter hellscape is about to descend on Chicago and while drinking on a roof doesn't really count as "the outdoors," I jumped at the chance.
I'd sample unlimited punch recipes from the country's best bartenders? Are you kidding?! The closest thing to a bartender that I get these days is Kelly walking by the kitchen. "Kelly? Grab me a beer?" So that was a big yes.
Long story short, we got a sitter, and last Saturday afternoon, we were standing on top of the Chicago Athletic Association… sipping drinks!
I'm not much a mixologist–which I'm sure you know if you've ever read any of my Cookin' with Mitch posts. The cocktails I usually make simply involve putting whiskey in a glass… and I sometimes even skip the glass. These bartenders, however, hailed from the kind of establishments that would never let a guy like me in. They knew their stuff! I'm talkin' about drink recipes with ingredients like Chai-Lemon Oleo Saccharum, Thai chilis, grilled pineapple syrup, and of course, Angostura aromatic and orange bitters. Erik Eastman of Minneapolis infused his punch with stewed pork juices served in his grandmother's antique crystal. It was so good. This event was crazy, in the best possible way.
My personal favorite was Sarah Rahl's "Come and Take It," a cocktail that had 14 ingredients including extract of grilled peaches. It tasted like a straight-up peach, fresh off the grill… which made me nostalgic for the grilled peaches I ate as a kid, even though in reality I'd never had a grilled peach in my life. (Who grills peaches?)
Kelly isn't much of a bourbon drinker, but she does crush large volumes of Chardonnay on the reg. (Climbin' those mountains!) Luckily, though, Silver Oak (a Kelly Larkin favorite) was there, pouring to their hearts' content. I think they even convinced us to take a Napa trip next spring.
I learned a lot at Grand Cochon's Punch Kings LAST CALL. I learned that day drinking is much easier when you're 24 instead of 32. I learned that drinking boiled pork juice in whiskey tastes much better than it sounds. And I learned that a guy like me can put together a decent mixed drink at home with a few simple ingredients.
If you can mix up whiskey, sugar, Angostura bitters, and a few ice cubes, you've got yourself a solid Old Fashioned, for example. And if you're out of sugar and ice, whiskey and Angostura bitters count as an Old Fashioned, too! Angostura bitters are this magical little ingredient that make it seem like you know what you're doing, mixology-wise… whether you're the world's best bartender or just a drunk guy at home. ;)
As I close up this post, I'm starting to feel guilty about abdicating my home duties again. It's going to take some kind of whopper offer to drag me away from fatherhood again, but I had a great time this time around!
Mitch. Out.
Shop the post:
Sail to Sable Dress c/o / Stuart Weitzman Lowland Boots (In brown here. More affordable here.) / Louis Vuitton Tote (Available here, here and here. Looking for an affordable brown tote? Kelly LOVES this one!)
This post was sponsored by House of Angostura, but all opinions are our my own. As always, thank you so much for supporting the partnerships that keep Kelly in the City up and running!