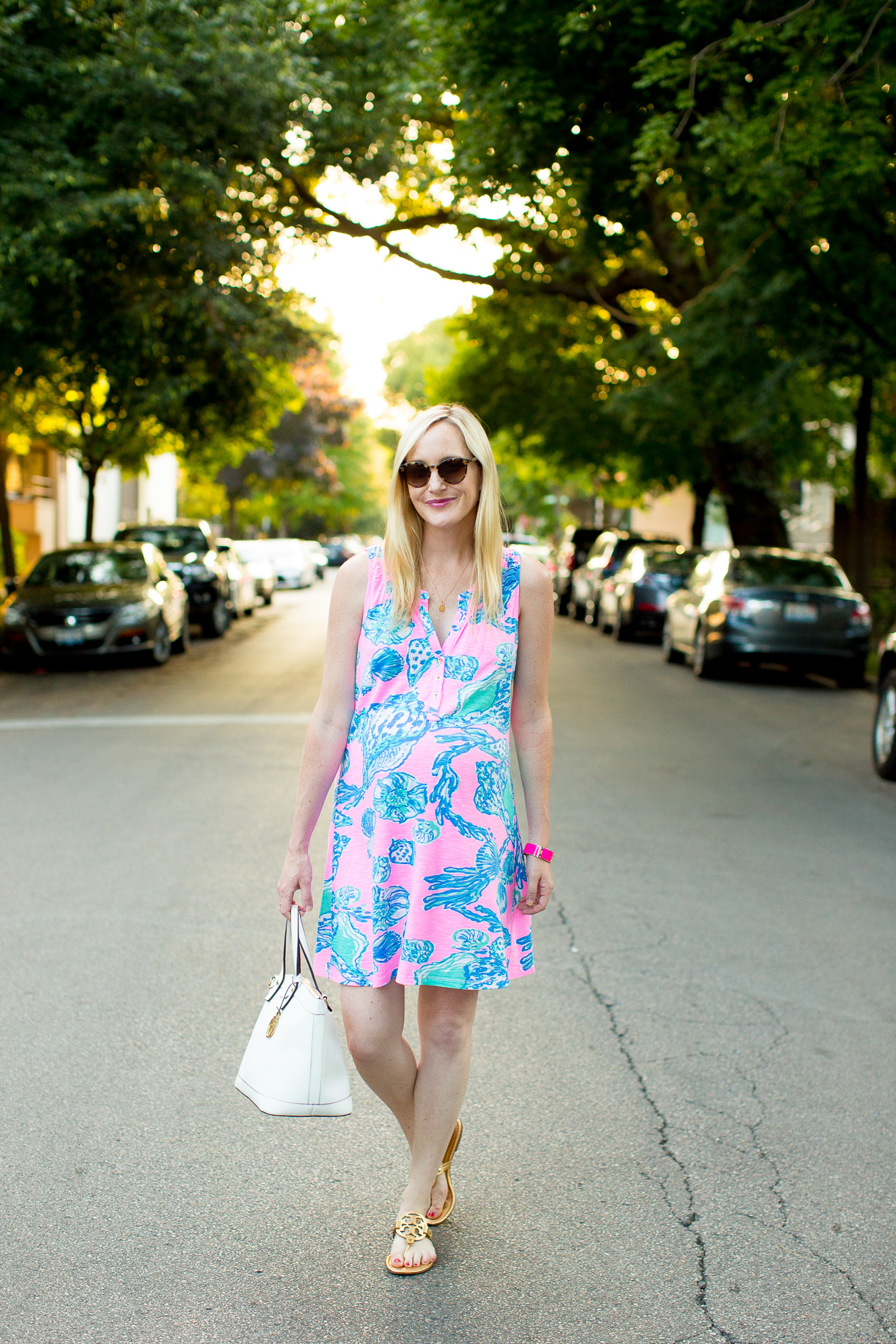 Lilly Pulitzer Dress (Also available here and here. I love the navy version, too! Lilly Pulitzer and Zappos also a bunch of the dresses and tops. SO flattering!) / Tory Burch Sandals (And love 'em in these colors, too. The navy?!) / Henri Bendel Bag c/o (My favorite is the gold! And the black is such a classic.) / C.Wonder Bangle / Helen Ficalora Necklace c/o (But love this similar Kate Spade version, and this one, too!) / Similar Sunglasses / Pearl Earrings (What a steal!)

Guys, I LOVE this Lilly dress. (Also available here and here.) It's basically the Elsa but in a t-shirt material dress form. And I can't believe I just discovered it, as I've been majorly suffering in this heat and humidity. My vampire legs are seeing the light of day! And I'm SO much cooler!
But seriously: It's super flattering if you're pregnant, and I can only imagine how flattering it would be if you're not. For reference, I normally wear a size 0/XS in Lilly Pulitzer t-shirt dresses, and I'm wearing a medium in this one (as well as the top version) at nine months pregnant. So if you're pregnant as well, I'd recommend going up two full sizes. If you're not, I'd go with your usual size.
I also recently found my Tory Burch Miller sandals while unpacking the master bedroom. (Clearly I'm going very slowly, haha.) I'm to the point where wearing heels is kind of out of the question, so comfy, gold sandals are a godsend. Just because I'm super preg doesn't mean I don't want to look nice for nights out on the town! And by "nights out on the town," I just mean ice cream runs. Livin' large! Literally…
I could sit here and babble on for a while longer, but I haven't been getting enough sleep lately, and my bed is calling my name. As is my vacuum cleaner, haha, but I'll tackle that when I wake up. ;)
Here's hoping that this is one of my last "bump" outfit posts!
Don't forget to shop the Nordstrom Anniversary Sale, now open to the public:
Kelly's Current Faves

Shoes

Clothing

Bags & Accessories

Beauty

Shop the post:
Lilly Pulitzer Dress (Also available here and here. I love the navy version, too! Lilly Pulitzer and Zappos also a bunch of the dresses and tops. SO flattering!) / Tory Burch Sandals (And love 'em in these colors, too. The navy?!) / Henri Bendel Bag c/o (My favorite is the gold! And the black is such a classic.) / C.Wonder Bangle / Helen Ficalora Necklace c/o (But love this similar Kate Spade version, and this one, too!) / Similar Sunglasses / Pearl Earrings (What a steal!)