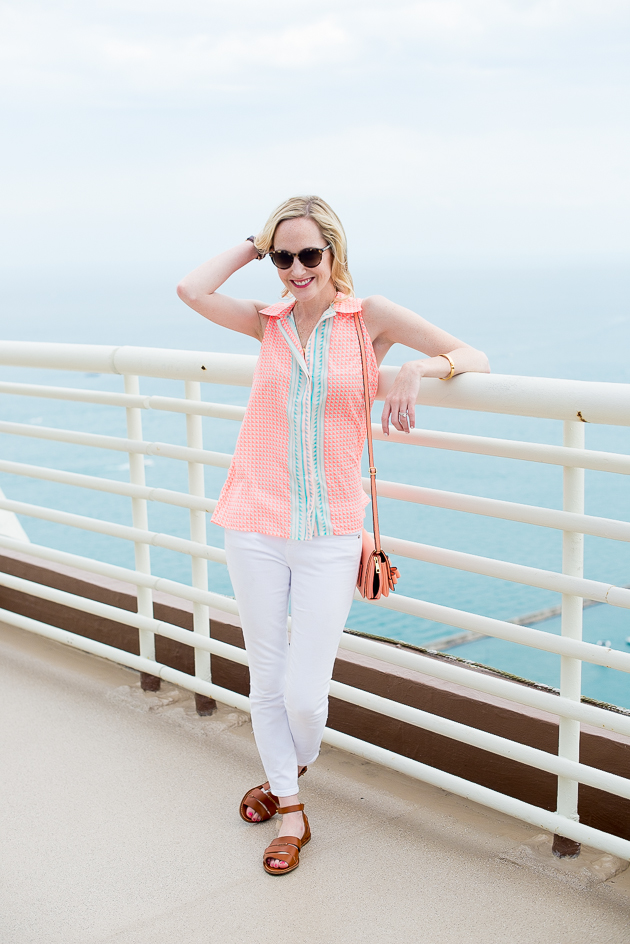 Julie Brown Designs Top c/o / Kate Spade Sunglasses (Old, similar here and here) and Bracelet (Old, similar here) / Madewell Jeans (Also love J.Crew's white skinnies!) / Target Purse (Borrowed from Jess) / Tommy Bahama Sandals c/o / Moon and Lola Earrings c/o Tuckernuck / Helen Ficalora Necklace c/o / Daniel Wellington Watch c/o
First, a very happy birthday to my amazing mother! Mom, I can't wait to celebrate with you tomorrow. I love you so much, and I couldn't imagine life without you. :) Let's get our Lilly on this weekend, okay? (#twinning)
Second, I can't thank you guys enough for the sweet words regarding yesterday's announcement of the blog redesign! Seriously, thank you. It was something I'd worked on for a long time, so I really can't tell you how much your kindness meant to me. I mean… shucks.
Of course, today's a new day, and somehow I've forgotten yesterday's milestone and have already started thinking about the "next thing." Which is why I think Ocean City is coming at such a good time, haha.
Third, can you even get over how much Lake Michigan looks like the Bahamas? Before moving here, I knew the lake was beautiful, but I guess I never realized just how blue it was. It's a photographer's dream, for sure! It makes me feel like I'm far, far away from the city… even when I'm on top of a massive high-rise. ;)
Fourth, Mitch and I had to delay our trip to the Shore for a day because poor little Noodle is sick! She has some kind of stomach bug, and it got pretty bad yesterday. So we're following the vet's orders, and monitoring her every move. (Poor Noodle, haha.) She had her first round of medicine yesterday, though, and I feel like there's a bit of an improvement!
But say a prayer for my little girlfriend. Because she's such a sweetheart, and I hate seeing her like this! (As do my rugs.)
Fifth, I dropped my camera yesterday and it's not functioning anymore. Needless to say, I'm completely devastated. Say a little prayer for me as well, I suppose, as I'm going to bring it into the camera repair gods today. (Actually, does anyone have a recommendation for excellent repair services in Chicago? I had this place on East 13th Street back in New York that I absolutely loved, but sadly that's not in the cards–nor do I think it's even still open.) Sigh. But as my dad said last night, "If this is the worst thing that's going on in your life right now, Kelly, you're doing well."
And he's right. It's all about perspective, right?
(But seriously: COME BACK TO ME, MY BELOVED NIKON. Come back…)