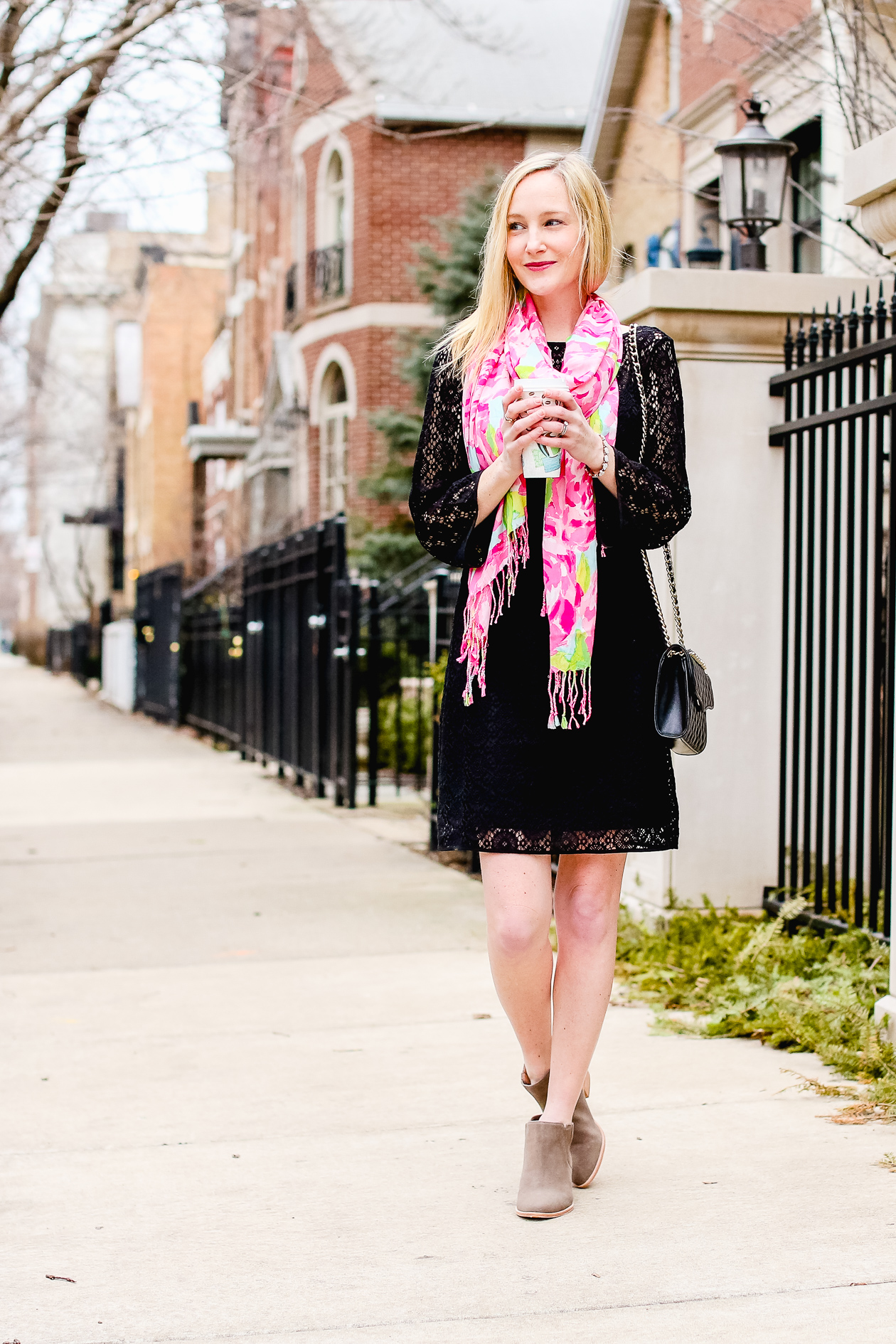 Joie Booties, Lilly Pulitzer Dress and Scarf, and Rebecca Minkoff Bag c/o Zappos / J.Crew Coat
Do I look a wee bit tired here? Mitch snapped these photos a few days ago before he went to work and before I headed off to an early meeting. I simply cannot, for the life of me, become a morning person. (Despite my plan to become one.) And I don't know what's wrong with me, but it definitely takes me a good couple of hours before I can get rid of "Tired Face." You know: the puffy, squinty eyes; the fly-aways that come from freshly blow-dried hair (reminder to replace used-up product STAT); and the tears that come from constant yawns.
Ever see those girls on the subway who look completely put together, despite the fact that it's 7 am? HOW DO THEY DO IT? Did you, ma'am, get up at 5 a.m. to make yourself look like that? Or are you just a super human?
Granted, I'm out of practice. I used to be relatively good at waking up at the crack of dawn and hauling my butt to the Bronx by 7:30, but these days, not so much. When I do have early starts, though, I try to choose comfortable-yet-fabulous outfits. Otherwise I'm just a grump. ;)
Chicago had some snow dumped on it yesterday, but I swear that up until then, the city was warming up! I've loved wearing lighter coats, rolled up jeans and long-sleeved dresses, and this outfit was without a doubt my favorite from the past week. (Even though I wish we'd photographed it a little later in the day, haha.) While I was a little chilly, I only had to walk about 10 blocks outside, so I totally pulled off the whole bare legs thing. Eeee! As I sit here in heavy jeans and an oversized wool sweater.
In regard to my outfit:
I've been swooning over this pair of Joie Booties for the longest time, and they're just as fabulous as I thought they'd be! They run true-to-size and feature a lower heel, which is great for city walking. They're also the perfect boot to help me transition from winter to spring.
I've been talking about wearing more black this year, and ladies and gentlemen (?), I present my new favorite LBD! The sleeves, while not the most substantial, surprisingly add quite a bit of warmth, yet I know I'll get a lot of wear out of the dress during spring and summer, too. And the scarf? Well, it's one of my favorite Lilly prints, and it's hard to find… so it definitely adds something special for me. ;)
Finally, I can't even tell you how much I'd love to own a Chanel bag, but with all the expenses Mitch and I have faced this year, I'm pretty happy with this Rebecca Minkoff purse. It achieves the same look for, like, four percent of the cost. Score!
And in case you're wondering, everything came from the Zappos app. :) With the company's fast & free shipping and returns, it's easy to amp up over-worn winter looks straight from the couch. And, I mean, who doesn't like the sound of that?! Download the app here!
In other news, Kelly in the City turned three this week!
Or it may have turned three last week. Not sure if my first week of posts, which really just entailed me introducing myself and talking about my wedding shoes, counts. (Gripping content.)
I'd totally planned on doing a cute post with a gold balloon in the shape of a number three (like so many bloggers do, haha), but alas. I didn't get my act together in time, and I hate planned-out shoots. I wish I enjoyed planning them… but I just don't think it's in my nature. I'm a throw-on-my-clothes kind of girl, and I think I always will be, much like I'll never be a morning girl. ;)
Anyway, a bit of reflection today:
Over the last three years, I've definitely had my ups and downs with this blog. There were times when I found great difficulty in managing it (specifically during holidays, and while teaching full-time and traveling), and there were times when I struggled to create engaging content. There were also times when I was discouraged and wondered whether investing so much time in a website was even "worth it." And there were times when I was confused about how to handle blogging while going through stuff I wasn't ready to share yet. (Gloss over it? Just pretend everything's fine? Be annoyingly vague?) 
But then there were times when I couldn't wait to sit down and blab to you guys about whatever was going on in my life; times when I had a zillion ideas; times when I was ridiculously proud of seemingly small feats; times when I fell into amazing conversations with readers I'd never met in person before; times when I had pinch-me moments and experiences I'd never dreamed of having; times when I realized blogger friends were becoming best friends; times when I opened my email inbox to find the most exciting stuff; and times when I realized it was worth it.
Those times far outweigh the others… and to think: it all started with posts like this one.
YIKES.
While I can appreciate that I've grown in the last three years, I'm also happy that I have so, so, so much left to learn and do. There's coding to tackle, stories to be shared, experiences to be recorded, and a movement away from constant outfit posts to be had. (Outfit posts are easy and fun, but I've really been enjoying mixing up my content in 2016!) And there are things in the pipeline that I don't even know about yet. Which I love.
I know I say this every year, but it's so necessary:
Thank you for all of this.
Thanks for coming to this little site every so often and checking up on me. Thanks for enabling me to leave a job that was killing me, and try my hand at entrepreneurship and the freelance game. Thanks for being a friend, even if we haven't had the pleasure of connecting in person or via the web yet. Thanks for giving me this amazingly cool and different life. I am beyond appreciative.
I know I also this a lot, too, but I mean it: If there's any way I can help you with whatever creative endeavor you're working on, please reach out. (kelly@kellyinthecity.com.) So many people have helped me grow over the last three years, and I'm a firm believer in "pay it forward." :)
Here's to Year Four!
Outfit Details:
Joie Booties, Lilly Pulitzer Dress and Scarf, and Rebecca Minkoff Bag c/o Zappos / J.Crew Coat