A linen shirt is such a staple piece for summer, and today I'm sharing how to style a linen shirt in three different ways, from a bathing suit coverup at the beach to a summer evening outfit to a cute and casual everyday look.
Beach Outfit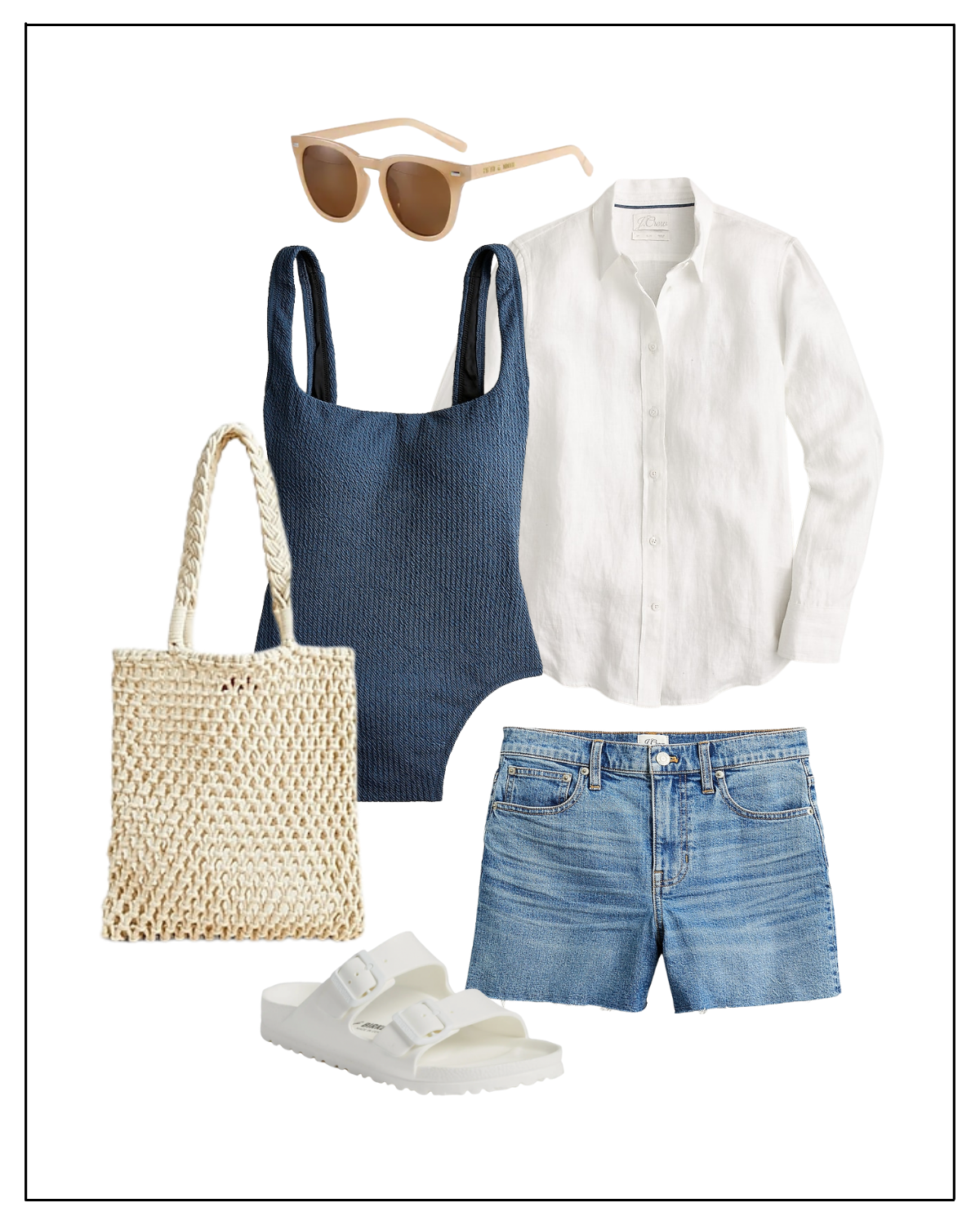 Linen Shirt / Jean Shorts / Navy One Piece Bathing Suit / Sunglasses / Beach Tote Bag / Waterproof Birkenstock Sandals
One of my favorite ways to style a linen shirt is as a swimsuit coverup since it's so lightweight and breathable. You can wear it a couple of ways over your bathing suit. Unbuttoning just the top couple of buttons, unbuttoned all the way, or tying the shirt tails in a knot. Then I like to throw a pair of jean shorts over my bathing suit for the walk down to the beach (or the pool) and bring a beach tote bag that can fit all of my essentials. Sunglasses are a must. I love having a pair that I don't mind getting sandy or wet, and these are a cute option. Lastly are beach shoes! These waterproof Birkenstock sandals are amazing. They're easy to clean and under $50.
Summer Evening Outfit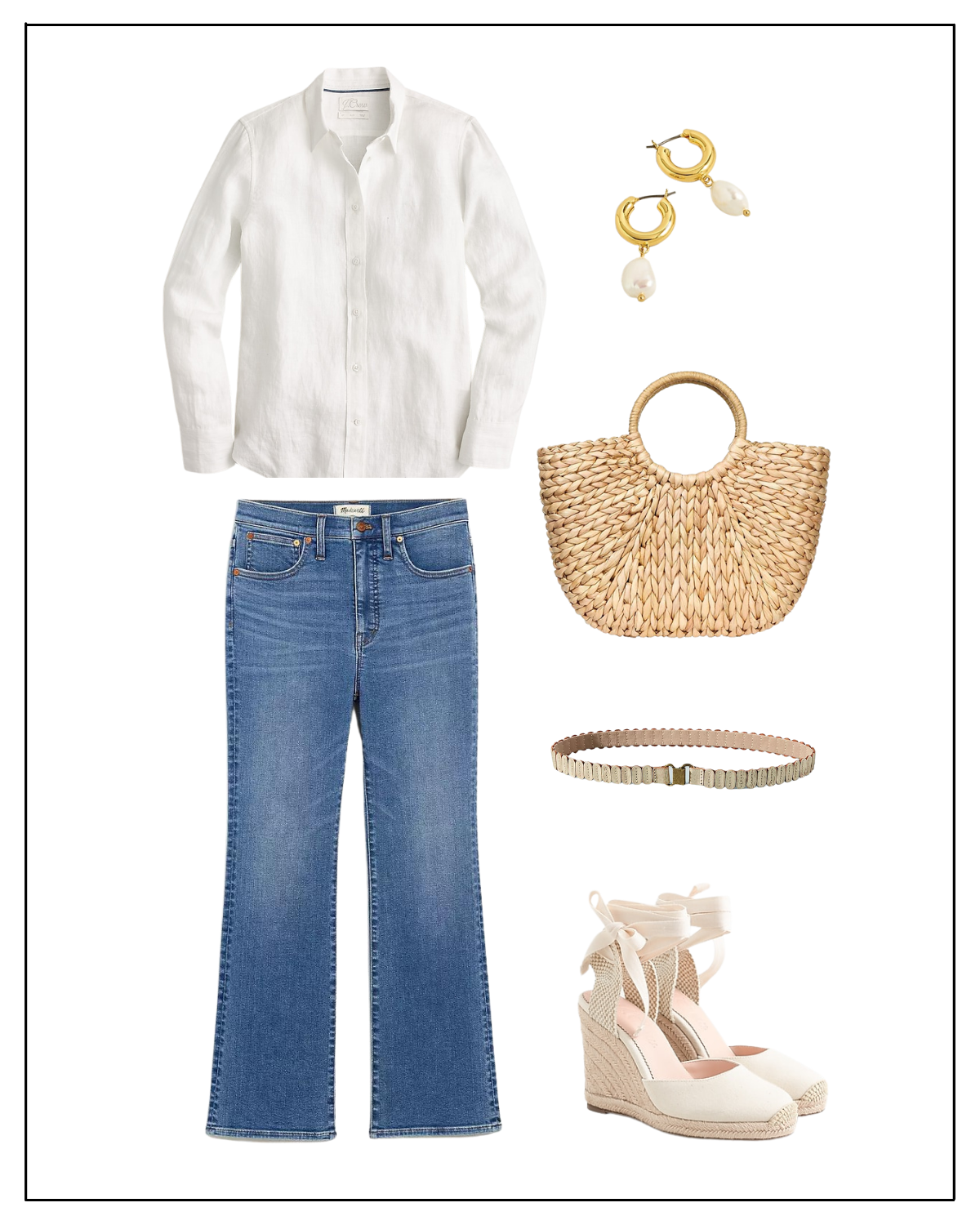 Linen Shirt / Demi Boot Jeans / Pearl Huggie Hoop Earrings / Straw Tote Bag / Belt / Espadrille Wedges
You can also dress up a linen shirt for a cute summer evening outfit. French tuck the same white linen shirt into a pair of demi boot jeans. This style is fitted through the thigh and then flares out towards the ankle. It fits so well on everyone. They're on sale for under $100 at the moment, so if you haven't tried a pair on before, I'd snag one now. Seriously, I can't rave enough about these jeans. Since the jeans are slightly cropped, they look wonderful with espadrille wedges which give you a little height. Accessorize with a pretty belt, dainty pearl huggie hoop earrings, and this straw tote bag, an Amazon favorite of mine.
Cute & Casual Outfit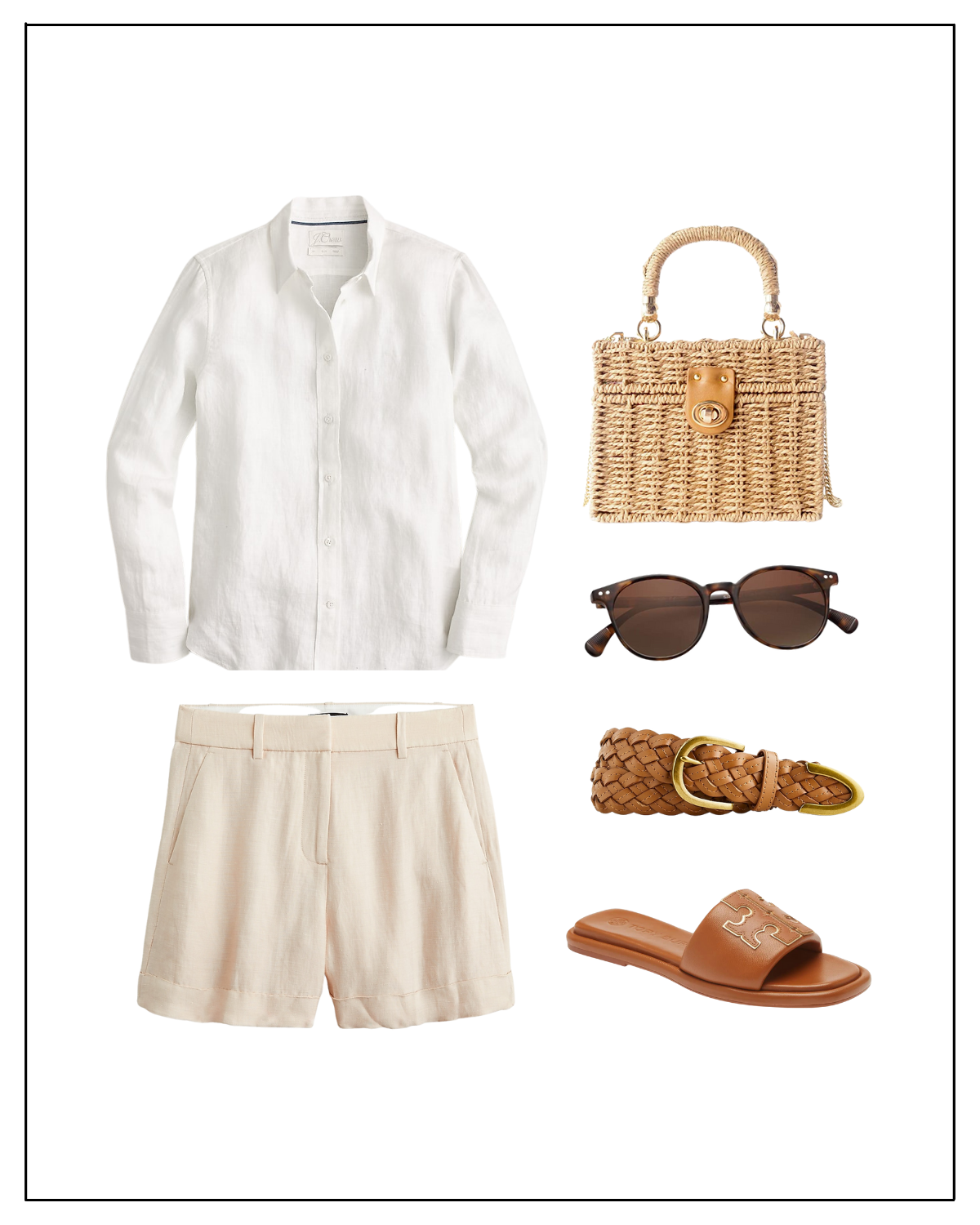 Linen Shirt / Beige Linen Shorts / Rattan Basket Bag / Sunglasses / Braided Leather Belt / Leather Slide Sandals
The last way I love to style a linen shirt is a linen on linen look. You can either mix and match colors or go for a monochrome look to do this. Here I went for the contrast and styled a white linen shirt with these high-rise light beige shorts. French tuck the shirt and add a braided leather belt to tie everything together. Accessorize with this cute rattan basket bag that's under $20 and these sunglasses that are under $15. All you've got to do is slide on a pair of leather sandals, and you're ready for your summer day plans.