I have fabulous news. My wedding dress fits!
I didn't blog about this after my first two fittings, but my dress was originally too tight. I seriously thought I was in danger of cracking ribs while in it. In order to get it on, I had to arch my back like crazy and let out as much air from my lungs as possible. Once it was zipped up, moving was pretty difficult, and breathing kind of hurt. Sheesh.
Blazer: J.Crew, also loving similar styles here (On sale!), here and here (On sale!) / Jeans: J Brand, similar here and here / Pumps: Kenneth Cole, similar here by Franco Sarto, here by Madden Girl (Save!), here by Cole Haan (Splurge, but so worth it. Super comfortable, and comfort matters!), here again by Cole Haan (More affordable and just as comfortable!) and here AGAIN by Cole Haan (Even better price, and again… So comfortable! Can you tell I love Cole Haan shoes?) / Earrings: J.Crew / Sunnies: NYC street vendor, similar here (Splurge), here (Save), here (Save) and here (Super save) / Bag: Michael Kors, also loving these amazing colors! / Watch: Marc Jacobs / Bracelets: C.Wonder, also available in gold, and Henri Bendel / T-shirt: J.Crew Factory, similar here (Both on sale! And take an additional 30 percent off with code "SALE30"!) / Necklace: C.Wonder (Side note: How cute is this anchor necklace, also from C.Wonder?)
I knew the dress was too tight when I first put it on in early April, but everyone told me that I'd just never worn a wedding dress before so I probably just didn't know how one feels. "They're supposed to be tight!" they told me. The seamstress also mentioned that there also wasn't very much material to allow for letting the dress out. So I said okay.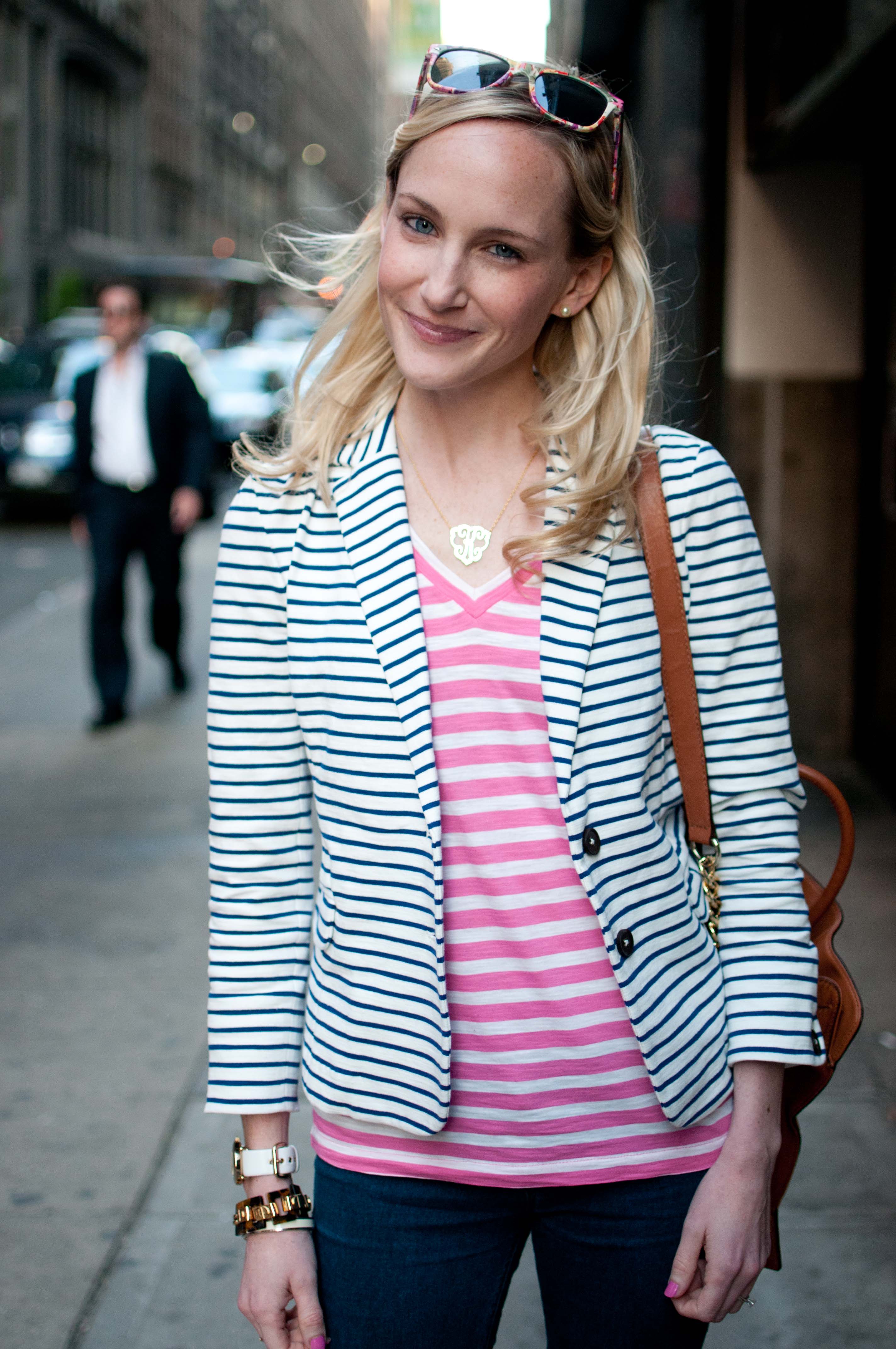 I wasn't sure what had happened. I was between two sizes when I was first fitted for the dress, but I did go with the larger of the two. (Thank heavens I didn't go with the smaller! Good god.) I also didn't gain a significant amount of weight since being measured. Needless to say, I was a a bit upset that the dress wasn't perfect. I'd always imagined myself in a gown that was super comfortable and allowed me to move freely. This was quite the opposite.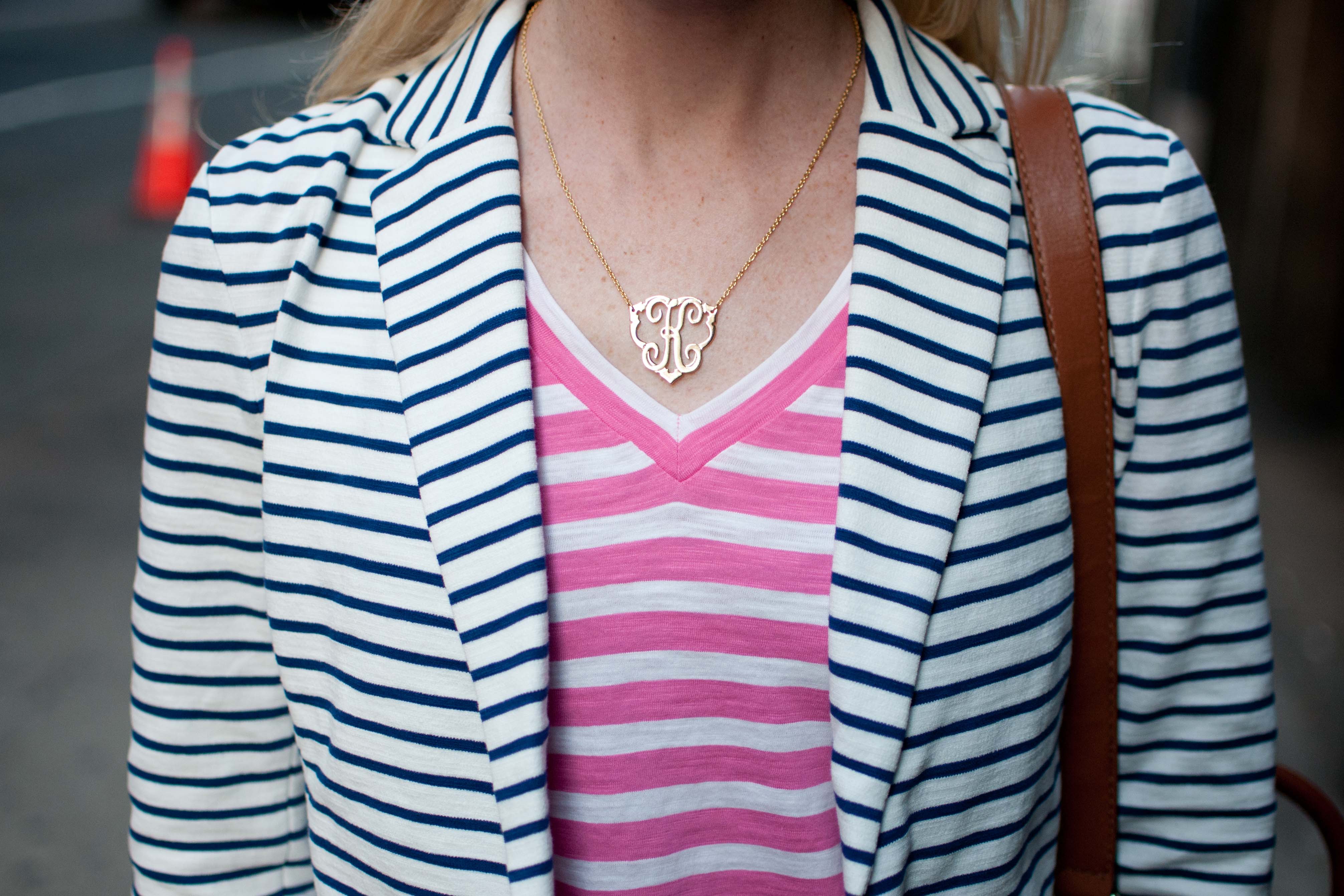 Eventually I realized that I was stressing way too much about it, and wasn't comfortable. I actually had a nightmare in which I split the back of my dress at the wedding. Mortifying. So I called back and explained that I really, really needed some space in the dress. Whatever my seamstress could give me! Yesterday, I went back for my third fitting to try it on. And it is sooooo much better! :) I'm not sure how she did it, but my seamless is amazing and let the dress out enough so I can lift my arms, breathe, and even bend over without pain!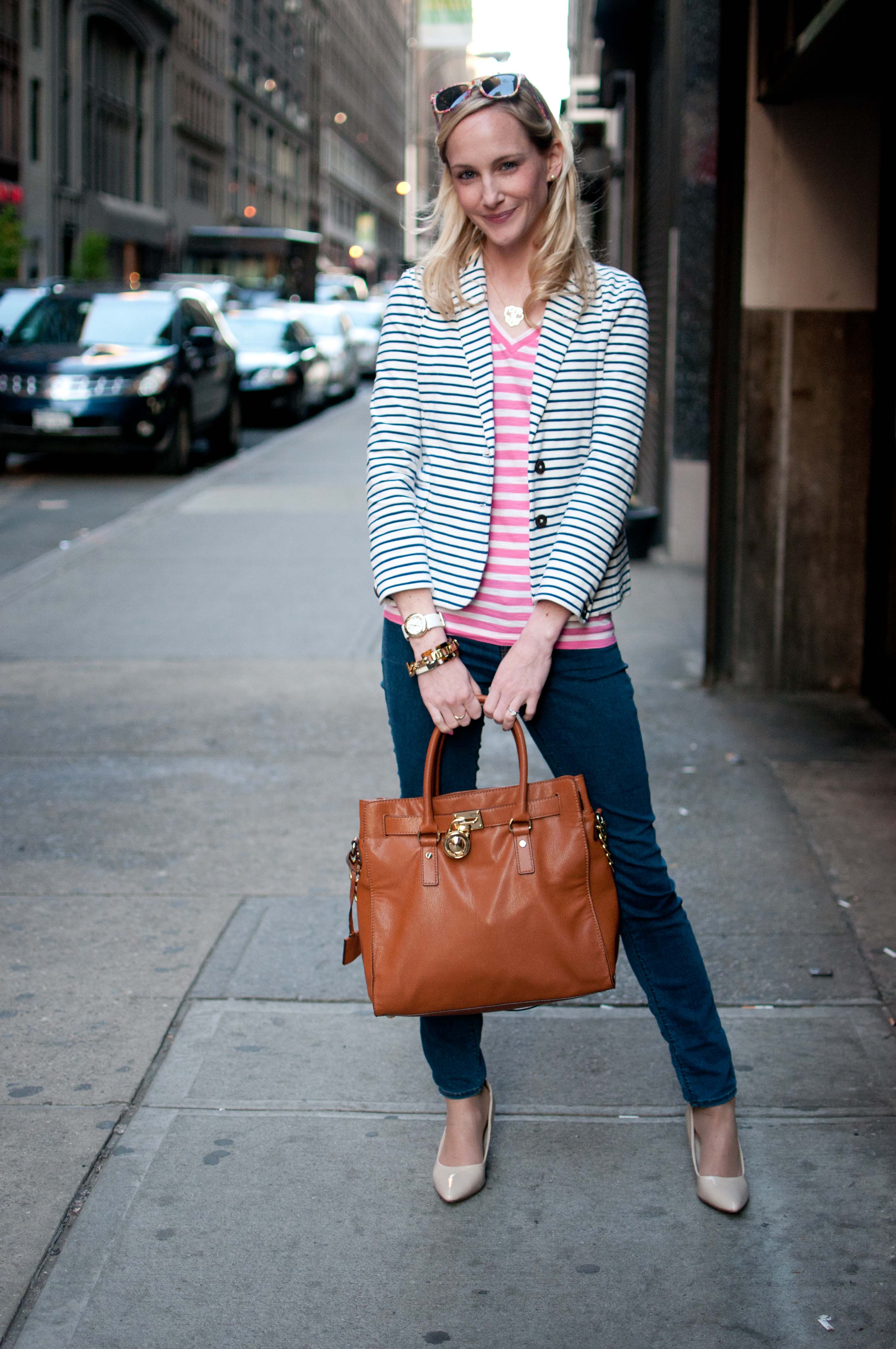 I am beyond thrilled. All's well that ends well. The dress really is perfect now, and I'm so, so happy. I didn't want to take it off when I was in the dressing room! I'll pick it up with my mom at the end of May. Can't believe the wedding is about two months away! So excited. Can't wait to marry my best friend.
Blazer: J.Crew, also loving similar styles here (On sale!), here and here (On sale!) / Jeans: J Brand, similar here and here / Pumps: Kenneth Cole, similar here by Franco Sarto, here by Madden Girl (Save!), here by Cole Haan (Splurge, but so worth it. Super comfortable, and comfort matters!), here again by Cole Haan (More affordable and just as comfortable!) and here AGAIN by Cole Haan (Even better price, and again… So comfortable! Can you tell I love Cole Haan shoes?) / Earrings: J.Crew / Sunnies: NYC street vendor, similar here (Splurge), here (Save), here (Save) and here (Super save) / Bag: Michael Kors, also loving these amazing colors! / Watch: Marc Jacobs / Bracelets: C.Wonder, also available in gold, and Henri Bendel / T-shirt: J.Crew Factory, similar here (Both on sale! And take an additional 30 percent off with code "SALE30"!) / Necklace: C.Wonder (Side note: How cute is this anchor necklace, also from C.Wonder?)