I haven't been taking a lot of photos lately because March in Chicago is gross, haha. Here's some randomness I snapped with my phone over the last week or so, though. 🙃 (I used to do a series like this and have been thinking about bringing it back!)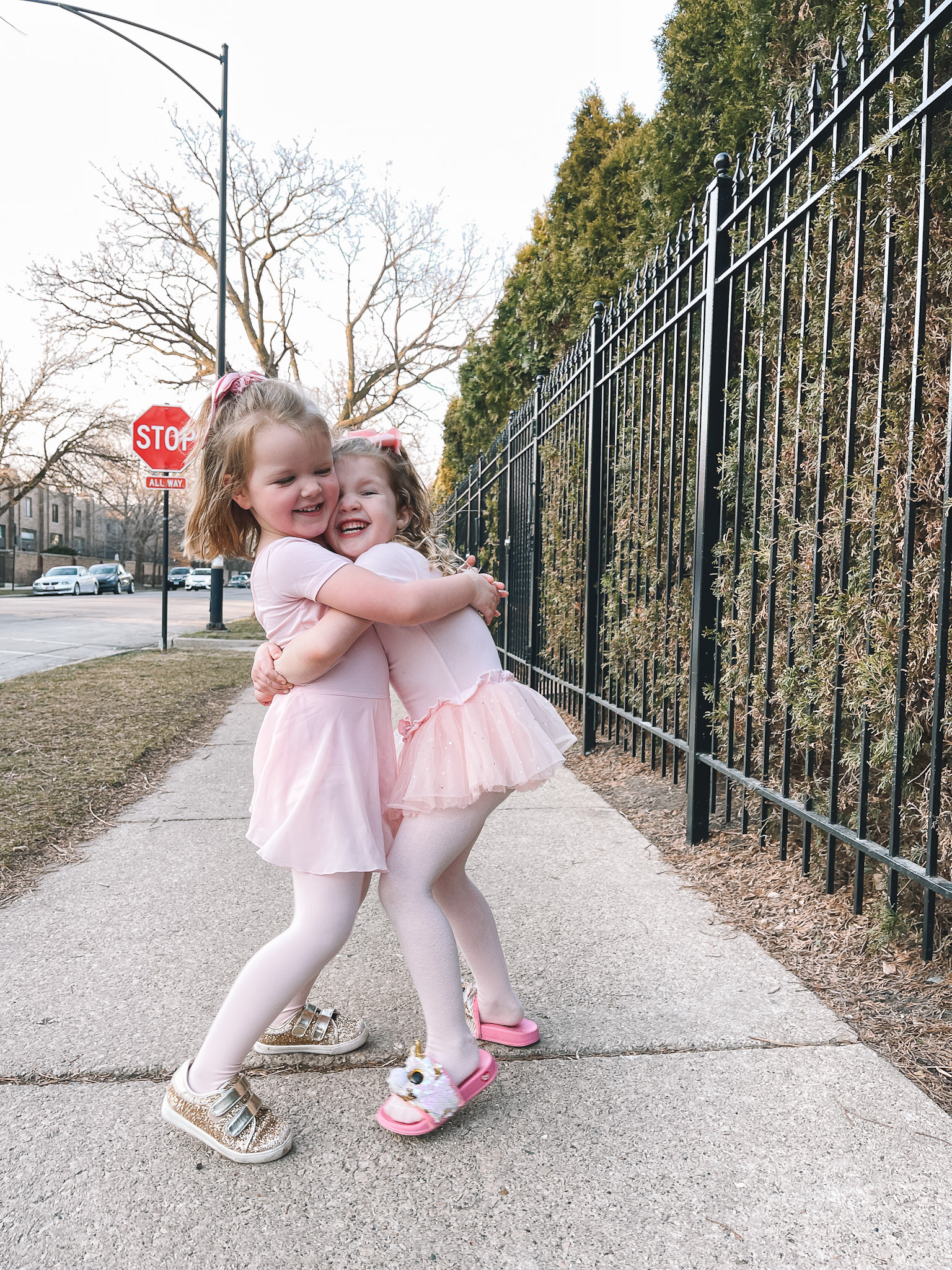 Ballet and tap: Signing Emma up for dance has been one of the best decisions we've made all year! We definitely nervous about it in the beginning safety-wise, but there have been zero incidents thus far and we've been so impressed with the studio's precautionary measures. It's also obviously lifted Emma's spirits. (She started going before Chicago Public Schools opened.) She's in dance with two of her little besties—Quinn and Walker—and I walk the girls back to our house after class every week. They're such a cute, hilarious bunch and I love getting an inside look into their little world. Their conversations are a hoot!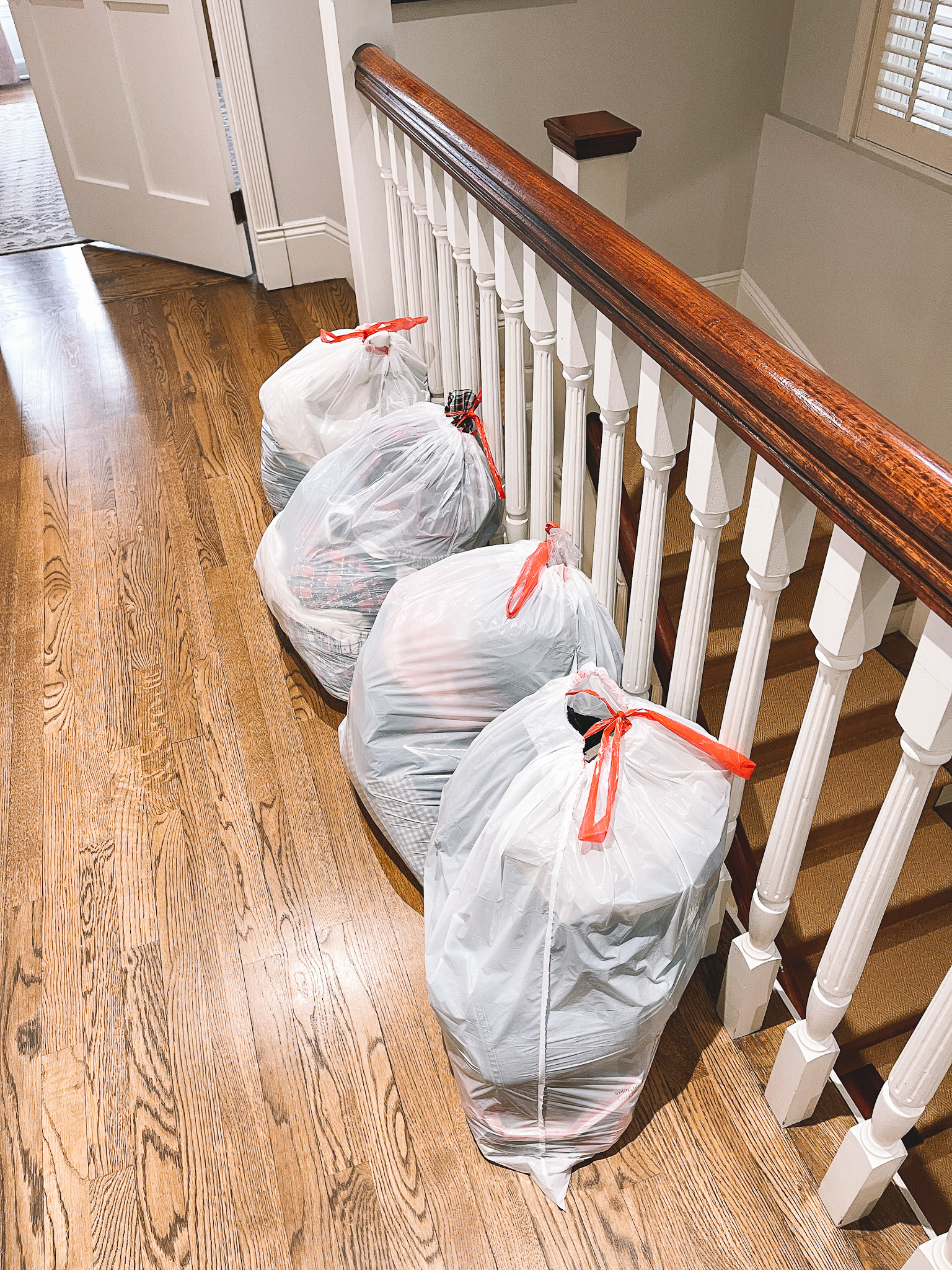 Spring cleaning: I'm in it to win it, guys. This past week I worked on cleaning out Mitch's closet with him, which resulted in a two garbage bags of donations! I also cleaned out all the clothing that no longer fits Lucy… and got rid of some unneeded and very dingy towels and linens. Feels so good!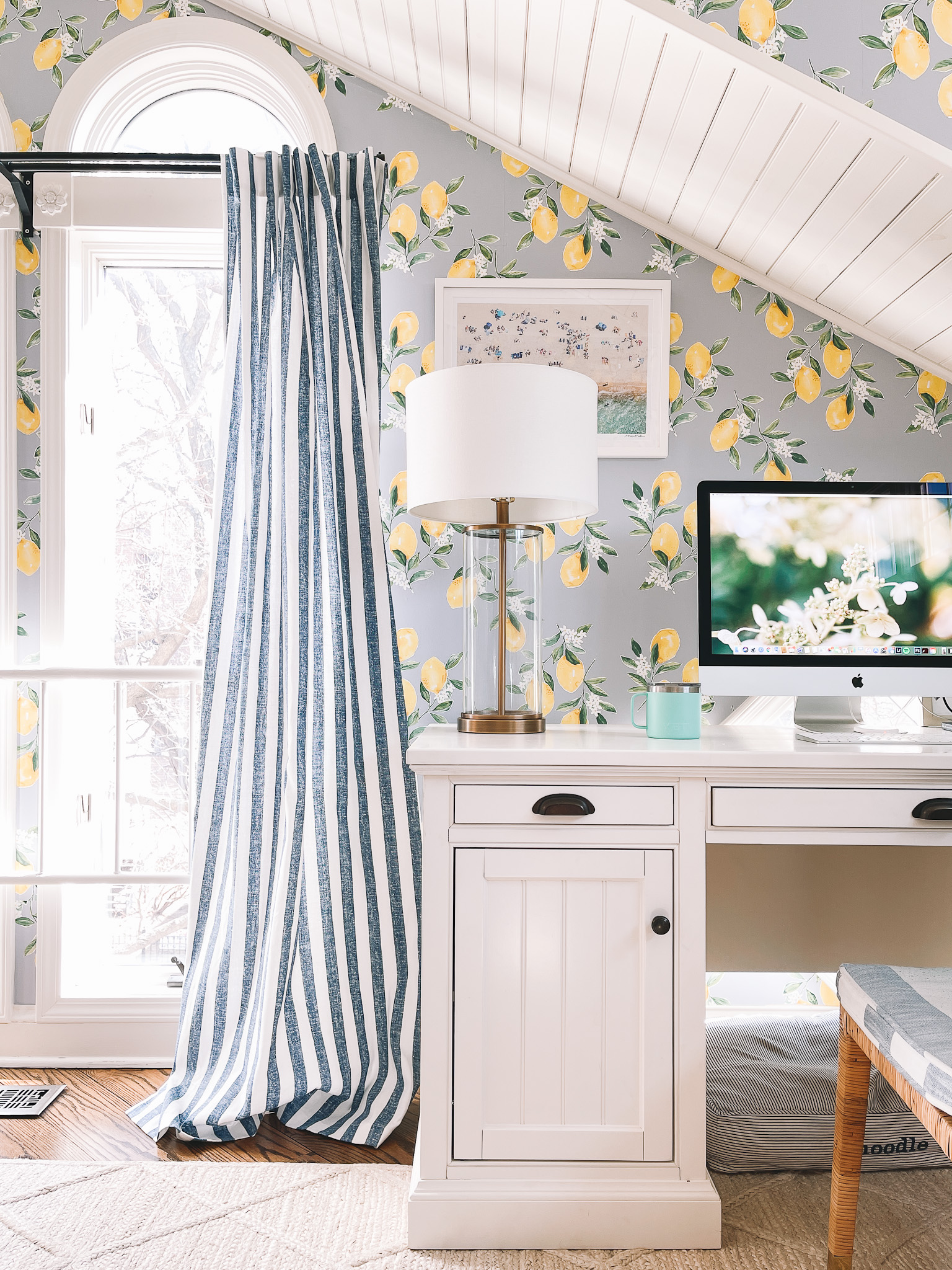 Desk / Chair / Diamond Jute Rug / Gray Malin Print / Lemon Wallpaper / Curtains / Nearly Identical Lamp / Noodle Bed / iMac
A peaceful workplace: On a related note, I've been really working hard to keep my office tidy. This can sometimes be very challenging considering the nature of my work, but I'm so much more productive and inspired in the space when it's orderly!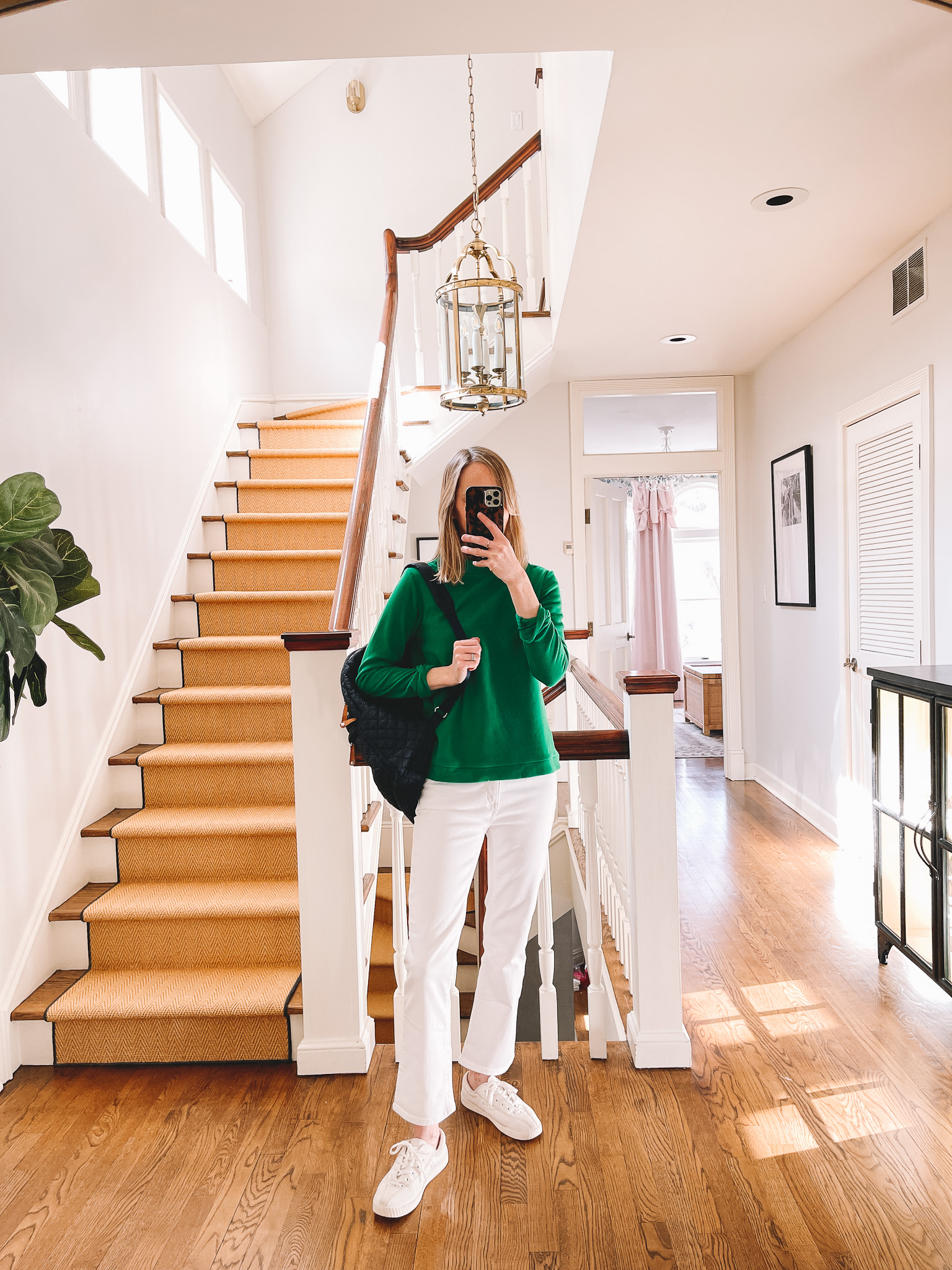 MZ Wallace Navy Quilted Backpack (Here's the new navy tote with strap, btw. It's GREAT!) / The Best White Jeans / Dudley Stephens Brighton Boatneck Fleece / Tortoise Phone Case / Tretorn Sneakers from Shopbop or Zappos(Comfiest sneakers ever!)
Breaking out the white jeans: HOLY. These are great white jeans, guys. They run TTS, are insanely soft, and kind of make me feel like a cool mom. I love them. Fit like a glove, too. If you're looking for a new pair of white jeans this year and want to break away from the skinny jeans, I highly suggest giving these a try! (And yes, I wore this during Saint Patrick's Day festivities in Chicago. We didn't do much; just walked around, haha.)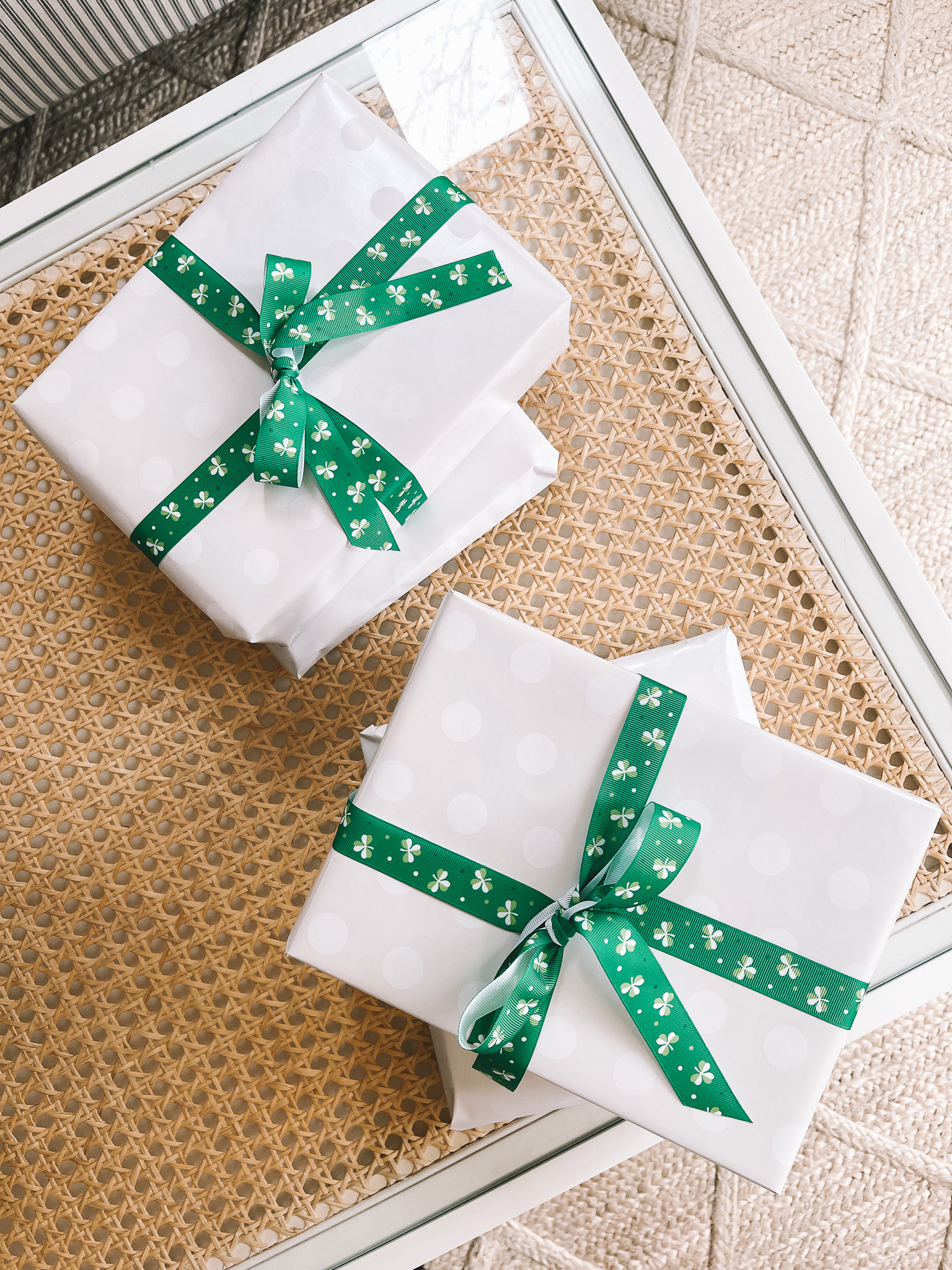 Saint Patrick's Day celebration: Mitch and I try to put together special family dinners no matter how small the holiday. This was something that we started during the pandemic but we want to continue with it into the future, too! It's so nice having occasions to look forward to. :) I will say that we've learned that ordering in for these nights makes everything way more enjoyable, though. 😆 Otherwise there are just too many moving pieces with small children and too many opportunities for meltdowns. But lesson learned, and for Easter, I do think we'll likely order in! (Which yes, I realize will sound sad to some people… but it ensures more quality family time and happiness when the kids are young so it's a win in my book!)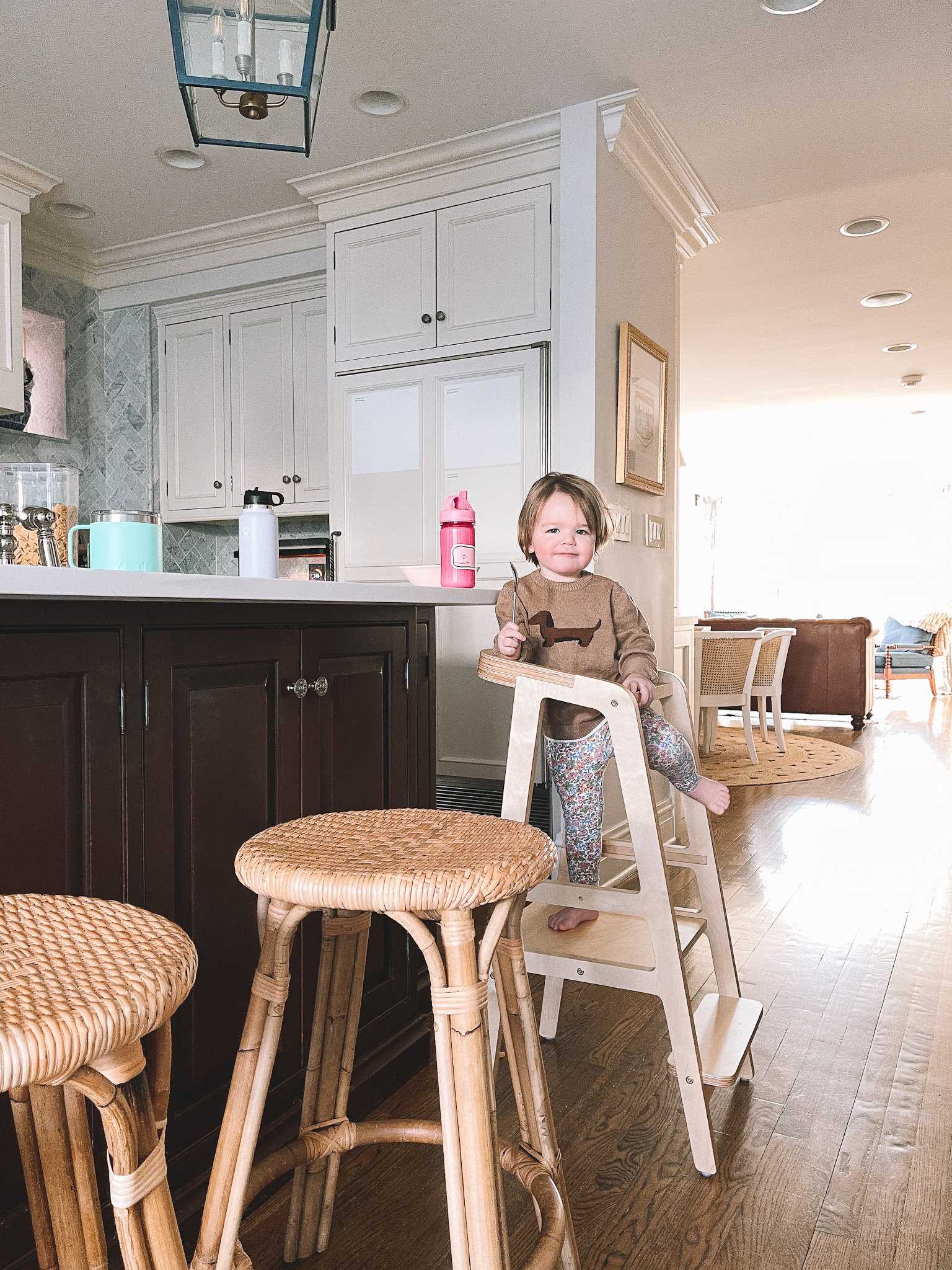 The Audwell Oslo Tower: LOVE THIS THING! The company sent it to us this week, and it's kind of changed our lives. It's super safe and designed to help young kids be part of the action in the kitchen. Lucy would stand on this thing for hours. We've done crafts, "baked," and eaten in it… and she's so proud of herself while in it. I can't say enough good things about it!
And yes, we still have the paint samples up on our cabinets, haha. But I've 100-percent committed to Benjamin Moore Chantilly Lace, shown on the left-hand side! I also learned recently (from Kira David Design, of course) that the cabinets were likely painted in oil-based paint a long time ago. And oil-based paint, when in dark spaces, has a tendency to yellow. This explains SO much, because I've long wondered why the cabinets on the other side of the kitchen remained much whiter. It also proves my sanity. ;) Anyway, I'm excited! Not sure when we're actually going to have them painted as it means being out of the house for several days, but I love having a plan nonetheless.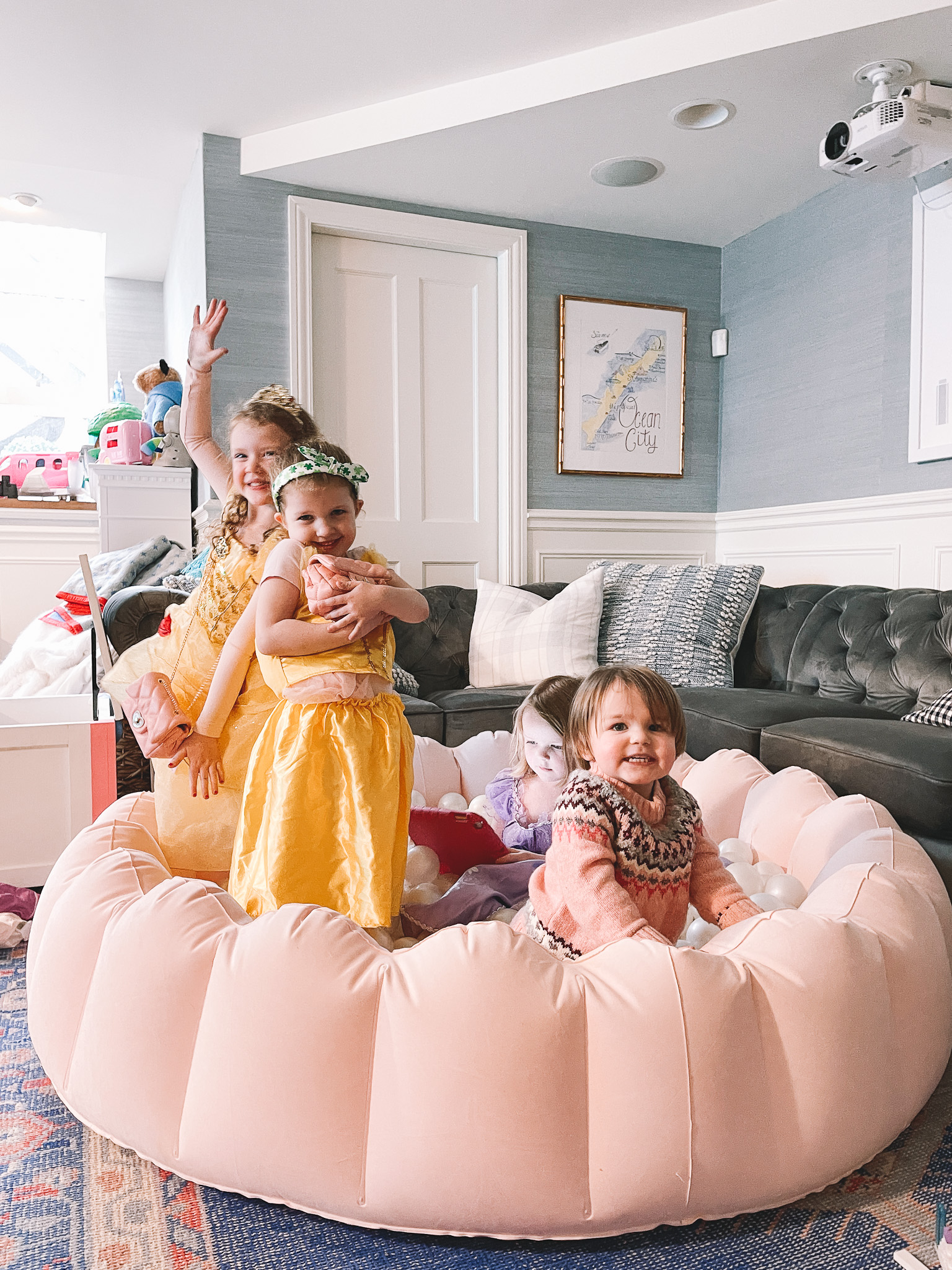 A scalloped ballet pit: Minnidip also sent the girls this scalloped ball pit recently, and everyone is in LOVE! This picture was taken after dance class. And yes, that's Emma watching volcano videos on her iPad because she was unclear about something she learned about them in school, haha. But the ball pit is so well made, and it's filled with balls meant to look like PEARLS. Can you even?! Would make for such a great gift, especially as we round out the pandemic!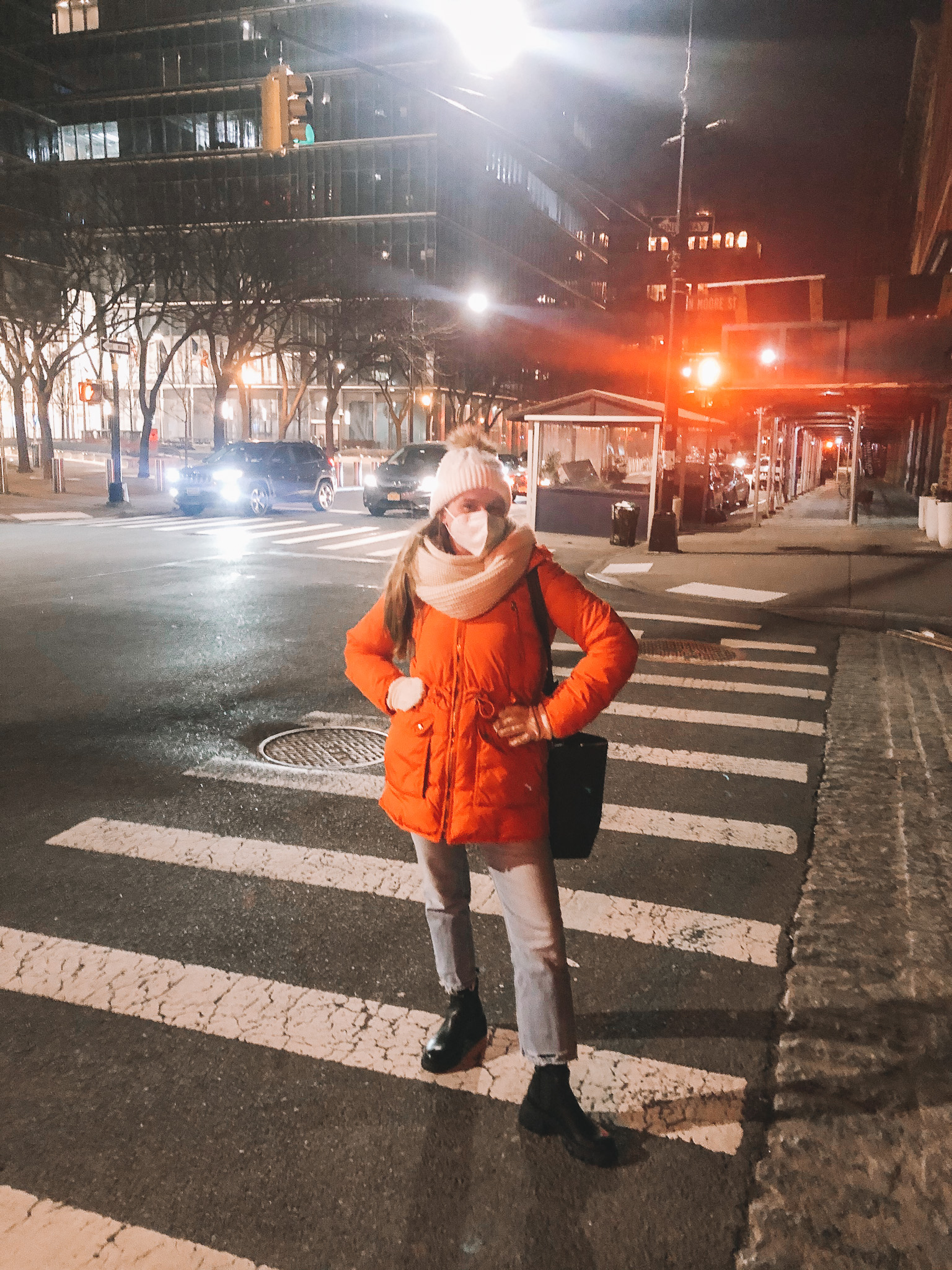 My cousin Olivia: I sent Olivia an extra puffer coat a few weeks ago during a spring cleaning session and her boyfriend snapped this photo of her in NYC sporting it. Lookin' great, Liv! Not only does she look adorable in the photo, it also made me think of all the fun adventures around the corner. I can't wait to get back to New York to see my family!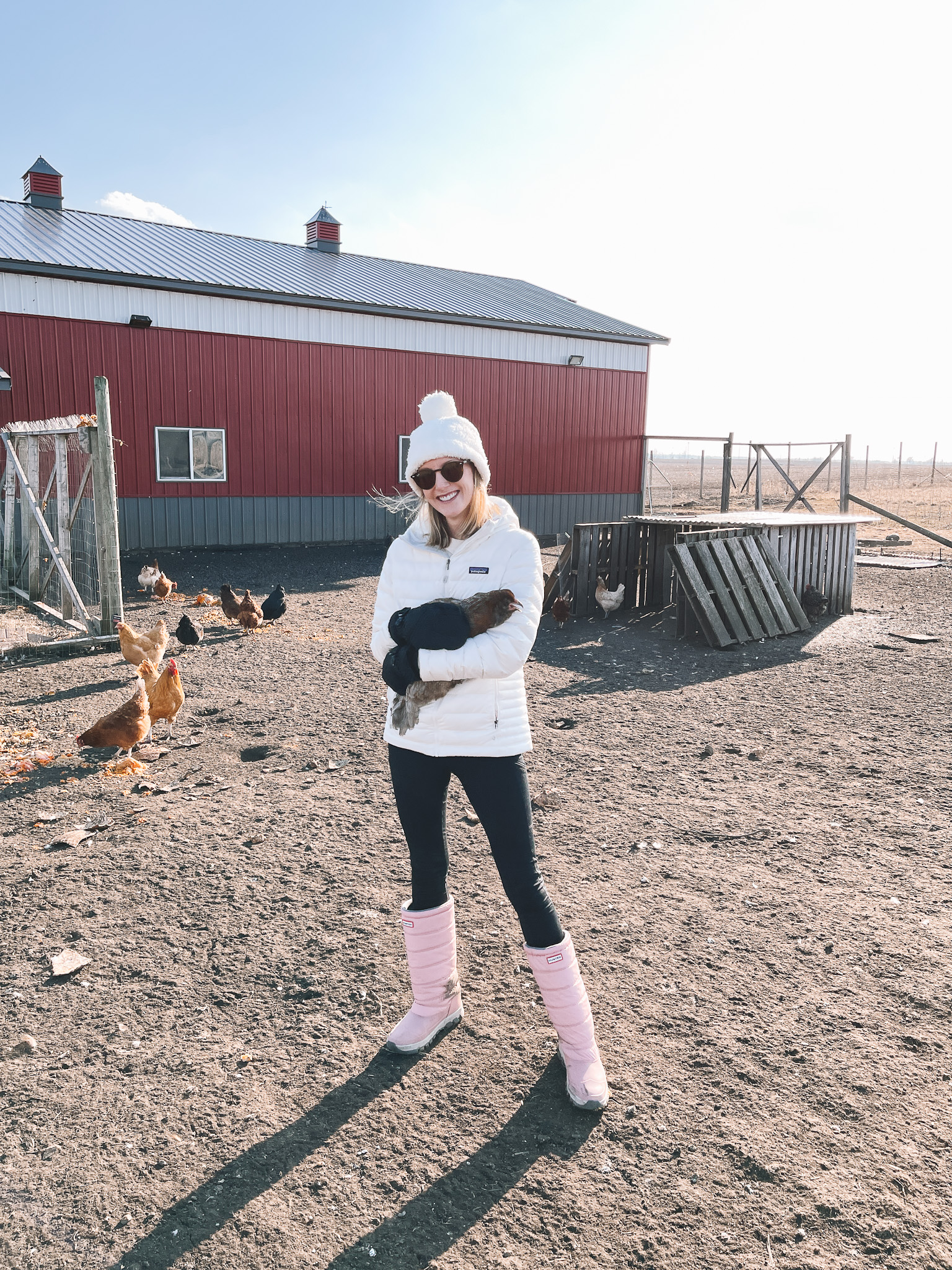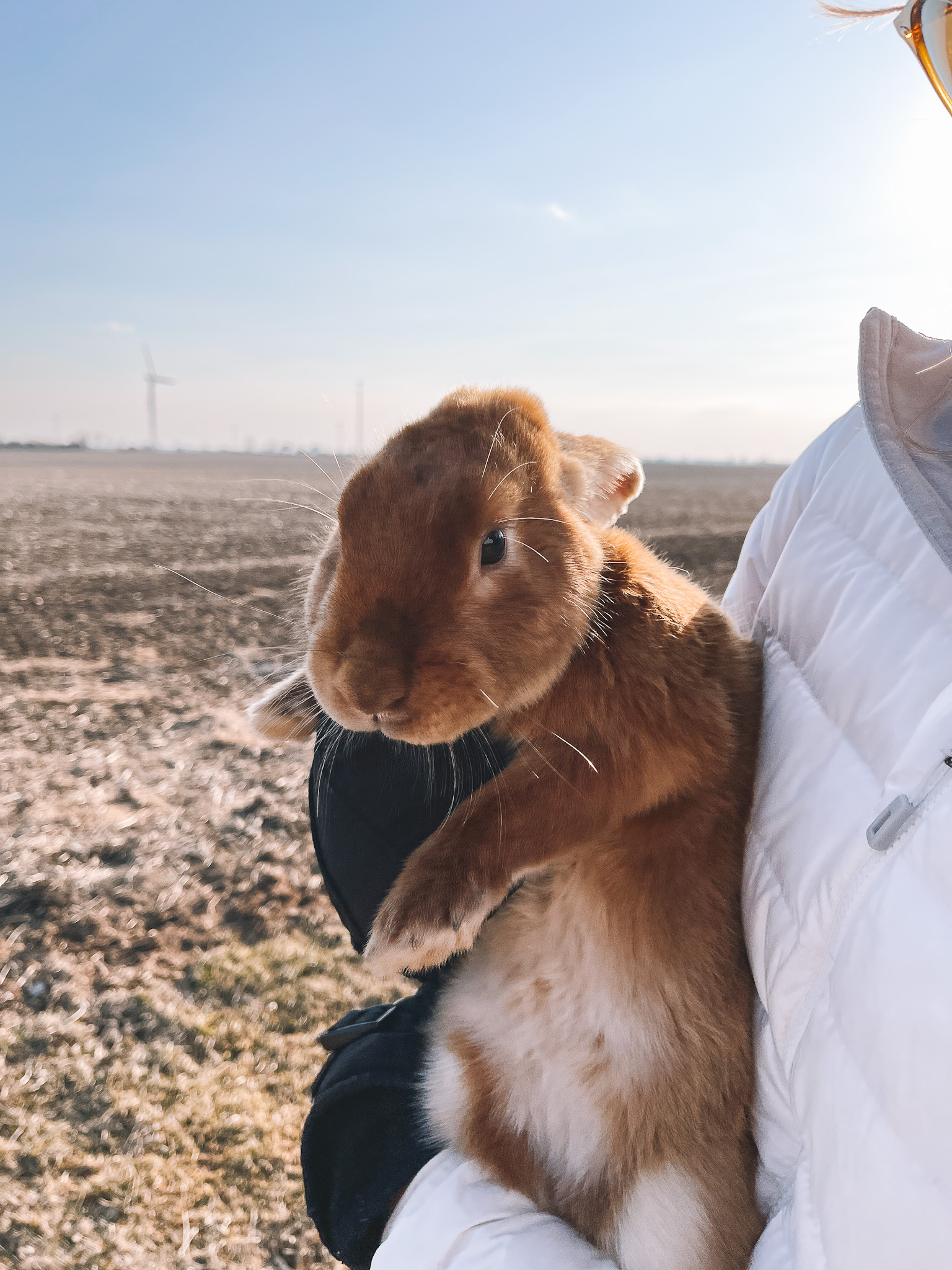 I hugged a lot of animals: I visited Charlie and Shirley's farm when we went down to the lake the other weekend and smothered the animals with my love. I've always been a big fan of the 600+ chickens—except while pregnant because they smell absolutely rancid then—but I am over the moon in love with the bunnies. Look how big they've grown! I named this one Thumper without telling Charlie. Charlie, if you're reading this, this is Thumper.
Btw: My boots are still in stock, as is my super warm and lightweight puffer!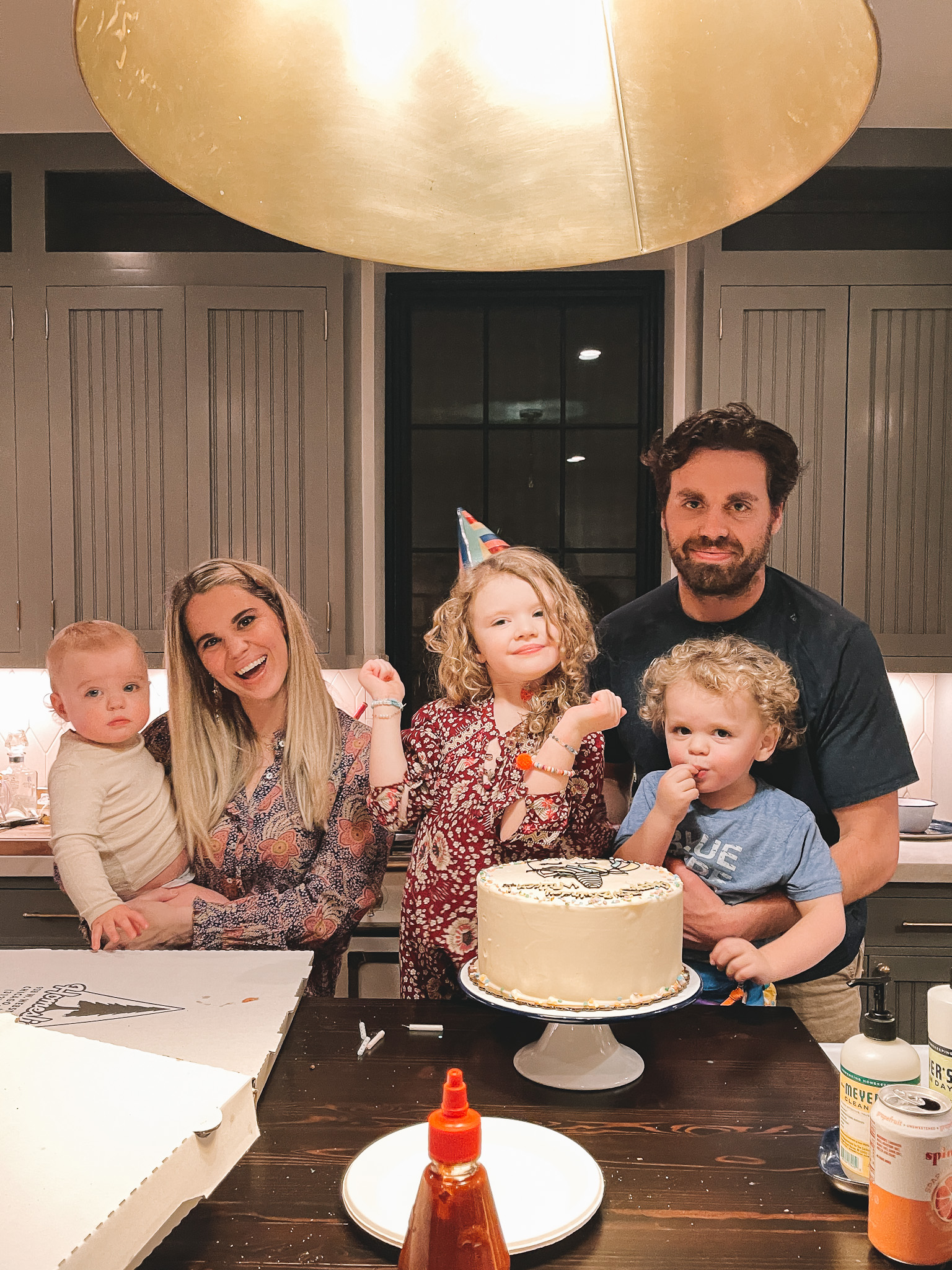 We celebrated Lottie's birthday: This was a while ago, but how cute is their adorable family?! Emma is actually having a girls' day with Walker, Lottie's older sister, this weekend, as their family is in our "bubble." She's THRILLED. We feel so lucky to have this fam in our lives!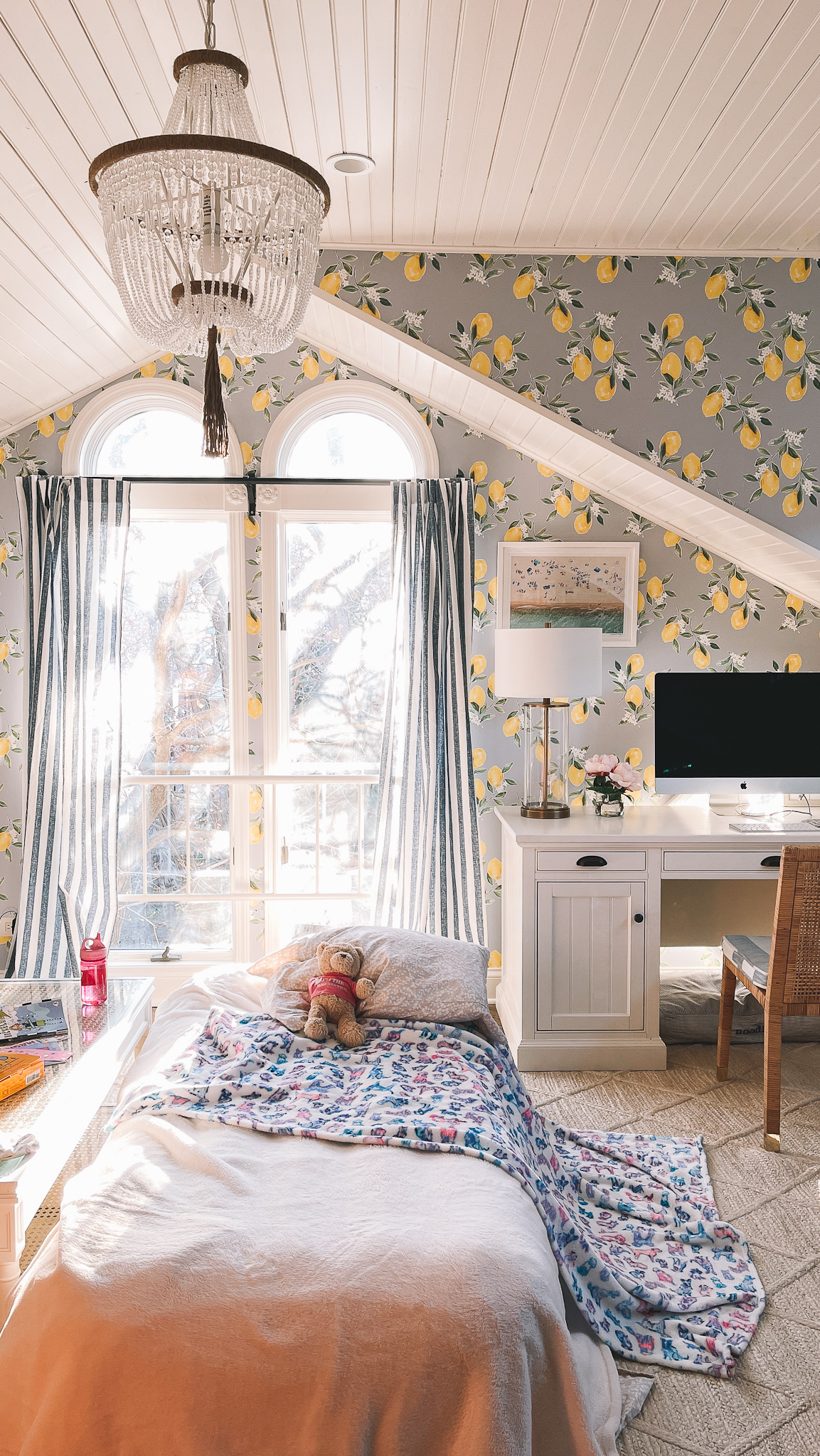 Desk / Chair / Diamond Jute Rug / Gray Malin Print / Lemon Wallpaper / Curtains / Nearly Identical Lamp / Noodle Bed / iMac / Chandelier
Emma slept over in my office: Whenever life gets a little boring, we have a sleepover in my office. Loved that because of her chore chart, Emma made the air mattress bed in the morning, haha. She also tried to display the throw blanket in a casual way. Couldn't stop giggling. So cute!