Mitch here!
Leaving the 9-to-5 world has its perks:
I get to make breakfast for my family every day.
I can do things like embark on a #30daysofpants challenge, during which I endeavor to wear pants every single day for a whole month. (Actually, probably could have done that in the 9-to-5 world, too.)
I can book last minute, super cheap, middle-of-the-week flights.
I fully understand that flying across the country with a one-year-old might not seem like a "perk," and I bet most normal people would head south instead of flying right back into the freezing cold. But we couldn't help ourselves. New York has us by the jingle bells this time of year, so we packed up the sleigh (stroller), boarded the reindeer (Noodle), and made a list (of things to do in New York), and checked it twice (by not doing any of them because we had a screaming toddler in tow). 😉
A few highlights from the trip: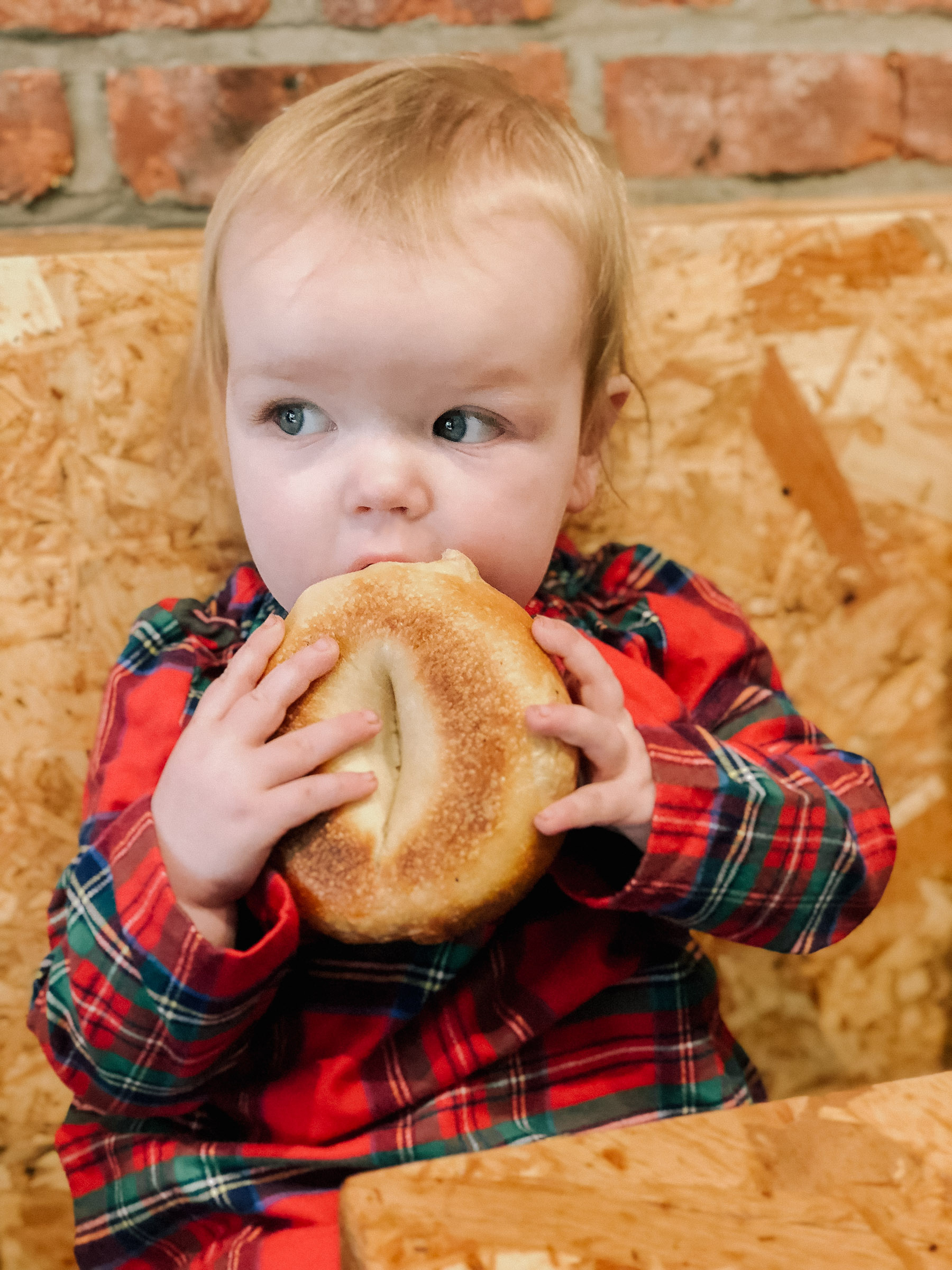 Bagels
There's apparently no excuse for how terrible bagels are in Chicago. Bagels are so bad here that I look forward to the hole. Kelly and I have scoured the city and suburbs for a decent bagel, and long story short: bagels and us are on a break. But in New York, we had bagels for breakfast and lunch every day, and we were in heaven. They were so good that I counted five (FIVE!) bagel shops in the two blocks between our hotel and Kelly's favorite place in the East Village. (Which I totally took for granted when I lived here.) Want definitive proof that NYC bagels trump bagels everywhere else? Emma eats bagels in New York but refuses them everywhere else.
Case. Closed.
Transportation
I was a New Yorker before Uber. I spent my days waiting for busses and falling asleep on subway cars and waking up other boroughs. Did you know it takes longer to get to LaGuardia Airport on the bus than it does to fly to Chicago? But now that I'm a real deal adult and have a family and stuff, I'm all about Uber.
In my younger and more reckless years, I enjoyed driving the island of Manhattan, weaving through piles of yellow cabs and generally upsetting everybody. But now that I'm a daddy, I let Uber do the driving. Uber Car Seat is far safer, more reliable and certainly more convenient than having a car in New York. Seriously, Uber Car Seat works with Uber X to send a car seat enabled Uber to where you are standing. Plus, now that I can schedule rides ahead of time, I don't even have to pull out my phone to have a driver show up. Honestly, Uber made our trip, and while I still carry around an old Metro card in my wallet for nostalgic reasons, I'm all in.
On a somewhat related note, where do these New York Uber drivers come from? No one I know in the city owns a car, yet I was able to get an Uber almost immediately every single time. I loved it. Oh! And taking an Uber to and from the airport makes traveling SO MUCH EASIER–especially for a young family. Instead of waiting in a taxi line in the cold for an hour with Emma, we simply jumped in an Uber and were off. Honestly, it was the easiest part of the whole trip.
#winning
Cashmere Plaid Button-Down / Cashmere Cable-Knit Sweater / Velvet Leggings (This is a great version, too. Also have/love these, which are only $49! My pair comes in leather, too.) / Block Heel Pumps (If they're sold out, they're also available here. And this pair, this pair, and this pair are super close. I also adore this pair of bow pumps and this pair of bow-tie pumps.)
Midtown
Rockefeller Center is not an interesting place. It's a tourist trap, and it's so busy that bringing a stroller in there is a debatable parenting move. But the tree is massive enough that you can see it from 5th Avenue, so this year, we decided to stop at take a quick pic. Grand Central Terminal, however, is an absolute national treasure. I loved showing Emma around all the nooks and crannies of the station. After we roamed the station, we had lunch at Pershing Square, which Kelly had always wanted to do. Emma really liked the pepper. (See above.)
Central Park
Growing up in Central Illinois, the park was where kids went to run out their energy and where teenagers went to get away from their parents. No self-serving adult would ever go to a park in my hometown. But Central Park is a magical place where even the most jaded New Yorkers go to spend their free time. It's the kind of place where people leave their phones in their pockets and just walk around smiling a lot.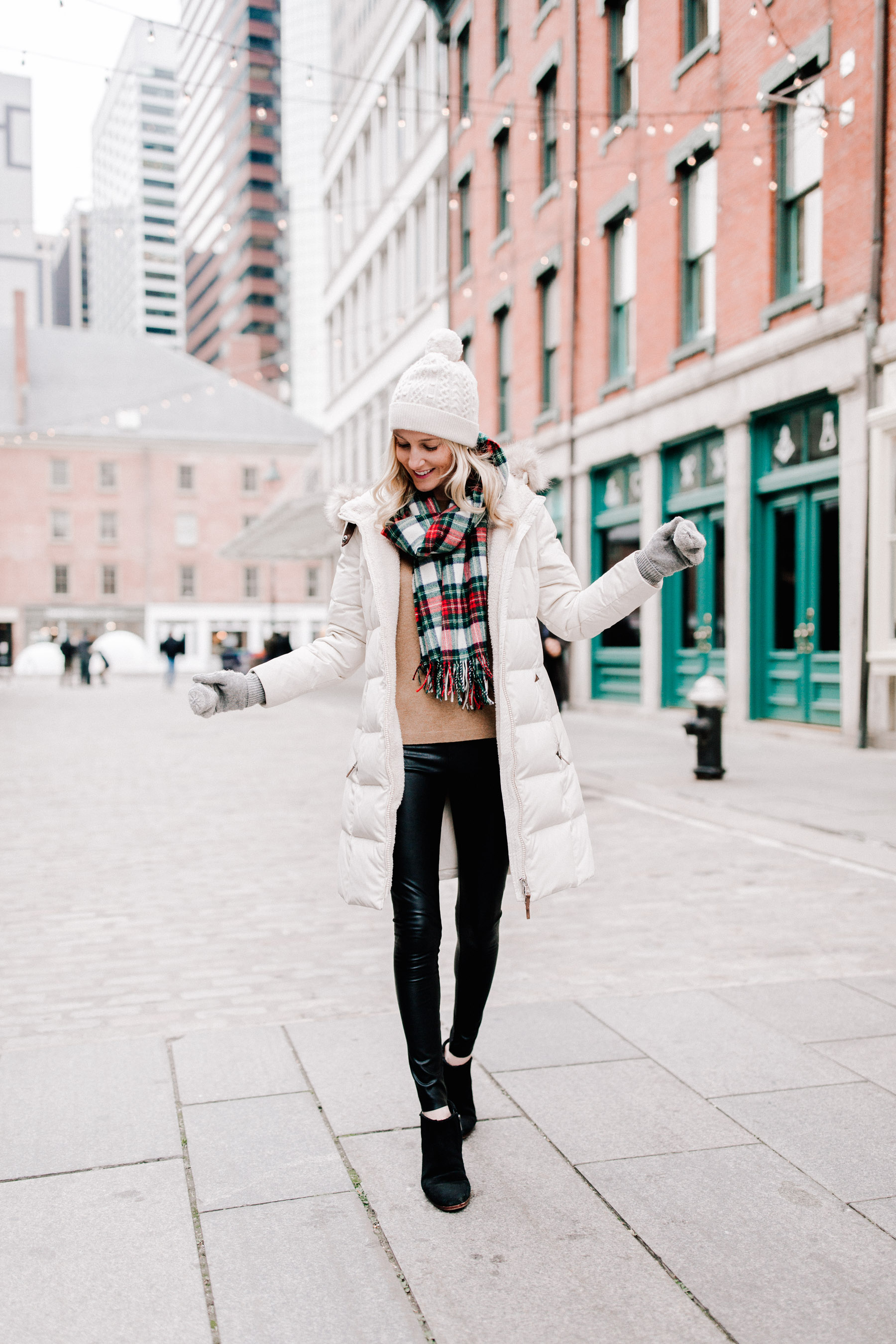 White Puffer Coat (Also here.) / Mittens / Similar Beanies Here and Here / Faux Leather Leggings (They also come in velvet, which I also own. I took both in a size small, and they're form fitting yet comfortable. I also hear that this pair is awesome! They come in navy, too, which is fab. If you're looking for a steal, this pair is under $30!) / Cashmere Sweater (Have this one too and love it.) / Tartan Scarf (Love this one, too.) / Suede Booties
Financial District
New York is a massive city. I mean, it's gigantic. We spent every ounce of free time we had exploring NYC for eight and a half years, and we came to know the city very well. But by "city," I mean Manhattan, and by "Manhattan," I mean the areas between Canal and 86th street. But on this trip, due to a Priceline hotel snafu, we stayed in the Financial District!
To kick things off, we visited the South Street Seaport, which if it were located in any other city, would be a major tourist attraction. But in New York, it is an afterthought. At the Seaport, you can get a feeling of what New York was like back when it was actually a port. After that, we visited Stone Street, which in the summer is a festive restaurant street scene, but in the winter is just a good excuse to sit in a bar during the middle of the day. (Emma slept through it. It was awesome.)
New York is home to one of the busiest train stations in the world and it's an absolute dump in desperate need of repair. So like any logical city would do, they decided to spend $4 BILLION dollars on a completely unnecessary new station in another part of town. The Oculus (as it's called) is beautiful, though. I mean, there's no way we'd take blog photos of Penn Station.
All in all, I think Emma loves New York. But if she were writing this post, the headline would be "Our Hotel had an M&M Dispenser in the Lobby and it was Great." This little girl freaking loves M&Ms, as you can see from these pics. Clearly she inherited her mother's sweet tooth.
Family Dinner
This is the reason we flew to New York in the first place! We wanted to see Kelly's cousin and a few other family members for Christmas, as we're spending the holiday in New Orleans this year. It was wonderful, and I'm so glad we were able to make it happen. (Though why can't we live closer?!) Family is everything, and I'm a very lucky guy in that I love my wife's family. And I'm totally not just saying that publicly on Kelly's blog to win brownie points.
Totally not.
Love you guys.
Mitch. Out.
In collaboration with Uber. All opinions are my own. As always, thank you so much for supporting the partnerships that keep Kelly in the City up and running!