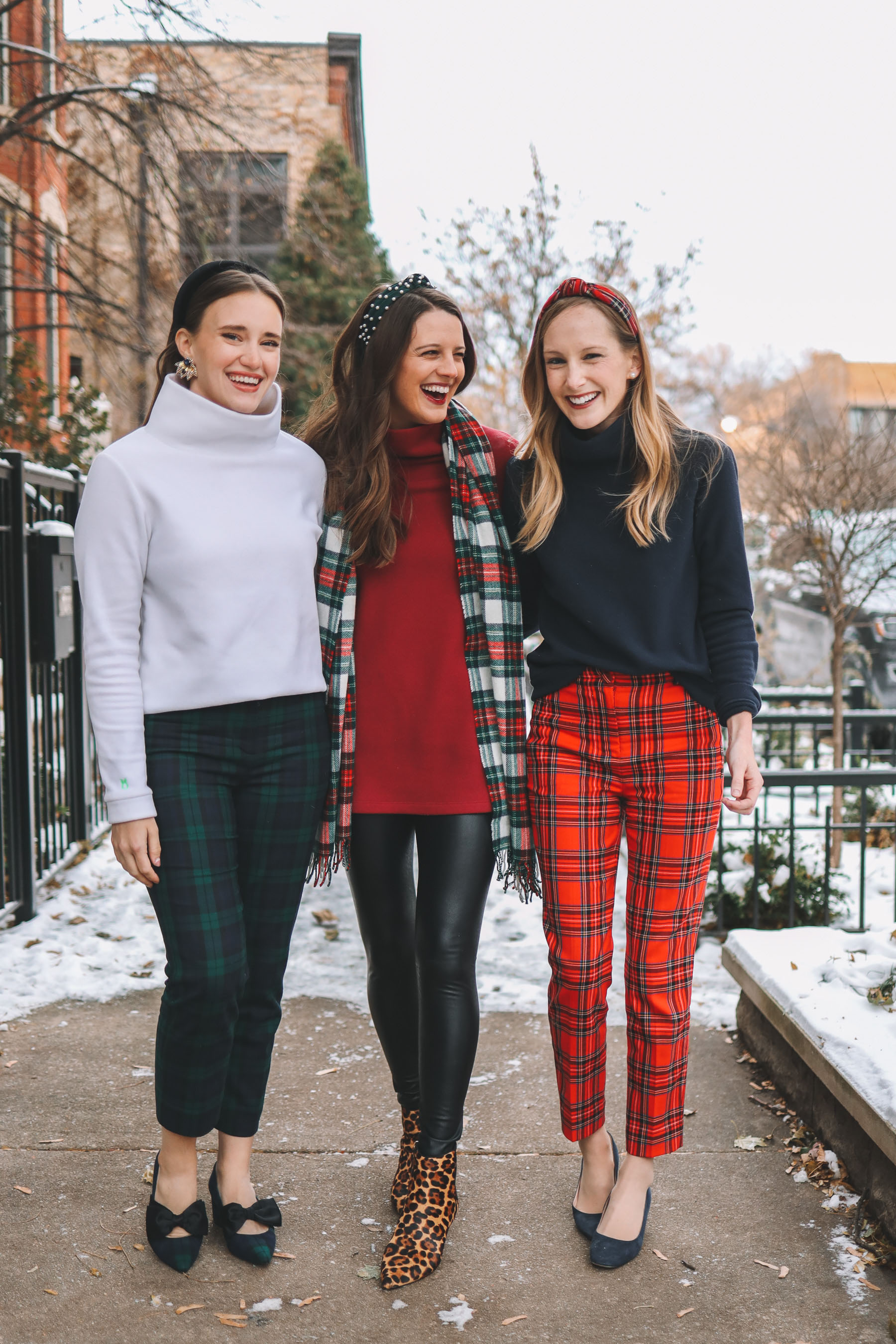 Navy Dudley Stephens Park Slope Fleece (This incredibly similar navy "Brighton" top is in stock, btw! Here's the four-season Brighton version, also in stock. Here's the four-season version of the Park Slope…. and here's the longer version, and the four-season version of that.) / White Dudley Stephens Park Slope Fleece / Burgundy Dudley Stephens Cobble Hill Fleece / Red Tartan Pants / Blackwatch Plaid Pants (Factory also carries a pair.) / Faux Leather Leggings (Every girl should own a pair. Here's the warmer version, which I wear in winter.) / Blackwatch Plaid Bow Pumps (Also love these, these, these and these!) / Similar Leopard Booties (I own them and love them!) / Tartan Scarf / Red Tartan Headband (Also love this one.) / Similar Pearl Headband
A few things!
Jess, Krista and I are giving away three Dudley Stephens fleeces on Instagram tonight! Be sure to follow @kellyinthecity so you can enter when the post goes live. It'll probably go up some time around 6 or 7 p.m.!
KRISTA CAME TO CHICAGO LAST WEEK! This was huge for Jess and me, haha. Krista was actually the person who introduced us, and for that, we are forever grateful! (Seriously. Thank you, Krista. ❤️) The three of us have had a cute little "internet bond" for years, haha… but we'd never really spent time with each other in person. (I met Krista once in person, but it was randomly on the street in Manhattan the NIGHT BEFORE Mitch and I were moving to Chicago. Oh, timing.) Anyway, we had the nicest day together! We grabbed lunch at the Ralph Lauren restaurant downtown, and then headed back up to my place so Krista could meet the fam, play with Noodle, and see the house! (We also made Mitch take #60daysofplaid photos of us. Thanks, Mitch. 😂)  Needless to say, Jess and I both wish Krista lived here… and it was so hard to say goodbye! 😭


Yes. We coordinated our outfits for the occasion. Feel free to judge us. Honestly, we deserve it. 😜 (I wear a size small in Dudley, just in case you're wondering!)
Chicago is still freezing. Poor Krista was a little shellshocked, but she rallied for these pics! (Though scroll down to see how she really felt about the whole thing. I can't stop laughing.) Oh, and Emma is convinced that she caused the snow and cold because she was Elsa on Halloween. Which is the only thing that's been keeping my spirits up because that.is.hysterical.
TODAY IS OUR LAST DAY OF CONSTRUCTION. This is completely unrelated, but our living room, dining room and play room projects are being wrapped up tomorrow and I can hardly contain myself! I can't wait to snuggle in on the couch. It's been a looooong time. ;) More to come! (Oh, and I posted a little kitchen update here. Please vote on the three decisions we have left to make. Please and thank you!)
Over and out!
xoxo
Don't forget to follow on Instagram so you can enter the Dudley giveaway tonight!
Shop the post:
Navy Dudley Stephens Park Slope Fleece (This incredibly similar navy "Brighton" top is in stock, btw! Here's the four-season Brighton version, also in stock. Here's the four-season version of the Park Slope…. and here's the longer version, and the four-season version of that.) / White Dudley Stephens Park Slope Fleece / Burgundy Dudley Stephens Cobble Hill Fleece / Red Tartan Pants / Blackwatch Plaid Pants (Factory also carries a pair.) / Faux Leather Leggings (Every girl should own a pair. Here's the warmer version, which I wear in winter.) / Blackwatch Plaid Bow Pumps (Also love these, these, these and these!) / Similar Leopard Booties (I own them and love them!) / Tartan Scarf / Red Tartan Headband (Also love this one.) / Similar Pearl Headband