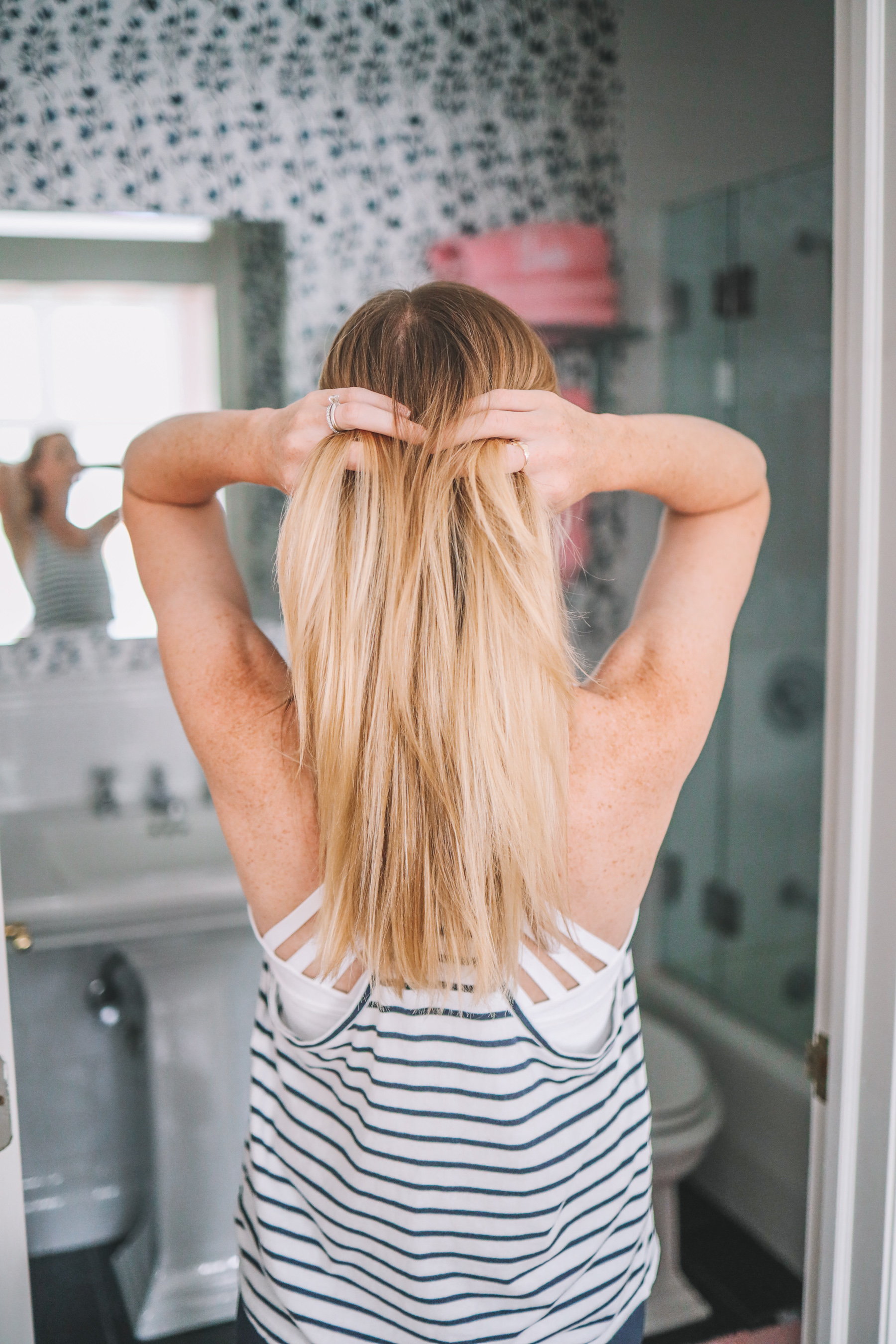 This post is sponsored by Pantene, but all opinions are my own. As always, thank you so, so much for supporting the partnerships that keep Kelly in the City up and running!
My biggest struggle with motherhood right now is finding the time to wash my hair. Sounds funny, but if one child wakes up early, it's #gameover. The problem is two-fold:
I NEED to wash my hair every day. I have baby fine hair that gets greasy very quickly, and even if I dedicate months to "training" it, it doesn't improve on that front. (Except when pregnant! Then I can skip a day, which is such an awesome perk. But yeah. Several hair stylists have told me that very fine hair is sometimes untrainable. 😢)
I hate washing my hair at night. Because it's baby fine, my hair–when super clean–ends up looking ridiculous the next morning after having slept on it, even if I blow-dry it before bed.
Sure, I could wake up at the crack of dawn to wash it, but I'm already just getting by in terms of sleep, and I think that might actually kill me. Similarly, it doesn't feel fair to ask Mitch to handle the brunt of the morning routine just so my hair looks good and feels clean. 😂
You might ask, "What about using dry shampoo on the mornings when the girls get up early?"
To which I would respond, "YES!" But up until now, I've loathed dry shampoo. The brands that I tried either left my hair feeling heavy, much like that greasy feeling, or looking like I was suffering from extreme dandruff. Not great. Recently, though, Pantene sent me the new Pantene Never Tell Dry Shampoo Spray and the Pantene Mist Behaving Dry Conditioning Mist from the new Pantene Waterless Collection to try, and I was amazed at much better the combo worked! Frankly, the difference is astounding, and I can now go an extra day and STILL FEEL CLEAN and put-together. (Which means that you can probably go three or four!)
So let's talk about the sulfate- and paraben-free Pantene Never Tell Dry Shampoo Spray and Mist Behaving Dry Conditioning Mist. Here's why I love them and truly think they're the best I've ever used:
Pantene Never Tell Dry Shampoo Spray
Used on the scalp and roots.
It doesn't produce any white residue. Yet it works! Tapioca, pro-vitamin B5 and wild mint absorb dirt and oil.
Brushing your hair is encouraged. With other dry shampoos, I felt like brushing after application was a no-no, as it made my hair look greasy again. But with the Pantene Never Tell Dry Shampoo Spray, it's encouraged! It's how you get rid of the dirt and oil.
It's extremely lightweight and great for fine hair. It was actually specially designed for women with fine hair. WOO! It adds a ton of volume, too. For date nights, I used to have to re-wash right before leaving so my hair would look good. Now, though, I can just quickly spray and go.
It makes for great buns and ponytails. These usually aren't possible for me; everything slips out. But the dry shampoo adds texture so that I'm able to get them to "stick." And they make them look more voluminous!
It smells fantastic. I hated the smell of other dry shampoos I'd previously tried. (They smelled almost chemical-like?!) But I LOVE the scent of the Pantene Never Tell Dry Shampoo Spray. Smells like I came straight from the salon!
Used mid-length and on the ends of hair. (Don't spray roots!)
It tames tangled and unruly hair. Have you ever re-washed your hair simply because it was looking crazy or you couldn't get your hand through it? This is clearly a big part of the reason I hate showering at night, but with the Conditioning Mist, I now CAN!
It remedies the "crunchy" feeling that comes along with dry hair. It provides nourishment with super light hydrators that are evenly distributed into the hair with each spray! So if your hair is color-treated or heat-styled and feelin' it, this makes a big difference. (Silly me used to "flat iron it out." SO BAD. This is a much better solution.)
It fights frizz. Most frizz-fighting products leave my hair feeling greasy, but this stuff does the opposite. When it's humid, I give my hair a few sprays of the Pantene Mist Behaving Dry Conditioning Mist and I struggle much less! Omega-9 penetrates into the "hair core" to restore it with lipids, and by filling strands with good stuff instead of humidity, you can expect much smoother locks.
If you're frequently strapped for time yet need a hair pick-me-up, definitely try the new Pantene Waterless Collection! It's been a game-changer for me. Pick yours up at your local Kroger to extend your non-wash days! :)