Skirt: J.Crew Factory (on sale now!) / Sweater: Joe Fresh / Booties: Steve Madden / Watch: MICHAEL Michael Kors similar here and here / Bracelets: Swarovski, J.Crew, Ralph Lauren / Bag: Kate Spade / Necklace: Old Navy
The other day I actually saw a flower budding. Swear to goodness. But now I hear that there's a giant snowstorm headed in New York City's direction. I was really looking forward to warmer weather, so right now the incoming snow is just a nuisance to me! (Oh, goodness. I'm getting old.)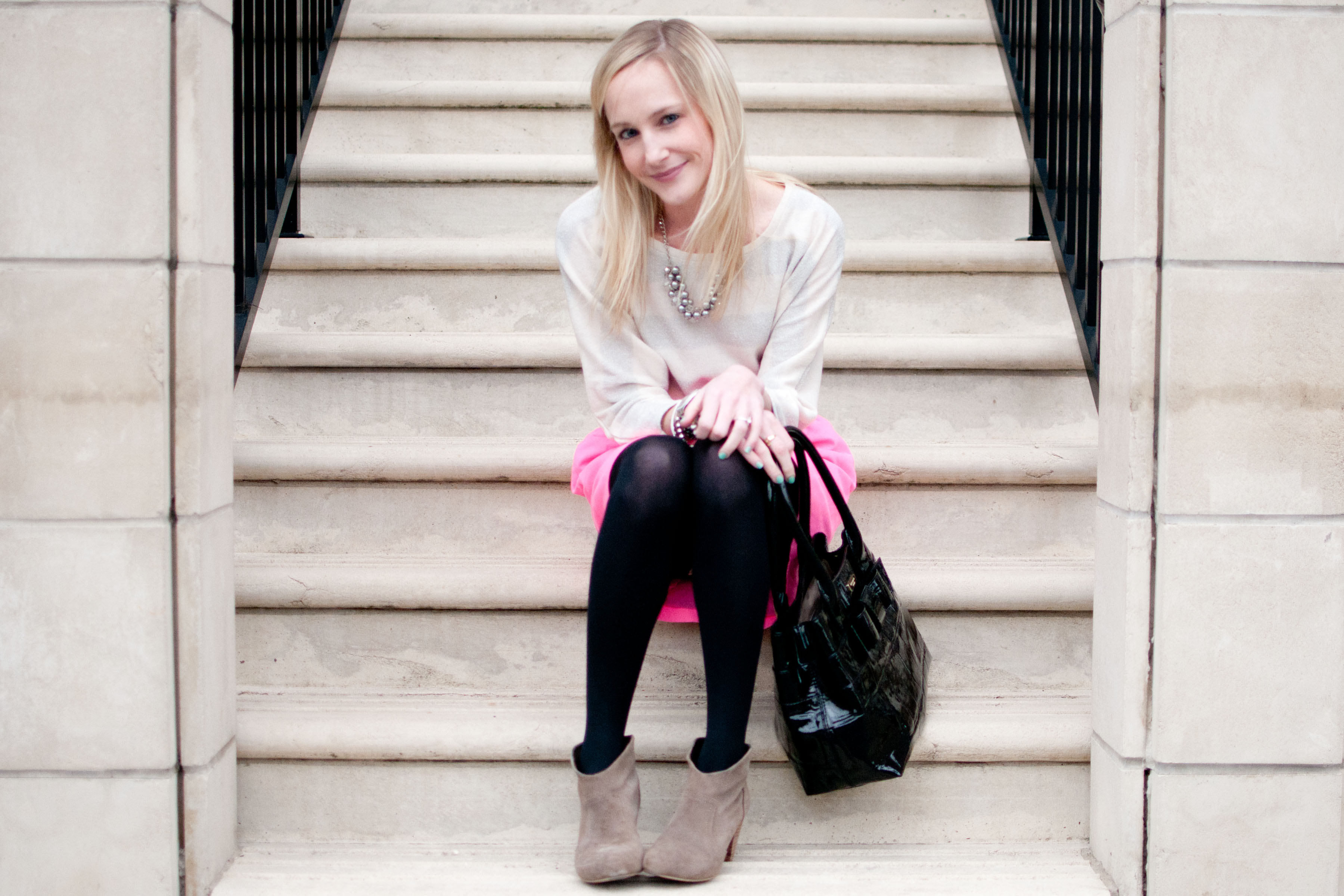 At this point, snowstorms no longer make me overjoyed. Of course, I love it when it first falls, covering the city in a pure-white blanket. If you're from a metropolitan area, though, you know that the beauty only lasts for a maybe half of a day. The snow then turns into a gray slush that simply won't go away. It's not a pretty sight. There's also the fact that New York City public schools almost never close, so with a projected four-inch total, we virtually have a zero percent chance of a snow day tomorrow. #teacherprobs ;)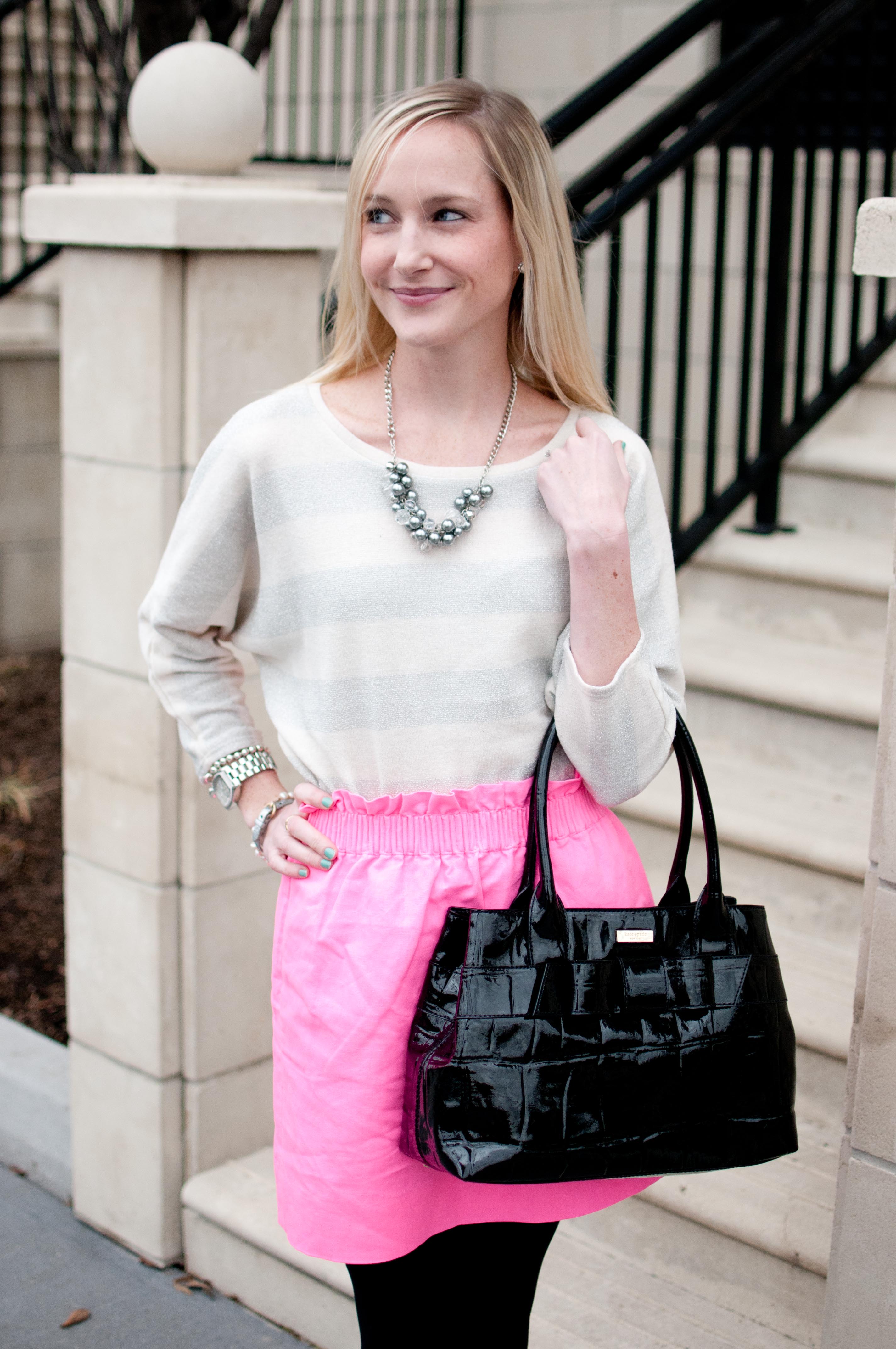 Anyway, since the snow is coming and I'll likely be in leggings and giant snow boots for the remainder of the week, I figured I should get in a fun piece while I still can. :) These days, I'm really into mixing my winter clothing with other seasons' wardrobes. I've found that it totally broadens my options, and gives me quite a few new looks. The hot pink skirt (available at J.Crew Factory, on sale!) is clearly a spring/summer item, but when paired with black tights, booties and a winter sweater, it seems to work for chilly March days, too! I figure the only articles of summer clothing I really can't incorporate are bathing suits, flip-flops and colored jean shorts. The rest? Fair game. ;)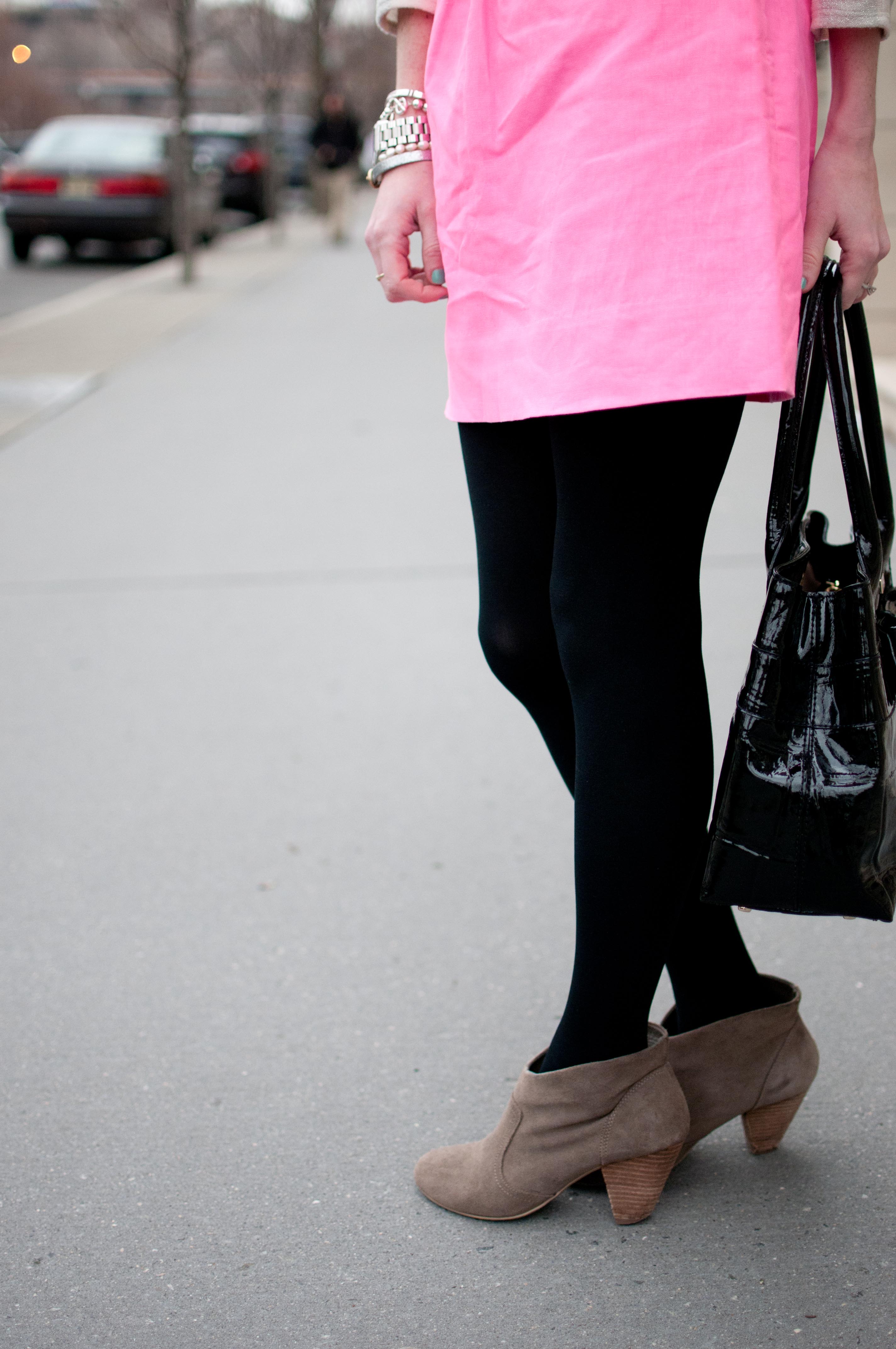 Besides the hot pink skirt, I'm wearing my favorite booties from Steven Madden (so comfortable, and that's coming from a girl whose feet hurt all the time). I'm also sporting a Joe Fresh sweater, which is the most comfortable sweater I own. Side note: can you believe that Joe Fresh is now available at JCP? Pretty awesome, especially for people who don't live close to one of their stores! What I love so much about Joe Fresh is how often they change out their inventory. But this also means that you need to act quickly if you fall in love with one of their items! Take it from me; it likely won't be there when you get back! If you're a Joe Fresh fanatic, check out the NYC store across from Bryant Park. It's huge.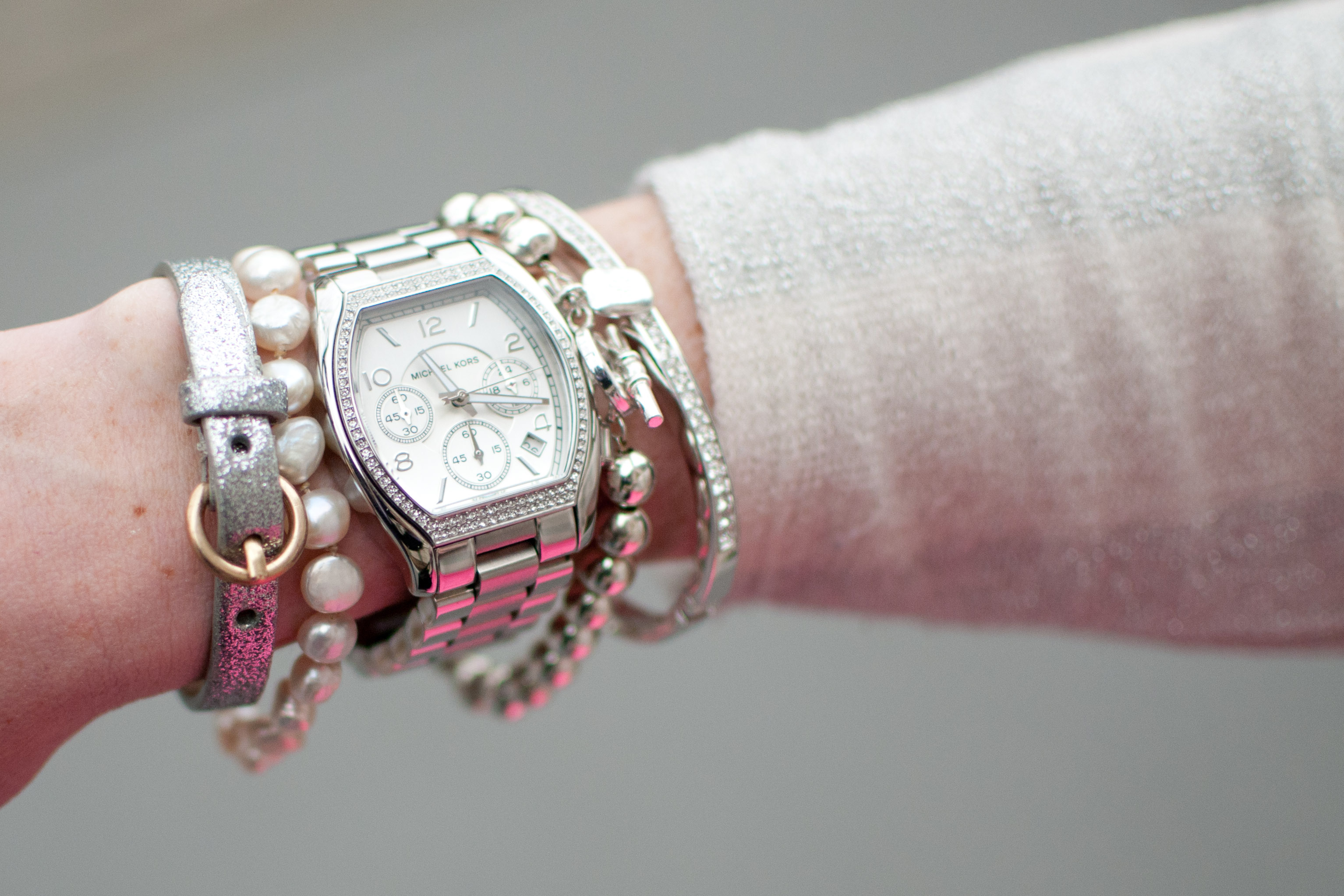 In terms of jewelry, I decided to mix it up today with some silver! I'm wearing a MICHAEL Michael Kors watch (similar here and here) and a Swarovski bracelet, both gifts from my awesome aunt and uncle. ;) I also threw on a J.Crew glitter belt bracelet and a Ralph Lauren bracelet. (It's all about stacking these days!) My necklace is a bargain find from Old Navy.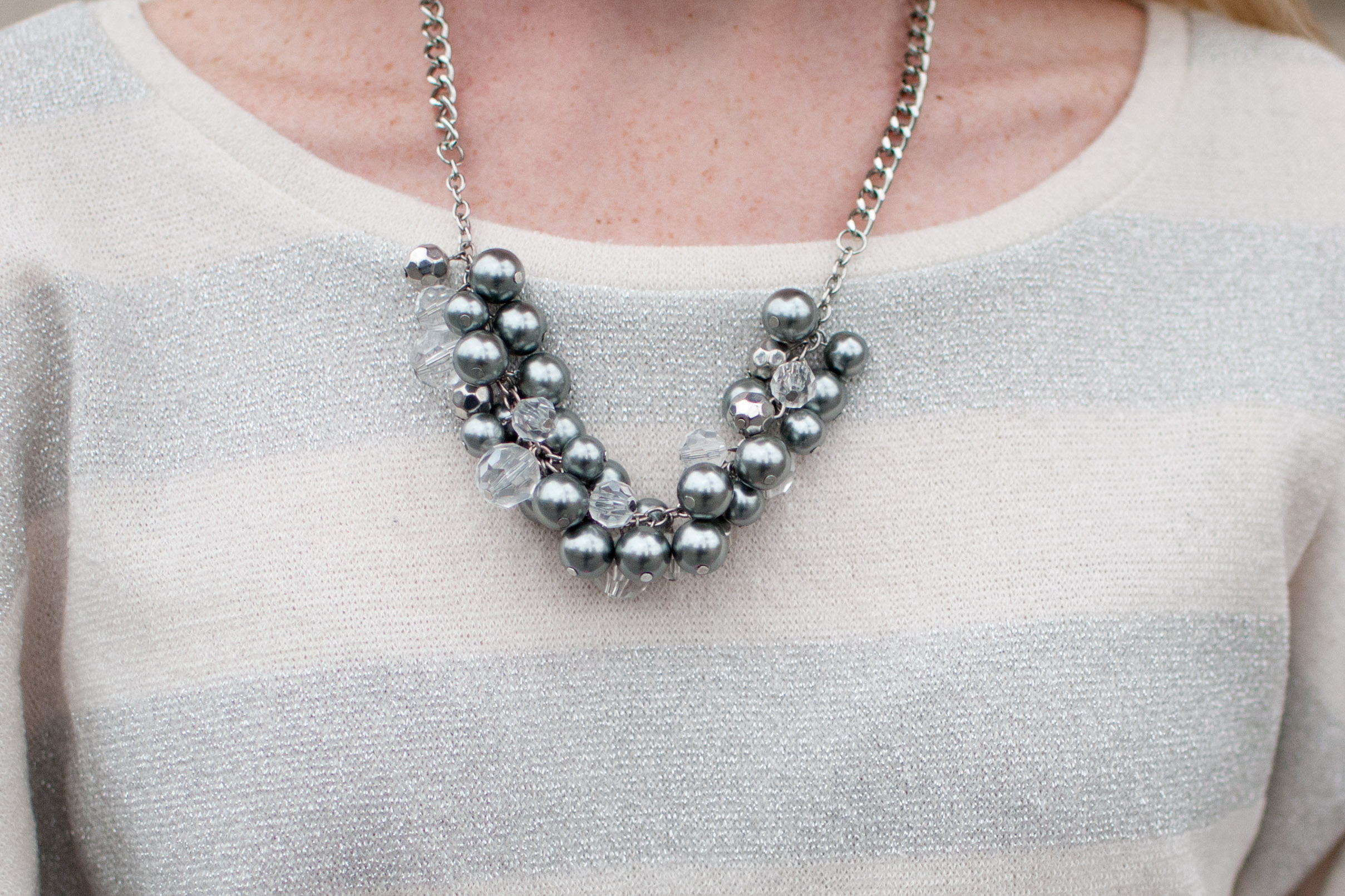 Today I'm also toting my absolute favorite bag right now, the Kate Spade Knightsbridge. Part of the reason I love it so much–aside from the giant bow–is the fact that it's patent leather, and I don't have to worry about it getting wet. Whenever rain is on the forecast, I make sure to carry the Knightsbridge.