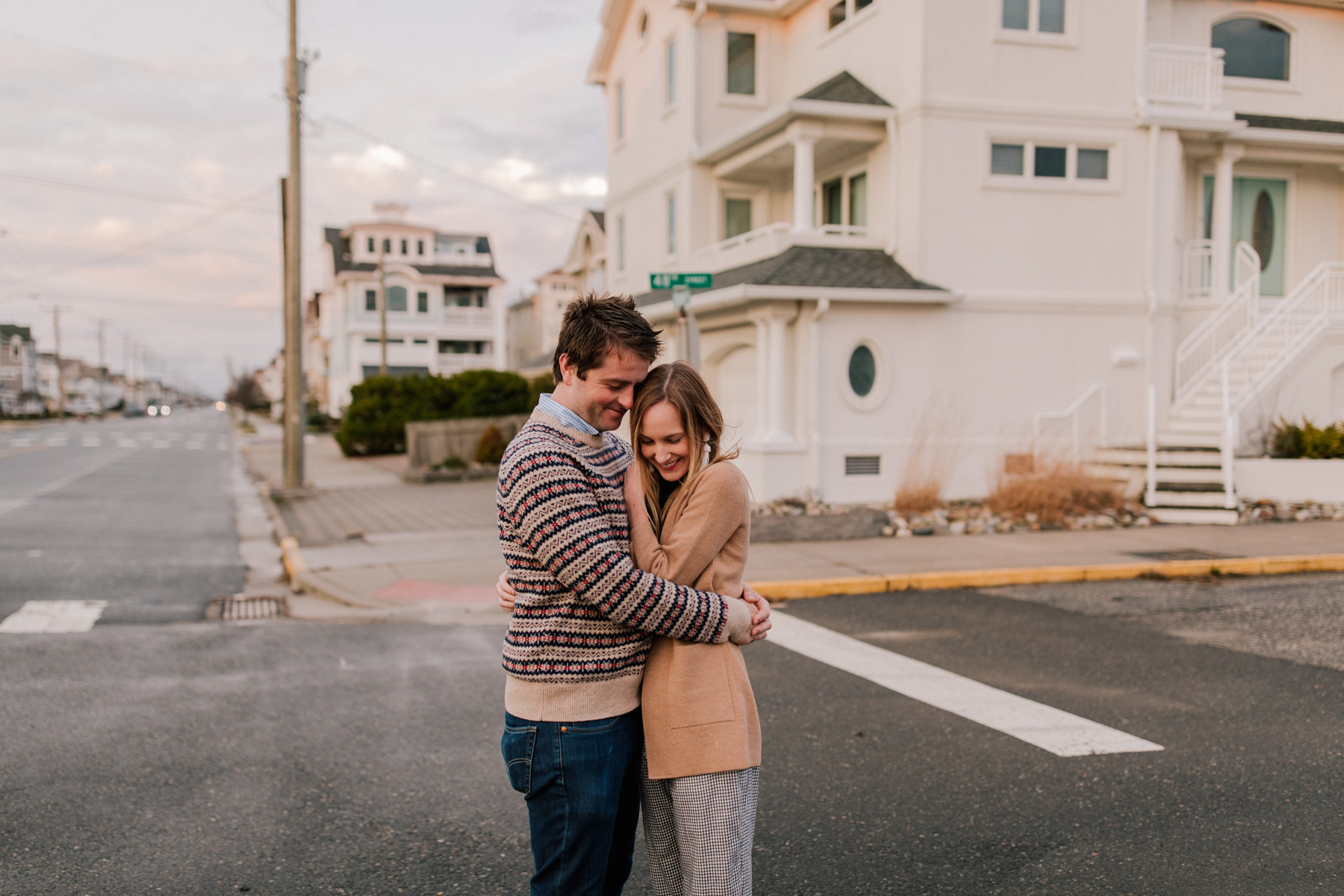 Gingham Pants (Shorts here.) / Navy Tee (Also here. Striped version here and here.) / Sweater Blazer (Also available here.) / Kate Spade Pumps (Similar options here, here and here.) / Lisi Lerch Earrings c/o
It's been a while since I blogged in "real time," but these photos were taken last night, right before my aunt, uncle and cousins rolled into Ocean City.
I love a house full of family. There's nothing like it. The laughter alone is just so special. And a house full of family down the Shore? And with my little girl happily running around at everyone's feet? Well, that's my idea of heaven. ;)
Truth: I'm writing this at like 1 a.m. because after a pizza and wine party, we stayed up late watching movies. So I'm off to bed! But a few quick notes about what I wore:
Navy gingham pants: I adore these pants. They felt a little out of my comfort zone when I first got them, but now they're my go-to for Friday and Saturday nights when it's not freezing. (It's actually pretty warm here! It rained on and off yesterday, but temps were in the 50s and 60s, so not too bad.) They make such a statement (love that bow), and they're extremely comfy. Sizing advice: I ordered a size 0 and 2 and kept the 2 for the sake of being able to effortlessly bend down when I need to for Emma. ;) For reference, I normally wear a size 25 in jeans. Here is the shorts version, btw.
Perfect tee: (It's also available here.  You can find the striped version here and here.) You NEED this tee, which is perfect for tucking in. I don't know about you, but I really struggle with finding tees that work with skirts and fancier pants. I love this one so much that I bought four of them: two white, one navy and one striped. It hugs me perfectly so there's little bunching! For reference, I'm wearing a size small in the tee.
Sweater Blazer: (It's also available here.) Another staple I wear year-round. It's so cozy, yet it looks so polished and has the ability to totally tie an outfit together. I only wore it outside last night, as our house was pretty toasty. But I wear this thing all the time, and couldn't recommend it more. Even just with jeans and a t-shirt, it looks like I've dressed up! I think I need the light pink one, too. ;)
Over and out! Follow along with our Friday night down at The Shore plus our entire Jersey Shore adventures on Insta Stories this weekend. <3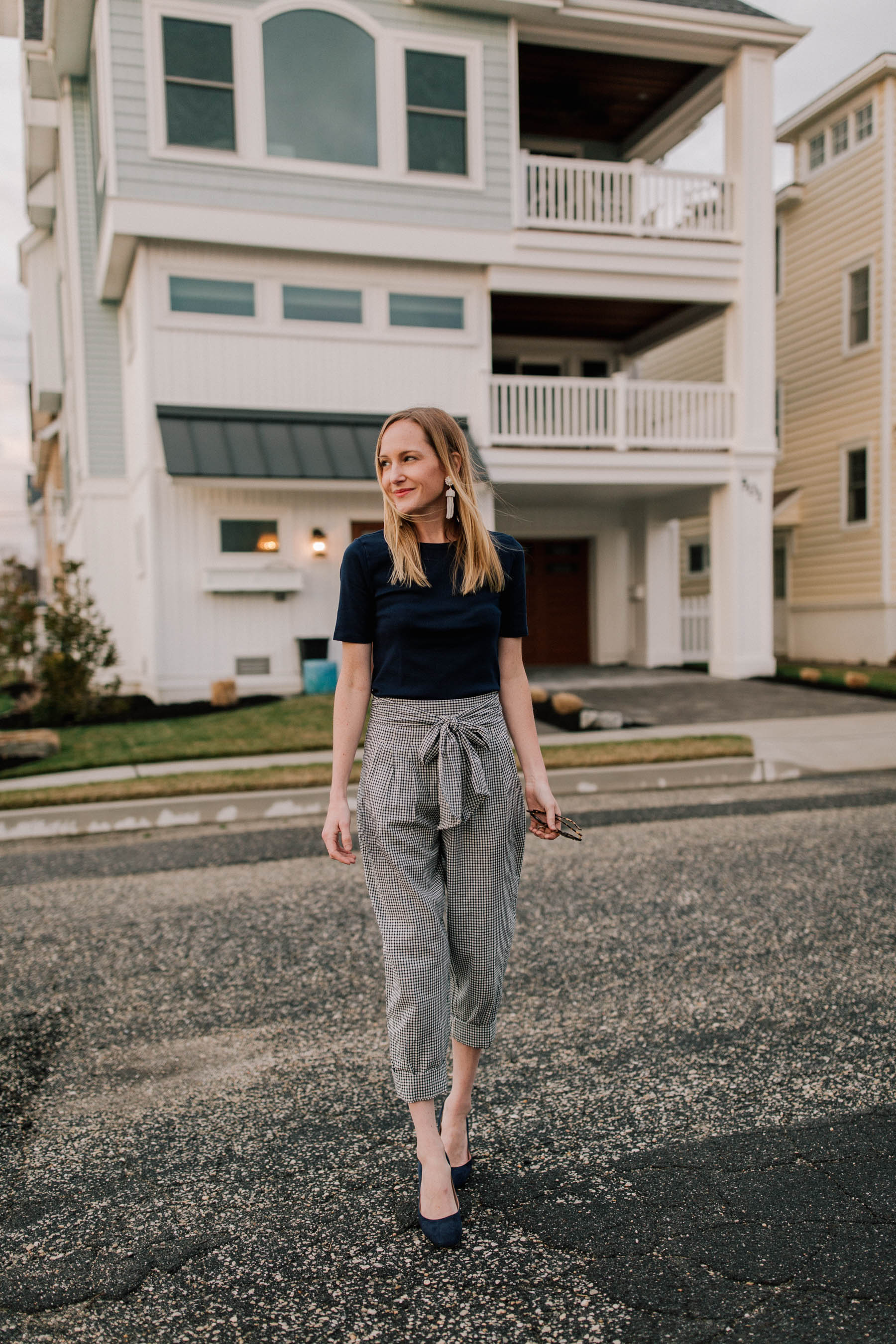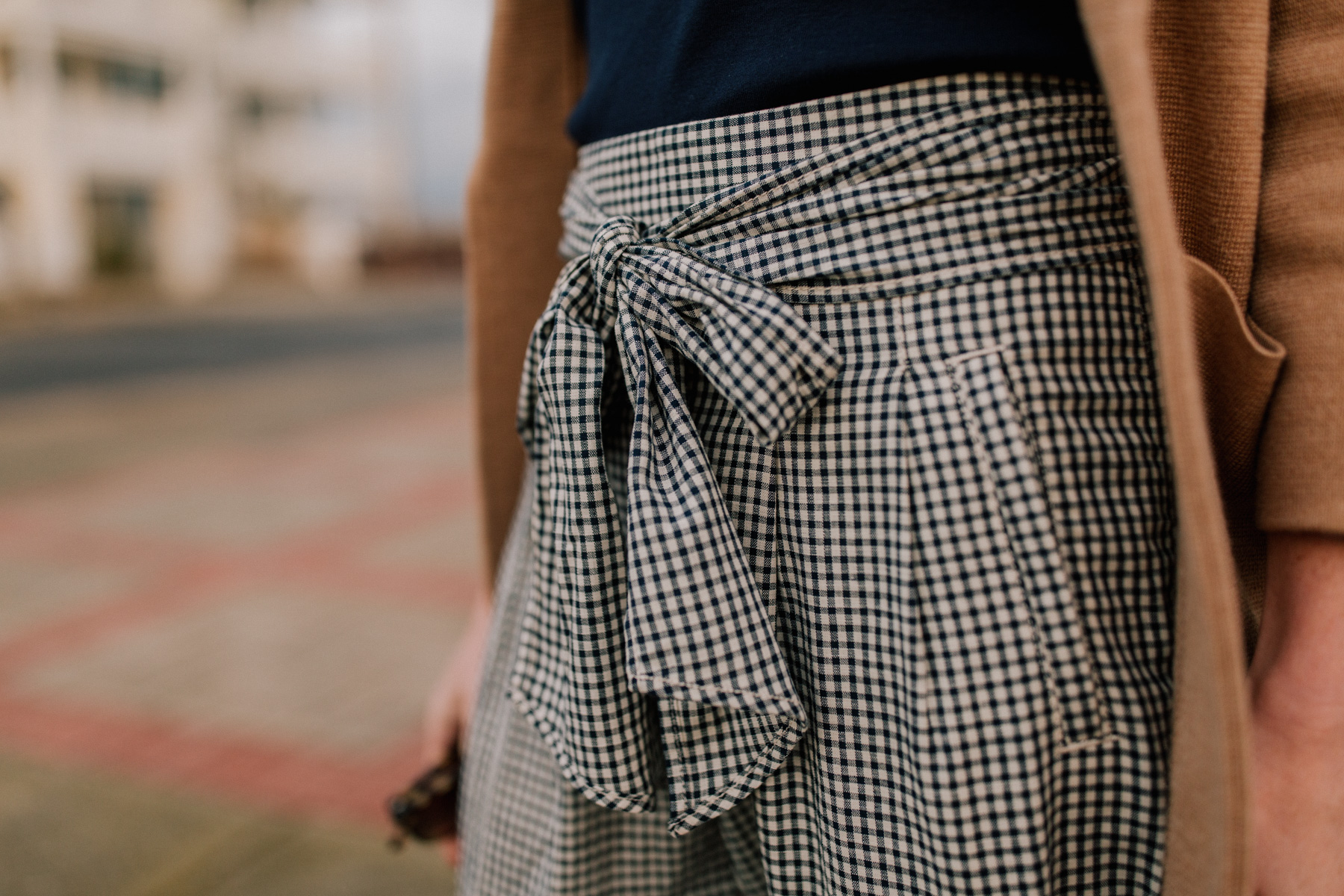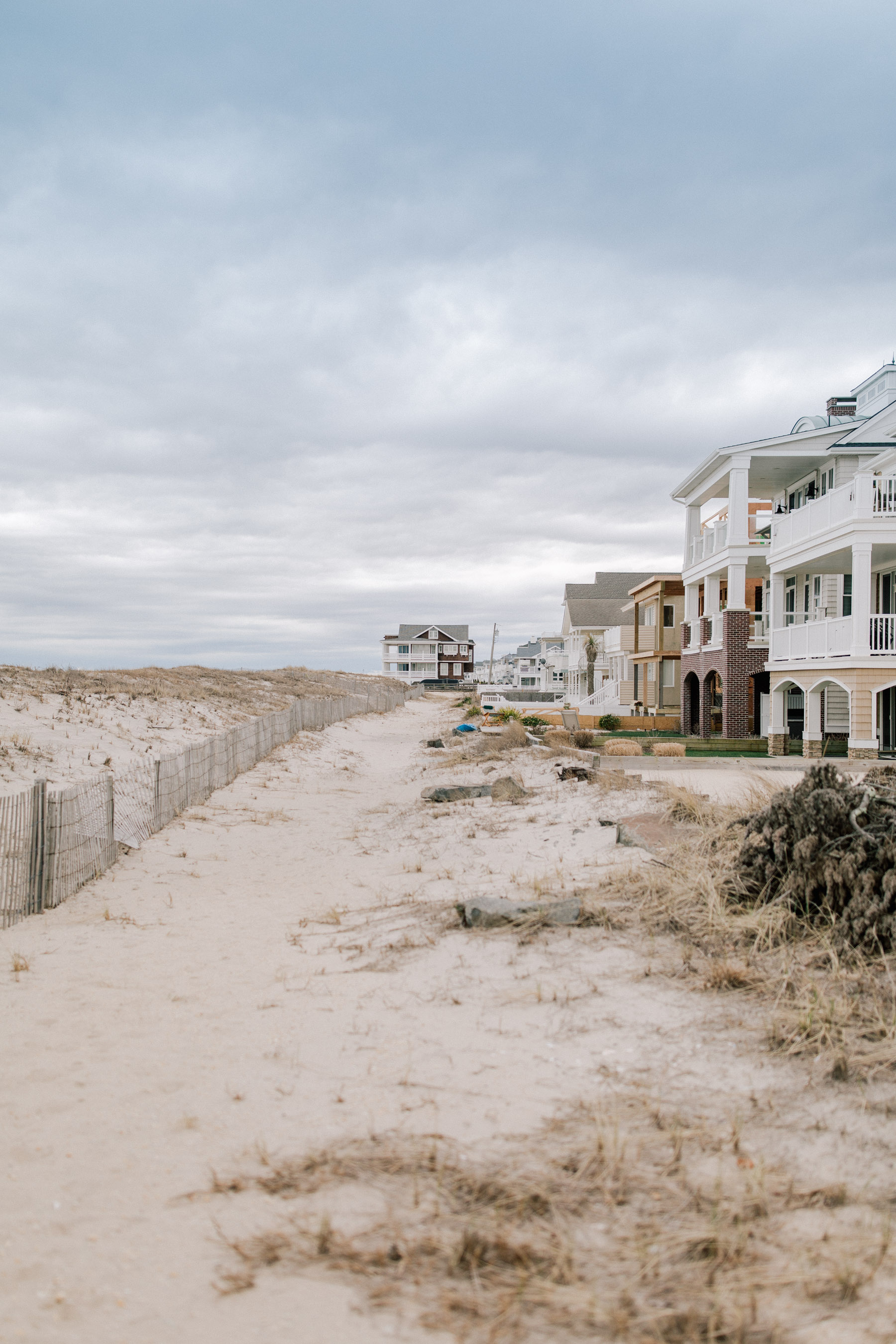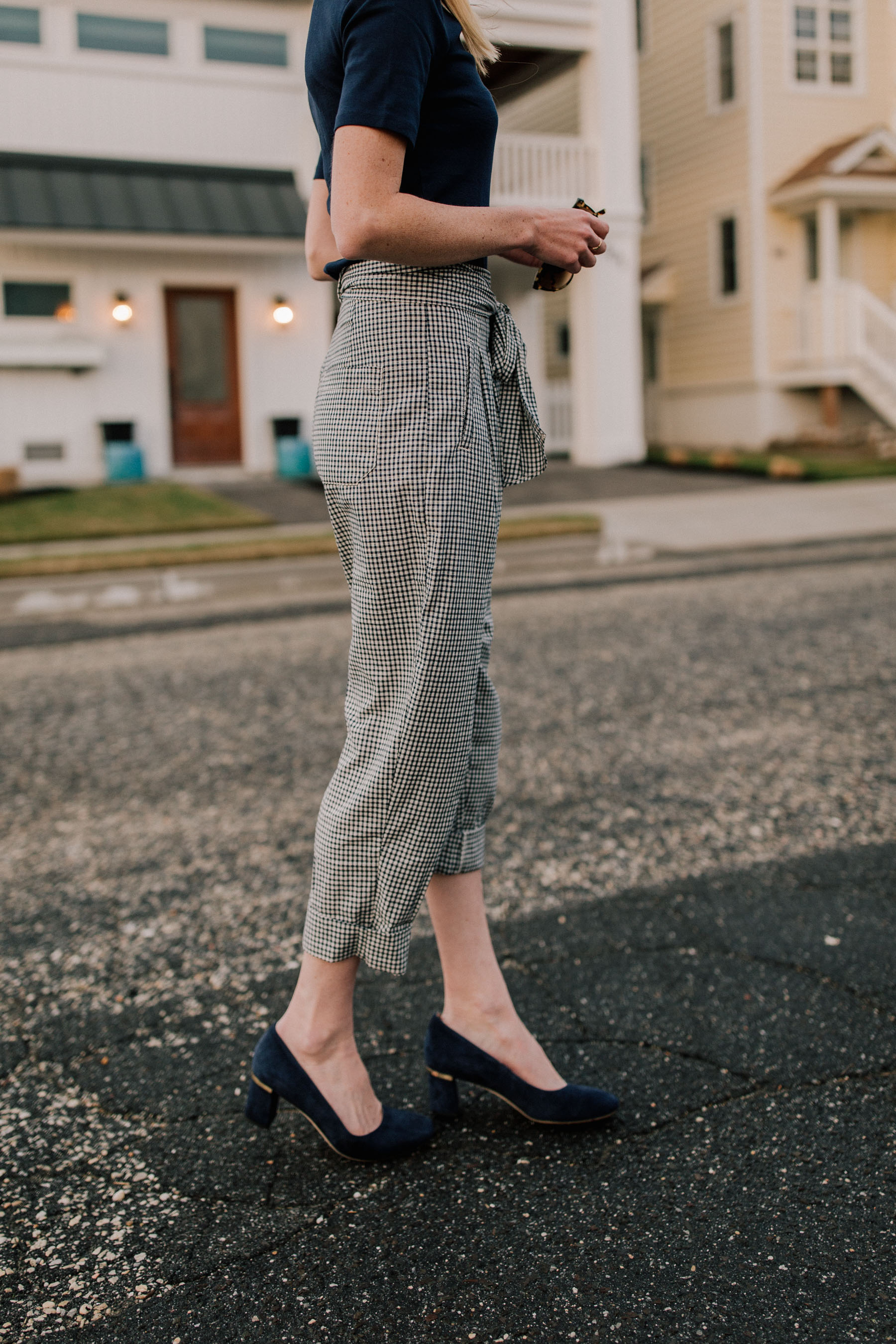 Shop the post:
Gingham Pants (Shorts here.) / Navy Tee (Also here. Striped version here and here.) / Sweater Blazer (Also available here.) / Kate Spade Pumps (Similar options here, here and here.) / Lisi Lerch Earrings c/o
SaveSave
SaveSave