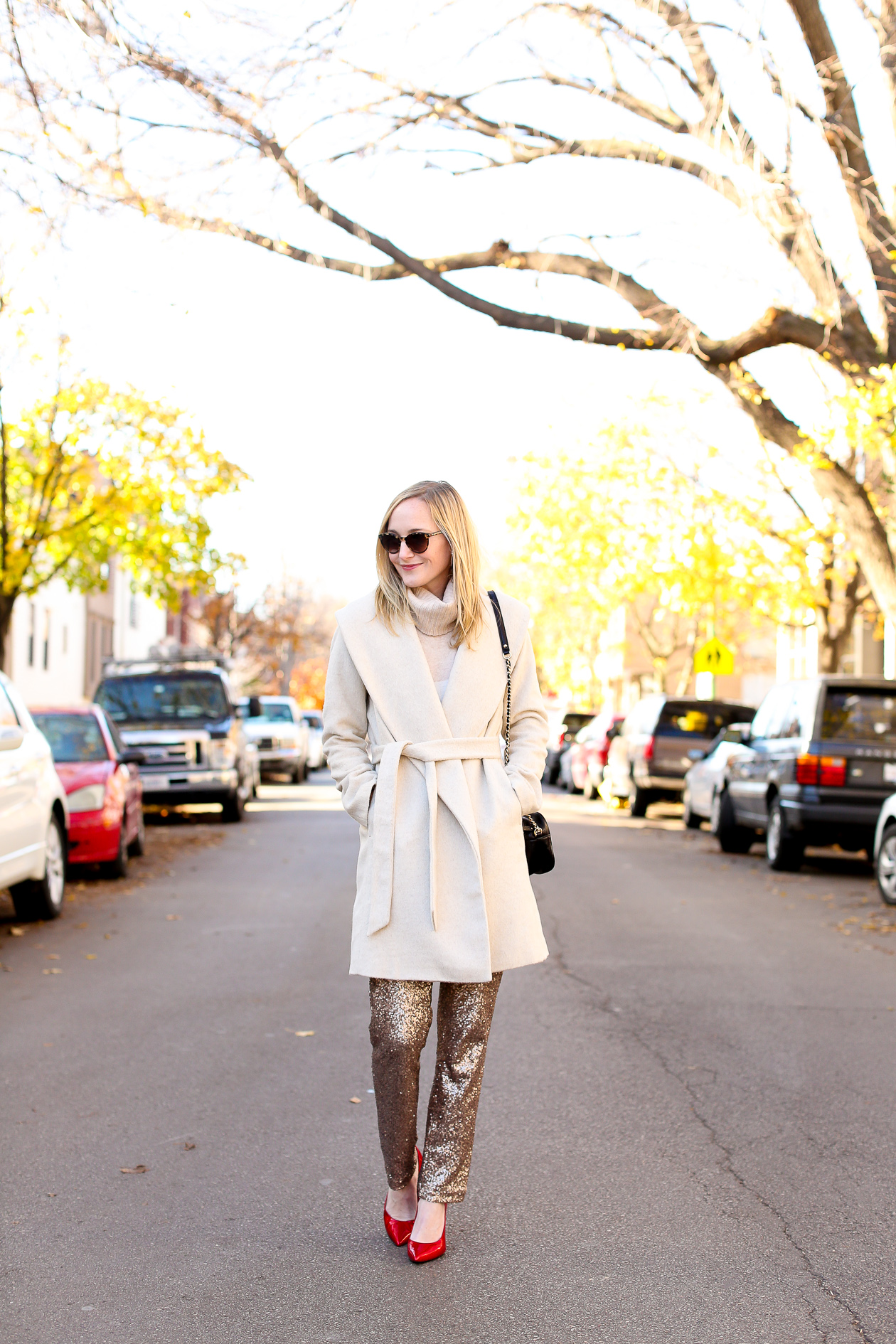 Ann Taylor Holiday Cashmere Colorblock Sweater, Sequin Ankle Pants and Wrap Tie Coat c/o / Stuart Weitzman Pumps c/o — A collaboration between Zappos.com and Virgin America! / Kate Spade Bag (Old, similar here, here, here and here) and Sunglasses (Old, similar here and here) / J.Crew Bracelet (Old, similar here) / Moon & Lola Earrings c/o
Today, Jess and I are sharing our holiday-inspired looks (and insanely gorgeous cashmere sweaters) from Ann Taylor! I may have also worn my outfit to the Darwin Deez concert last night (hehe, preppiest girl there) just because hello–these pants are fabulous, and there was no way I was changing out of my new color-blocked cashmere sweater. ;) (Brrrr, Chicago. First day that truly felt like winter!) But this is also what I plan on wearing to my dad's family's Christmas party on Long Island next month. And to whatever holiday events in Chicago that fall on super cold days!
A bit more:
First, the cashmere sweater. It's beyond soft, and it pairs perfectly with dress pants, jeans and skirts. (I'm also planning on wearing it over some of my holiday dresses this year to warm things up!) I love its trendy side-splits, and its soft color-blocked design. The cut is also incredibly flattering! For sizing help: I went one size up, as I'm really into slightly oversized, cozy sweaters this year, but my usual size worked well, too. See some of my other favorites from Ann Taylor's new holiday cashmere line above!
The sequin ankle pants. I've wanted a pair of sequin pants ever since I saw Maya in 'em last holiday season, but every pair I tried looked absolutely ridiculous on me. Too tight, too long, too bright–it was simply all wrong. When I tried these on, though, I kind of freaked out. ;) They're perfect! They feature a slim, straight-leg cut, which makes them look classy instead of flashy, and they're lined, preventing any sequin itchiness. They're also super comfortable. (Rare for dress pants, right?!)
I don't know about you guys, but sometimes wearing dresses to holiday events is complete torture for me. As much as I love getting dressed up, I can't handle being cold. But when I opt for pants and sweaters, I'm kind of sad, too. I want to get dressed up, you know?! These pants, though, are so fabulous that they'll make me feel like a million bucks at those chilly events–and they'll keep me toasty! Sizing help: Runs a bit on the larger side, but I went with my usual size.
Finally, the wrap-tie coat. My fashionable sister-in-law, Sarah, has a wrap-tie coat that I've adored for years. So you can imagine the excitement when I spotted this one at Ann Taylor! Sarah, now we're bag and coat twins, haha. What can I say? Just want to be like my big sister… ;)
But back to the coat: Eeee! I love the oversized, cozy cut, and that it has a waist-cinching tie belt. It also features a wool blend, making it warm enough for those chillier days we're starting to see. Hands down, favorite coat of the year!
Anyway, be sure to check out the rest of Ann Taylor's new cashmere line… and head over to Jess's site to read her post!