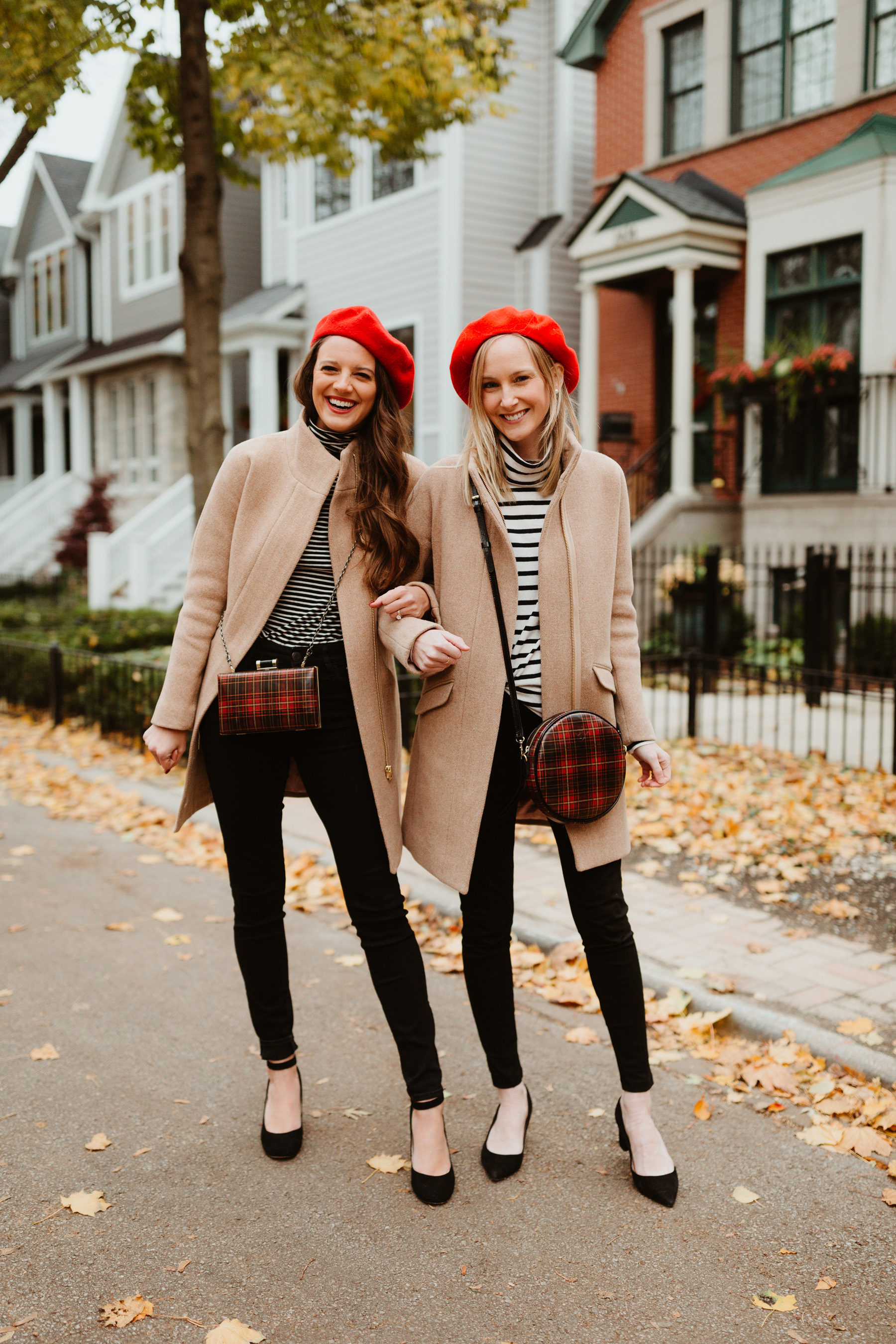 J.Crew Cocoon Coat (30-35 percent off today with code "FRIENDS" or "FAMILY." Also look into the Lodge Coat. Just as warm and comes in a camel color, but a bit more fitted and less casual.) / Patricia Nash Tartan Collection c/o / Halogen Seamed Leggings (On sale! I'm also a big fan of the "Jeanish" Leggings by Spanx, and Old Navy's Stevie Pants. I also just ordered these sequin leggings for the holidays since they're such a deal. Jess' jeans are from American Eagle.) / J.Crew Tissue Turtleneck (Here's the white with black stripes version… and the navy stripe version!) / Red Berets (They come in velvet now, too! Jess' beret is from Nordstrom.) / Newer Version of Black Kate Spade Pumps (Similar Black Pumps on sale!)
I have a fun sponsored Instagram project going live tonight, and I thought I'd quickly share some of the photos–as well as some of the staples I rely on so often during the fall and winter–on the blog!

Shop all Stadium Cloth Wool coats. All 30-35 percent off today with code "FRIENDS" or "FAMILY."
J.Crew Cocoon Coat: Okay, I'm going to stop talking about this coat, hahaha. We've had a very cold November but I don't want to break out the puffer quite yet, so this has been my go-to. I always say this, but this is the wool coat that changed everything for me. Before I purchased one (five years ago!), I couldn't get away with wearing anything but puffers during the chillier months. Now, though, I can. I credit it to J.Crew's Stadium Cloth Wool, which is unbelievably warm and a game-changer for me. Remembering that I have a circulatory disorder, I normally get away with wearing the coat in 30-degree weather, but temps have been in the 20s this week here in Chicago, and I've been totally fine in it.
Here are all of J.Crew's coats that come in Stadium Cloth Wool. Be sure to look into the Chateau Parka and the Lodge Coat! Both are made from Stadium Cloth Wool, too, so they're just as warm. I actually have the Lodge in red! It's a bit more fitted than the Cocoon, and therefore looks a little less casual. (Also, the Cocoon runs large. I would recommend going one size down, whereas with the Lodge, I went up one size for room in the shoulders. Also, the coats are on sale today. Use code "FRIENDS" or "FAMILY" to take 30-35 percent off today.)
Halogen Seamed Leggings: Bah! They're on sale today, so they're selling out quickly. But I also love this pair by Spanx because they kind of look like jeans… and the Stevie ponte pants from Old Navy, which I'm constantly talking about these days. (Btw: Just ordered a bunch of Stevies so I could write a comparison post, and so far, I've noticed that the plaid pair runs a lot tighter than the others. I went with my normal size with the others, but went one size down for plaid.
J.Crew Striped Tissue Turtleneck: Couldn't live without this turtleneck. I have three of them, just because I wear 'em so often and was tired of my one being in the wash all the time. It's such a great layer piece, and looks adorable on its own. It's also my go-to top when styling plaid scarves for the winter. I can't tell you how many compliments I get when I wear the plaid-with-stripes look; it's a statement yet so easy! (TTS and on sale. Use code "FRIENDS" or "FAMILY" to take 30-35 percent off today.)
Beret: LOVE MY RED BERET. (Jess' beret is from Nordstrom, and it's a an even better deal.) It's actually far easier to wear than you'd think. Simply put it on your head and then pull it back and to the side a little. You can also wear it like a regular hat, but I look like a mushroom when I do that, so yeah. ;) Did you see that there's a velvet version now?! (On sale. Use code "FRIENDS" or "FAMILY" to take 30-35 percent off today.)
Pumps: These are my most-worn black pumps. My pair is an older version, but Bloomingdales carries the new pair, and they're great! (I actually have them in navy.) Couldn't recommend more. TTS. If you're looking for a more affordable pair, I would try these from Sam Edelman, as Sam Edelman is known for comfort. (They're on sale!)
Anyway, be sure to check Instagram tonight for the project to go live! Loved teaming up with some of my favorites: Jess, Carly and Grace. 💕 And, I mean, how adorable are the Patricia Nash tartan bags we're sporting?! The perfect holiday/#60daysofplaid accessory! Check out the whole line here. :)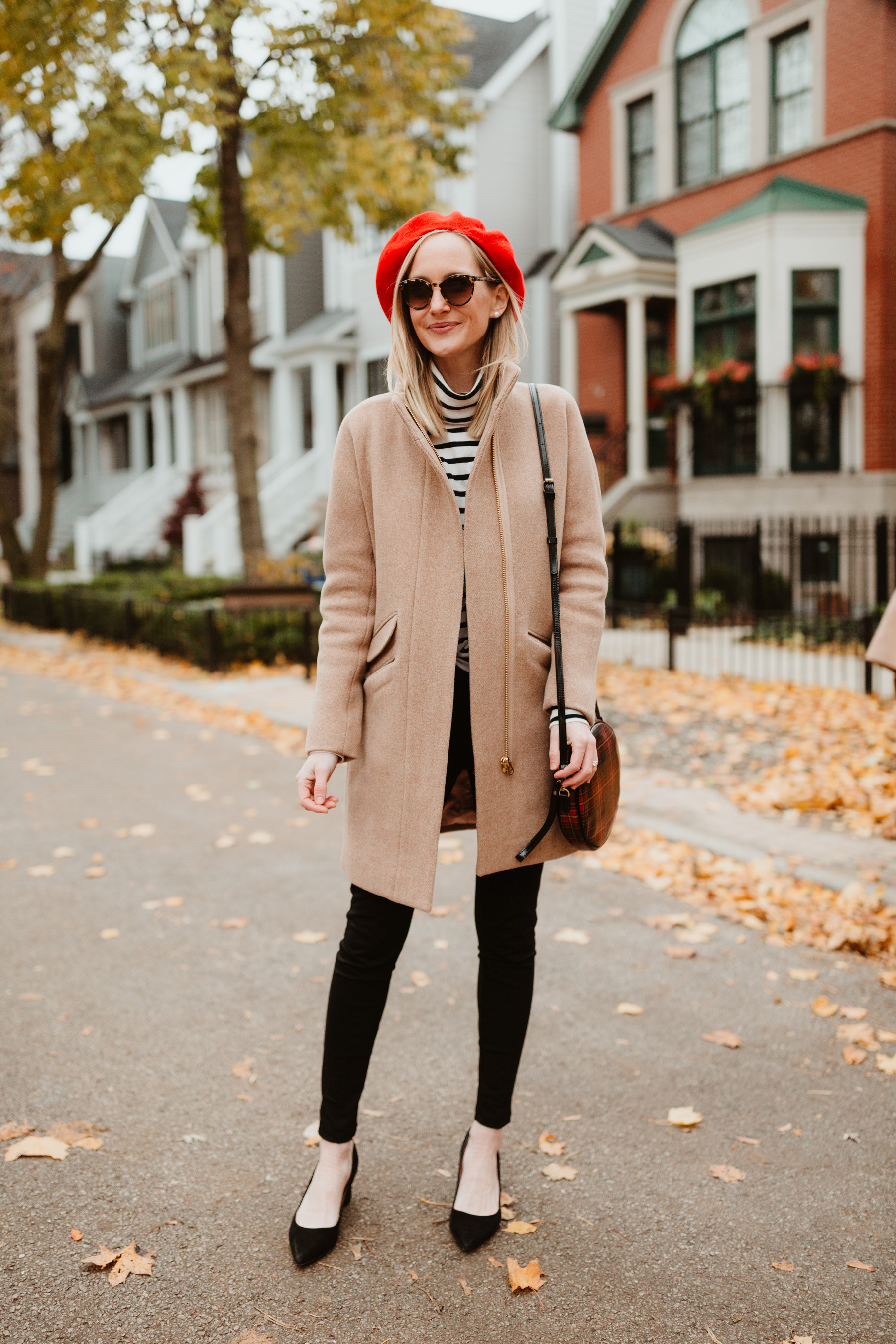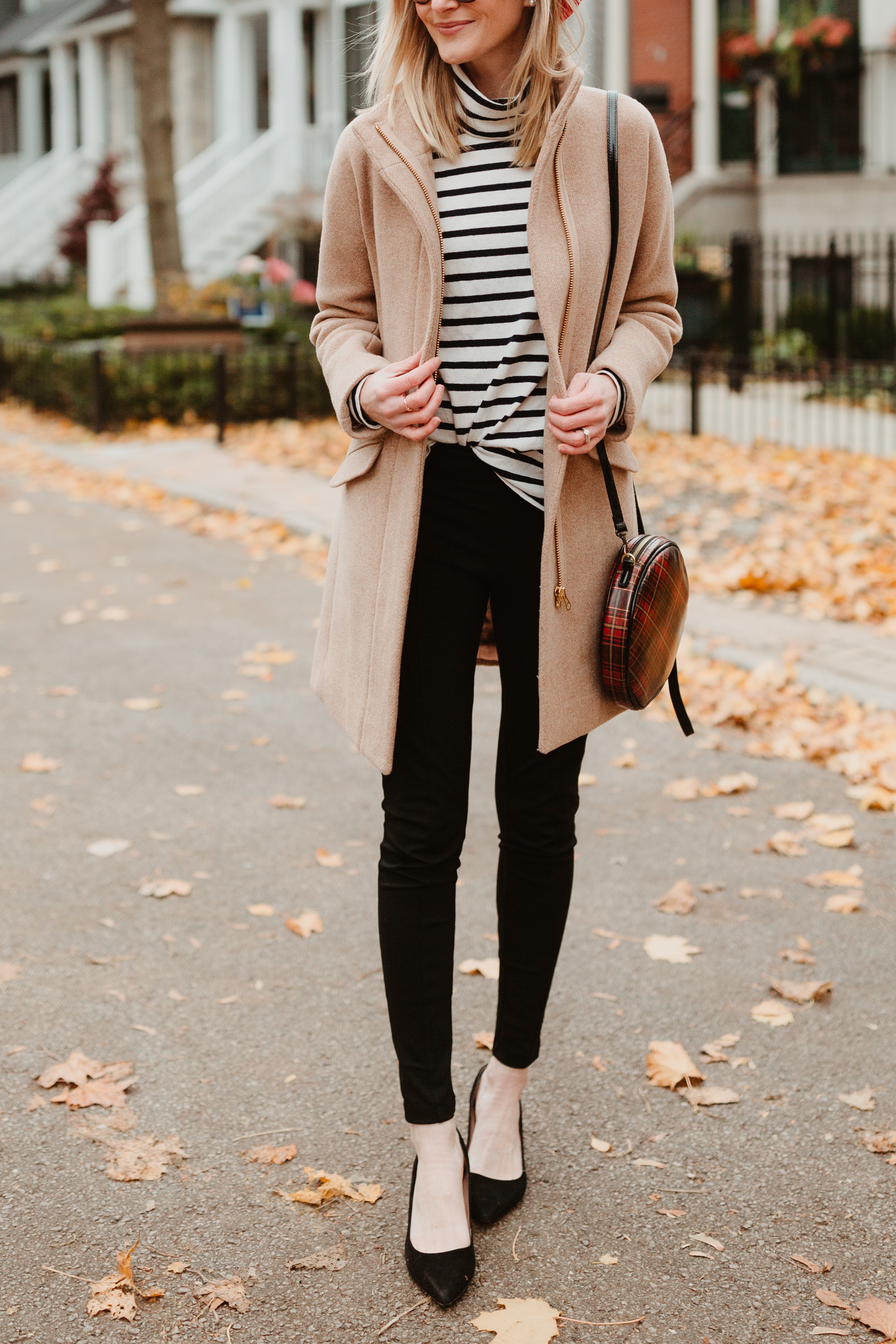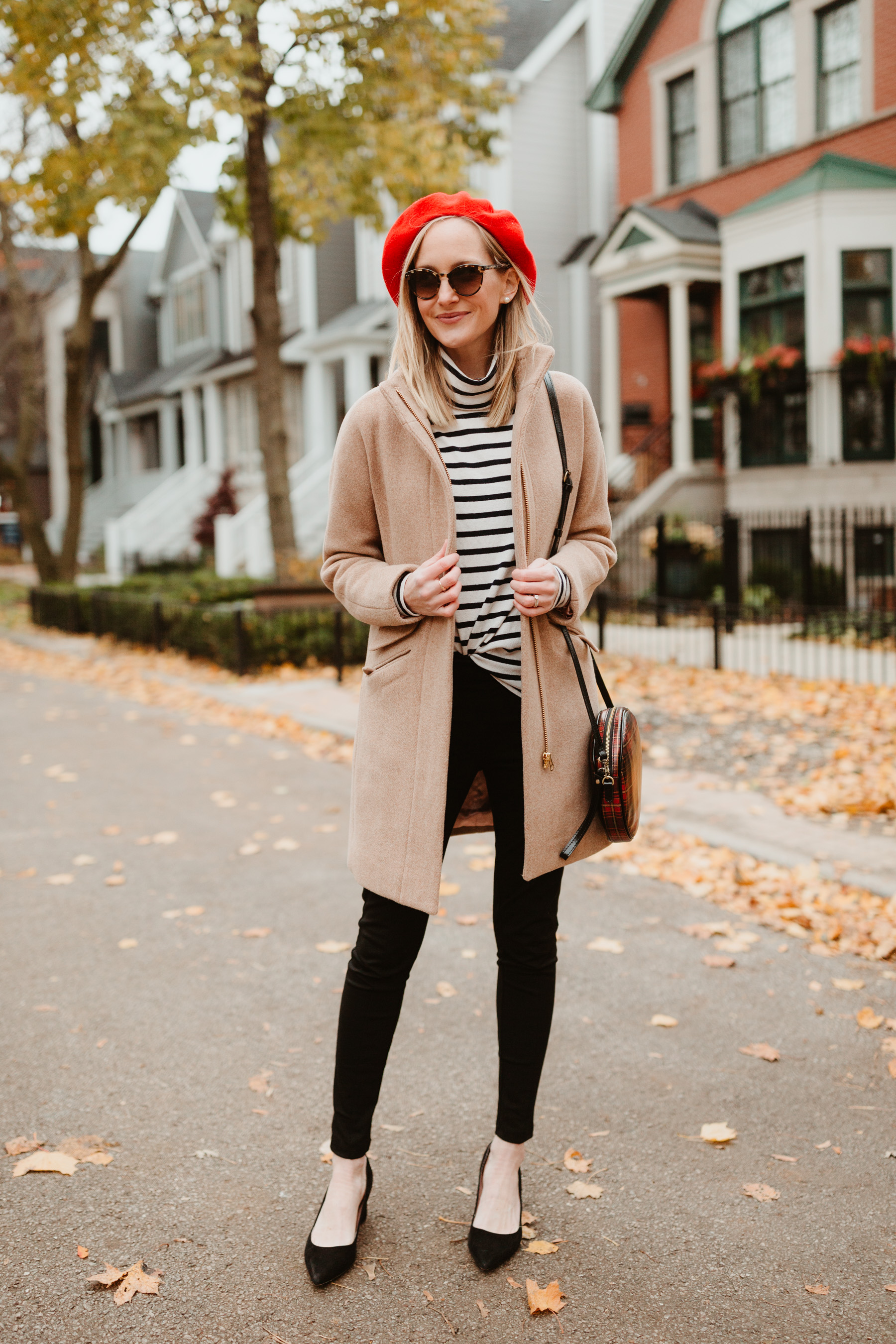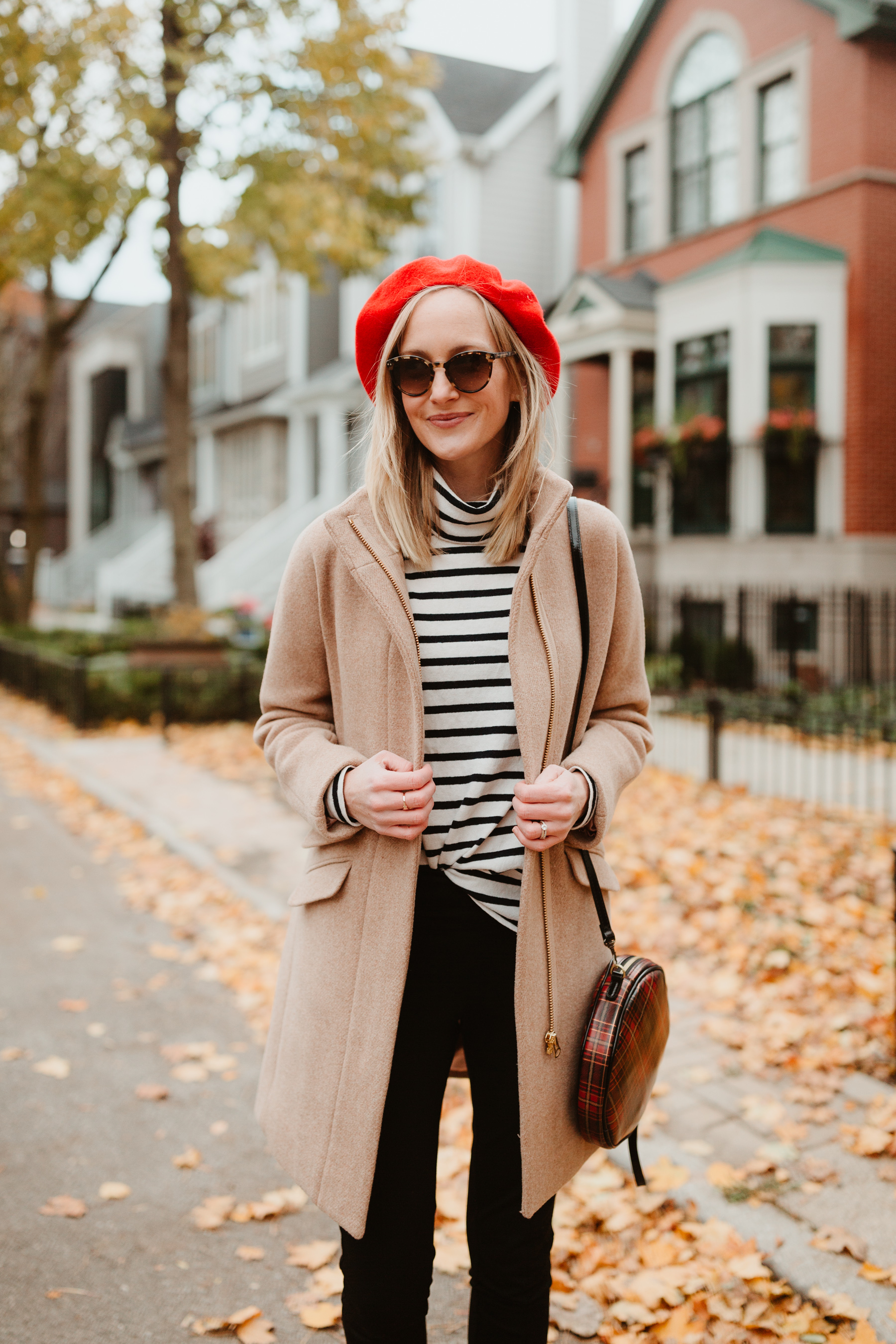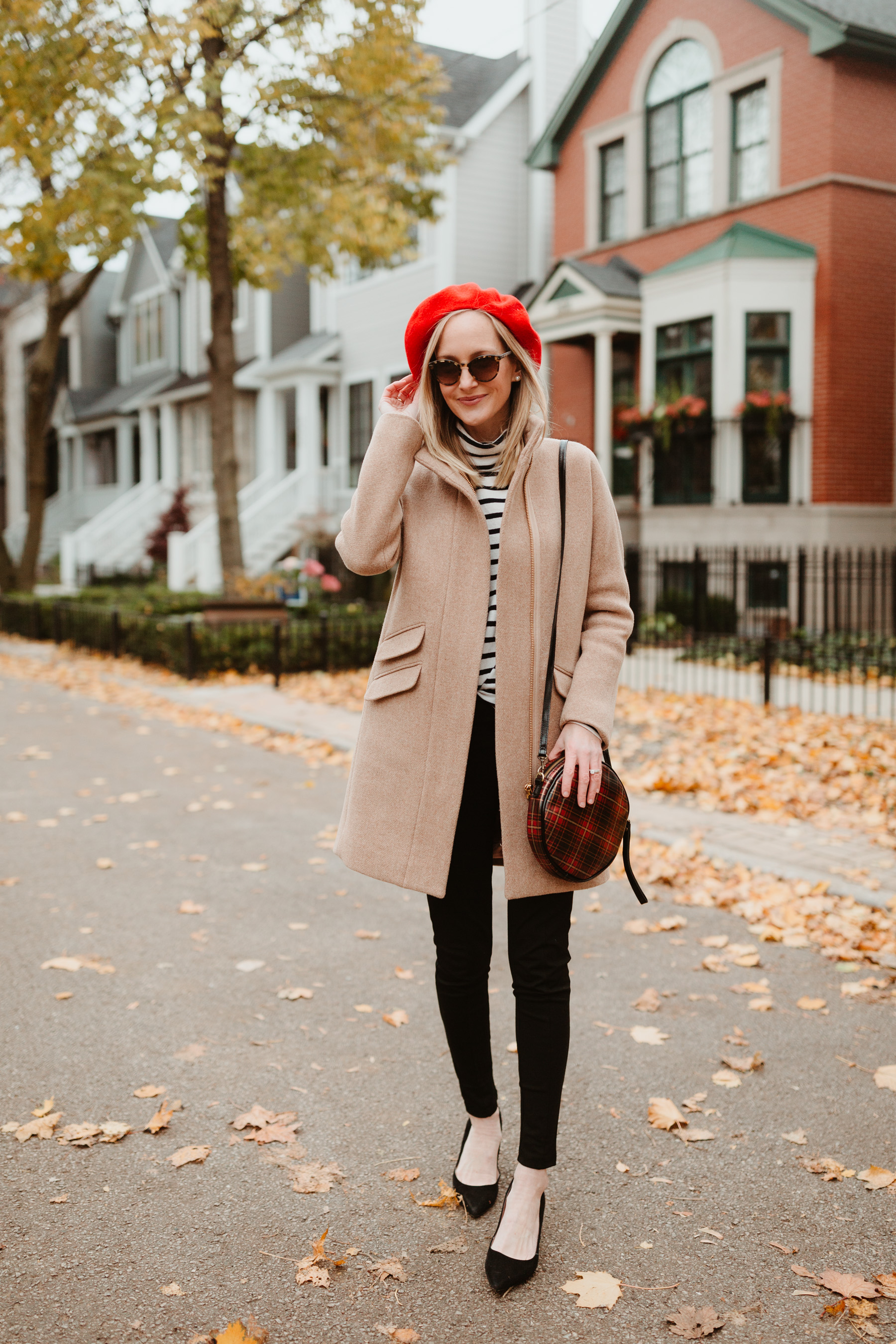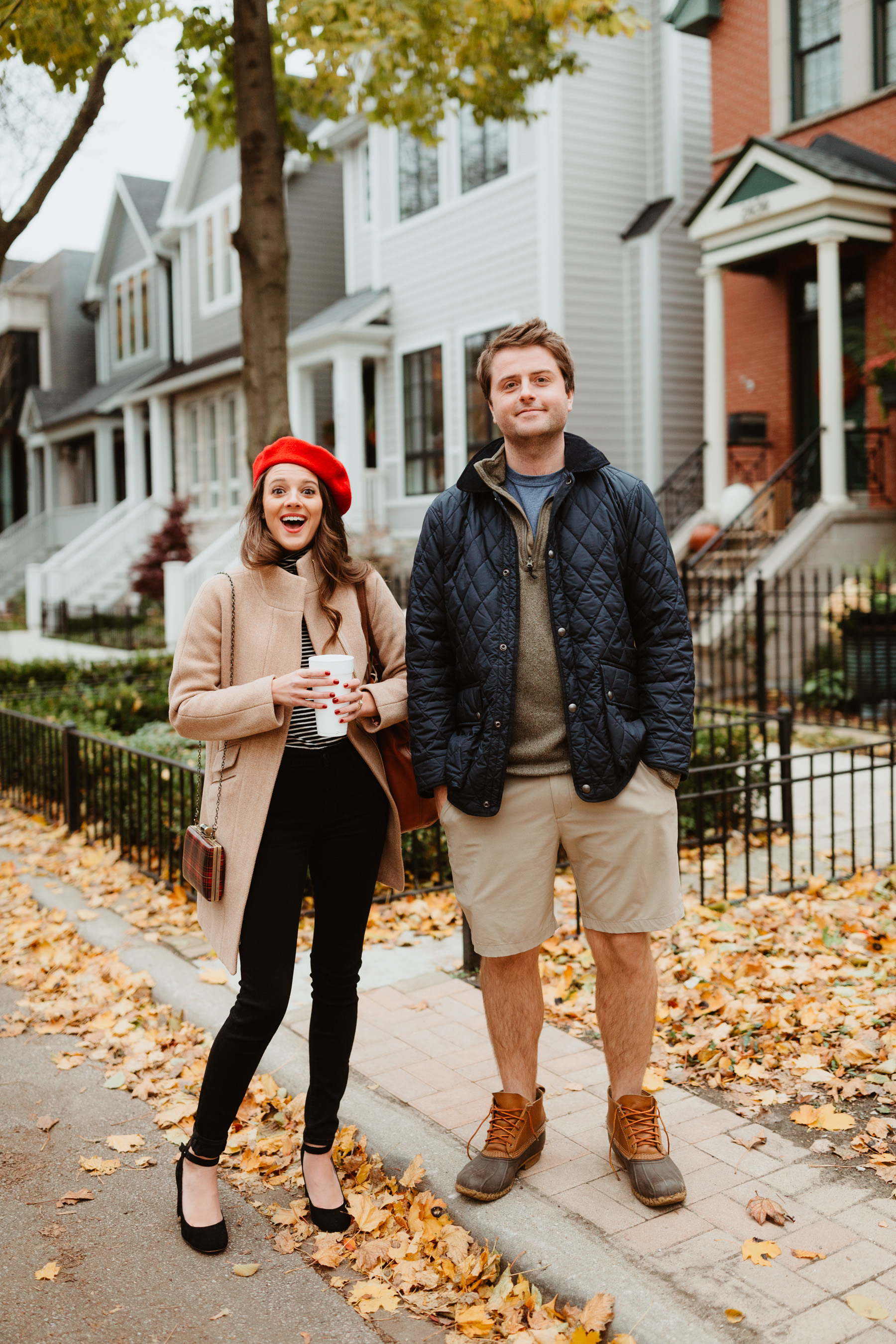 ^ Thank you, Trusty Photographer, and I'm so impressed with your desperate attempts to hang on to summer. ;)
Shop the post:
J.Crew Cocoon Coat (30-35 percent off today with code "FRIENDS" or "FAMILY." Also look into the Lodge Coat. Just as warm and comes in a camel color, but a bit more fitted and less casual.) / Patricia Nash Tartan Collection c/o / Halogen Seamed Leggings (On sale! I'm also a big fan of the "Jeanish" Leggings by Spanx, and Old Navy's Stevie Pants. I also just ordered these sequin leggings for the holidays since they're such a deal. Jess' jeans are from American Eagle.) / J.Crew Tissue Turtleneck (Here's the white with black stripes version… and the navy stripe version!) / Red Berets (They come in velvet now, too! Jess' beret is from Nordstrom.) / Newer Version of Black Kate Spade Pumps (Similar Black Pumps on sale!)