Seeing as it's officially the start of winter, I thought it would be fitting to share three warm winter outfit ideas. From a versatile turtleneck outfit to a cozy snow day look to a winter sweater dress.
Versatile Turtleneck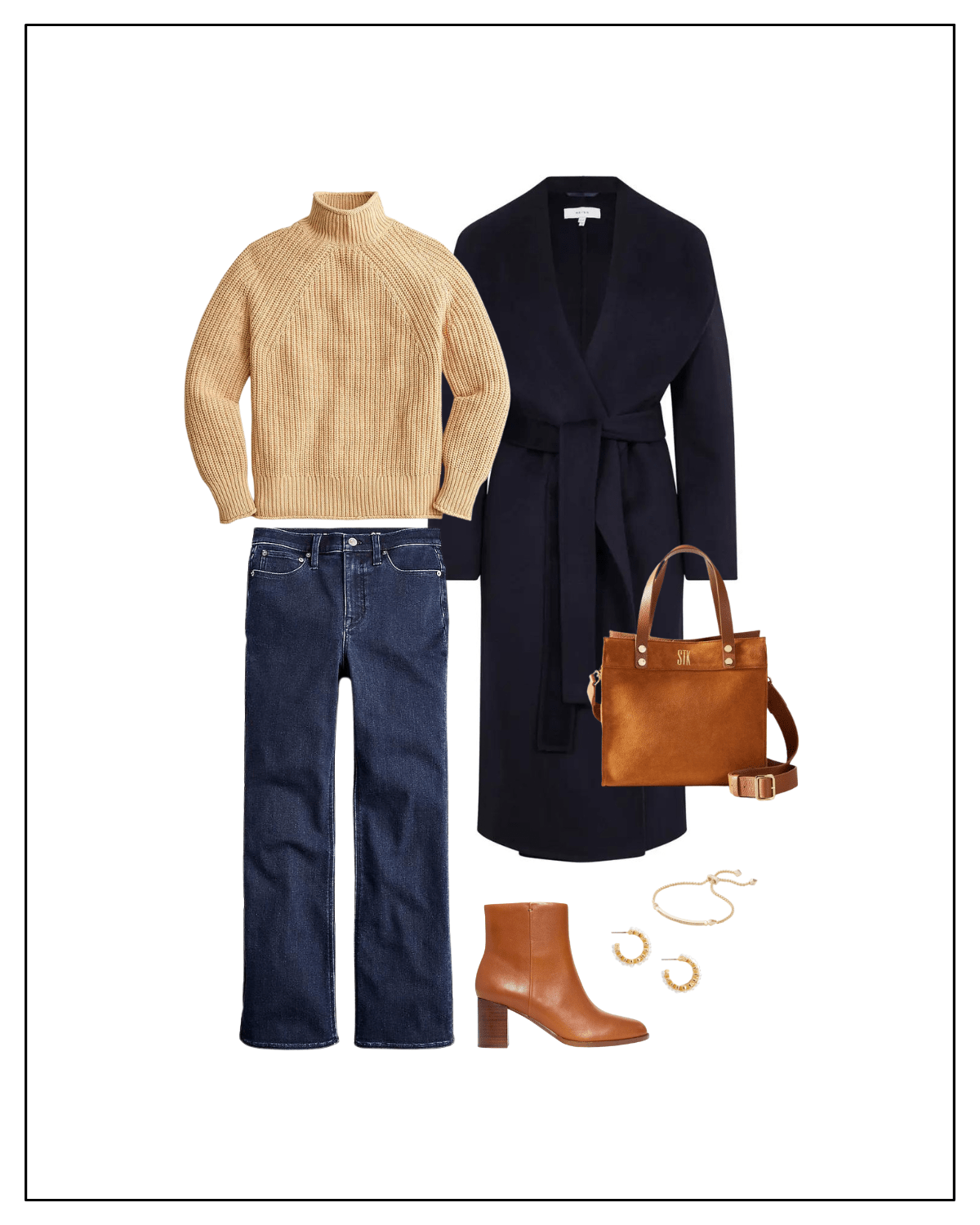 Camel Turtleneck Sweater / Navy Wool Wrap Coat / Demi-Boot Jeans / Brown Leather Tote Bag / Gold Bracelet / Pearl Hoop Earrings / Brown Leather Ankle Boots (50% off with code ITSAWRAP)
This versatile turtleneck outfit is the perfect relaxed yet polished day-to-day look. It starts with a camel turtleneck sweater. This one is under $100 and comes in a bunch of colors. Another basic I love are these demi-boot jeans. They're incredibly soft and comfy, and I love how dark they are! Layer a navy wool wrap coat for some warmth, and accessorize with gold jewelry like these pearl hoop earrings and this bracelet. I love these brown ankle boots. The chunky heel on the booties allows me to walk for miles in the city. And lastly, a brown leather tote bag pulls together this look.
Snow Day Outfit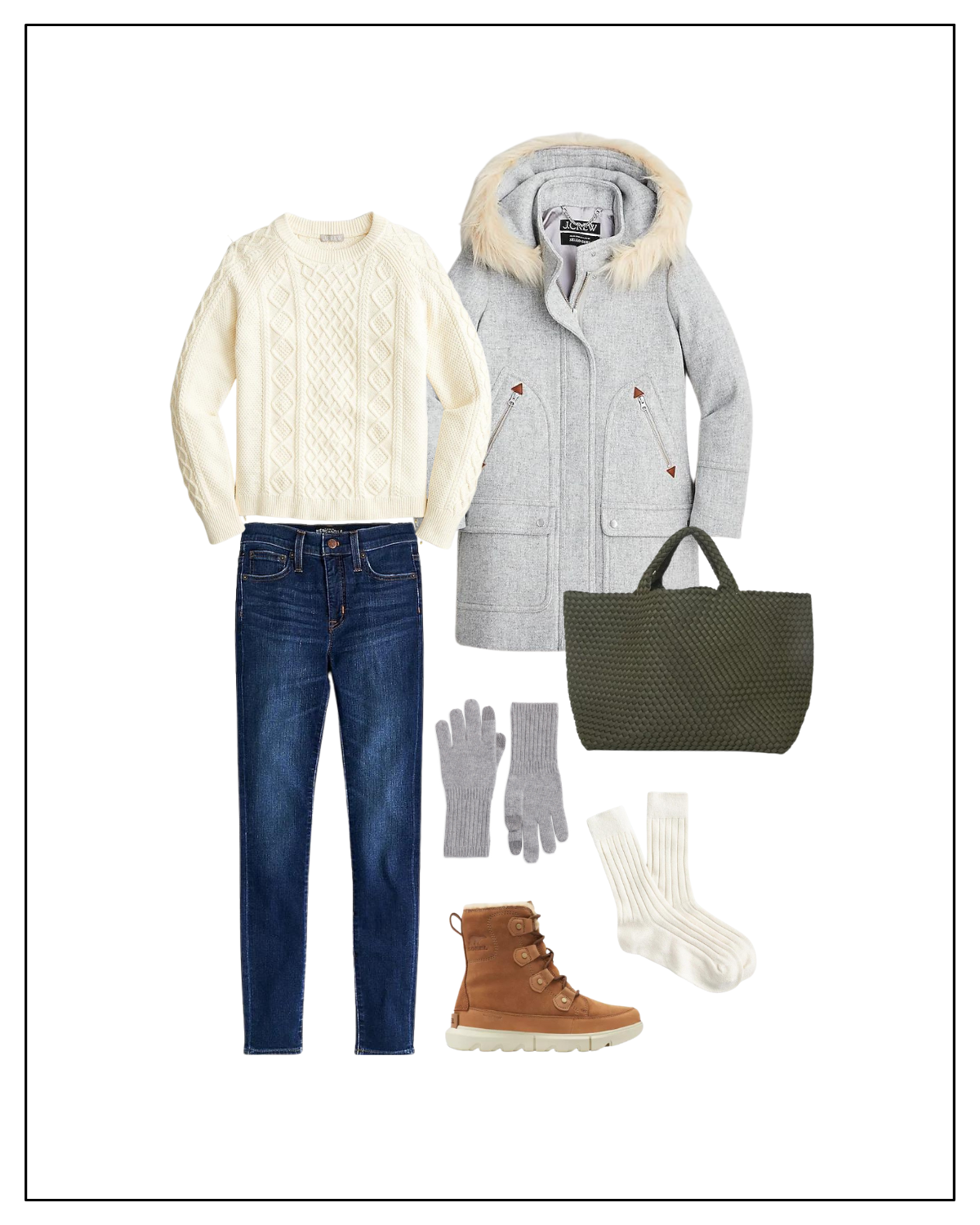 Cream Cable-Knit Sweater / Skinny Jeans / Grey Coat (up to 70% off with code BIGSALE) / Grey Cashmere Gloves / Olive Green Woven Tote Bag / Ivory Cashmere Blend Trouser Socks / Sneaker Snow Boots
We had our first real snow day of the year, and I wore something similar to this. The key to staying warm on a snow day is layers. Start with a cozy sweater. I love this cable-knit sweater. Wear it with your favorite pair of skinny jeans; these are under $45. I wear these sneaker boots most of the time in the winter – they are incredible. They're waterproof, super comfortable, and warm. Go up half a size. Wear warm socks and gloves and accessorize with a woven tote.
Winter Sweater Dress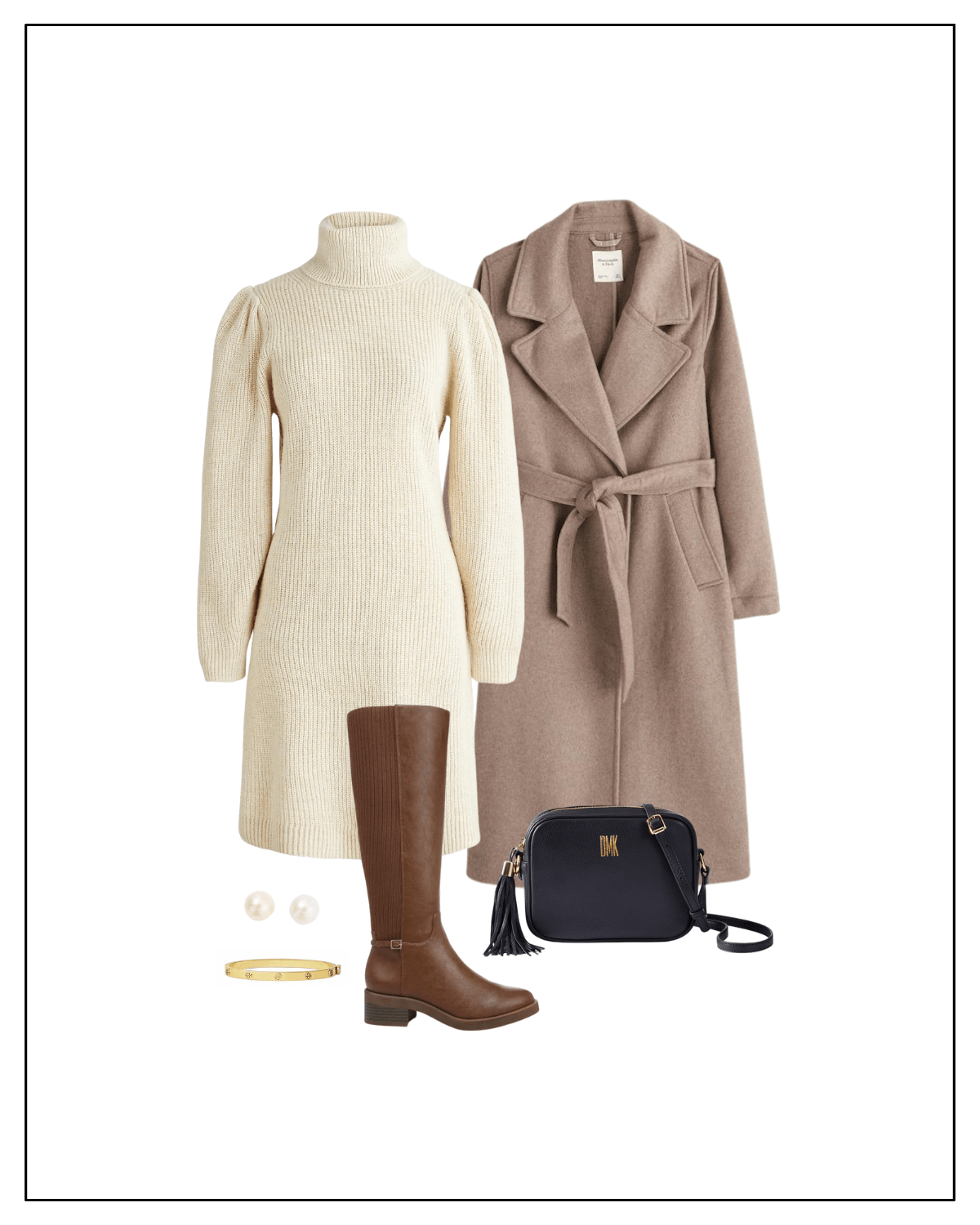 Cream Sweater Dress (up to 70% off with code BIGSALE) / Brown Wool Wrap Coat / Brown Riding Boots / Black Crossbody Bag / Pearl Earrings / Gold Bangle Bracelet
One of my go-to winter outfits is a sweater dress. I absolutely love this white turtleneck sweater dress, and it's up to 70% off. I'd pair the dress with a neutral-colored wool wrap coat. A longer coat not only ensures you stay warm but also complements the length of the dress. I love styling sweater dresses with these super comfy riding boots. They are under $120 and TTS. Finally, accessorize with a black leather bag, pearl earrings, and a gold bangle bracelet to tie this look together.