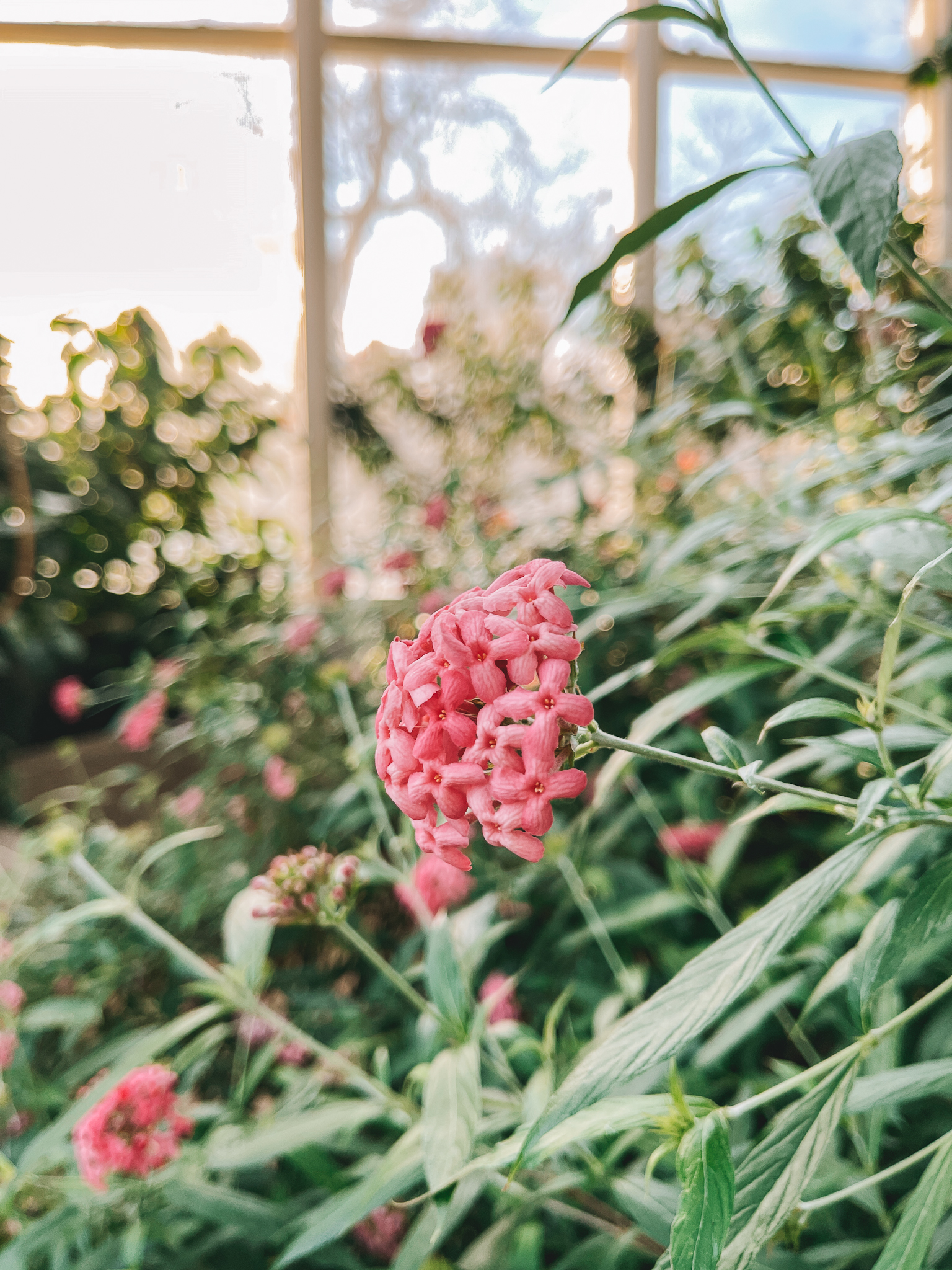 Taken on my iPhone at the Peggy Notebaert Nature Museum, not even in "Portrait Mode." Constantly amazed by what phones can do these days!
Looking me, starting up my weekely "10 Things" posts again! Killin' it. ;)
Let's jump right in:
We made a very big decision for our family. It's been a wild and crazy couple of weeks filled with lots of emotion, and my stomach is still in knots. (To be honest, I'm still processing everything!) But we're excited and relieved about all there is to come. And happy. Very happy. Will share as soon as we feel less 🤪 and I can form actual sentences, but that's where my head's been.
My brother and sister-in-law are having a boy! Congratulations, Patrick and Kim! I think with the craziness of the holidays, this wonderful family news didn't make it to the blog, haha. But we're overjoyed, and think the dichotomy between our two families is so cute: two boys in New Orleans, and two girls in Chicago. So many happy memories to be made.
A movie we watched rocked us to our CORES. Okay, a "funny" story: In college, I saw P.S. I Love You and was so upset by it that I had to take a full day off from classes. Like, I could not stop crying. 😆 And then when we lived in New York, Mitch and I watched About Time and same thing: Had to take the following day off because I was a blubbering mess. Anyway, we watched Our Friend the other night, and let's just say we are very grateful that we work from home, haha. It's a true story, and is heartbreaking and heartwarming at the same time. We gained quite a bit of perspective from it! Just be prepared to cry.
My friend Carly published a book! I'M SO PROUD OF HER. Mitch and I adore Carly. She's one of our best friends, and has been our cheerleader in both business and life. And her book—Business Minded—is incredible. A must-read for anyone who has the entrepreneurial spirit! Congratulations, Carly. We're so proud of you!
We're going ice skating this weekend in our friends' square. Our friends Peter and Bradley live on the most beautiful community square, and every winter, Peter sets up an ice skating rink for the residents to enjoy. It's incredible! I didn't do it last year because Lucy was still pretty young, but Mitch took Emma. Excited to get out there as a family with our good friends!
WE PUT THE PLAYMOBIL DOLLHOUSE TOGETHER. Oh my gosh, haha. My parents graciously gave the girls this beautiful Playmobil dollhouse for Christmas, but I neglected to consider the fact that my father would not actually be in Chicago on Christmas to put the thing together, haha. (You might remember that last year, he put together the Barbie doll house!) Anyway, Mitch had a go with the Playmobil dollhouse, and let's just say that the man is stubborn. He insisted that there were pieces missing and that the directions were wrong. 😜 Strategic incompetence, as some of you say! In the end, though, we did it—and the girls are overjoyed. I cannot, however, recommend this purchase. HEAVENS.
We found a great tool to help Lucy with her numbers and letters. Lucy's preschool has been cancelled too 😞, but she thankfully tested negative. While she's been out of school, this little Sesame Street learning set is working some real magic! We just do it over and over again, and I'm so surprised by how much progress she's made in such a short period of time. Go Goose!
"One Home Project Every Day" will be back next week, but I need to celebrate the organization of my desktop computer files. 😆 Because that's a big one for me! They've been in chaos for years, but I recently organized all my photos (the majority of the mess that had built up) as well as my other files. I'll do a post soon on how I did it; it's very simple but works well for me! (Here's an example of my file organization: Desktop > Photos > 2022 > January > 05 > 02 Trip to Museum > RAW/Edited (Separate files.) Okay, sounds confusing, but very easy so I'll explain it better in the full post!
My parents are coming at the beginning of February! Visiting Chicago in February? Now that's love. ;) It's going to be so nice. We're obviously going to do all the kid things, but we're also going to have our babysitter come one night so Mitch and I can have a night with Mom and Dad. And then my parents gave us tickets to Steppenwolf, so they're going to watch the girls and we're going to do that another night! (Hopefully. We'll see how things pan out in Chicago.)
I hate pants. I love having a smaller wardrobe. It makes life so much easier. And now I've gotten to the point in my KonMari journey where I'm actually wearing things for a full day to determine whether they bring joy. And thus far, zero pairs of pants have. 😜 Jeans and leggings? Absolutely. But other pants? No. So I'm thinking it might be time to just say goodbye to most of my pants considering my lifestyle. This probably has a lot to do with it being January, but I just really can't see myself ever wearing pants if I didn't have to, you know? So perhaps one pair of dress pants and that's IT. Aren't you glad you read this whole paragraph?
Mitch and I are seeing our friends Dave and Natalie tonight. Something that Mitch and I have been working on is going on more date nights… and double date nights are double the fun! We're headed to a restaurant we've never been to before and the menu looks fantastic. The company is sure to be fantastic, too. ;) Will report back. After these last couple of weeks, I really need a little escape, so I'm looking forward to a night with friends!