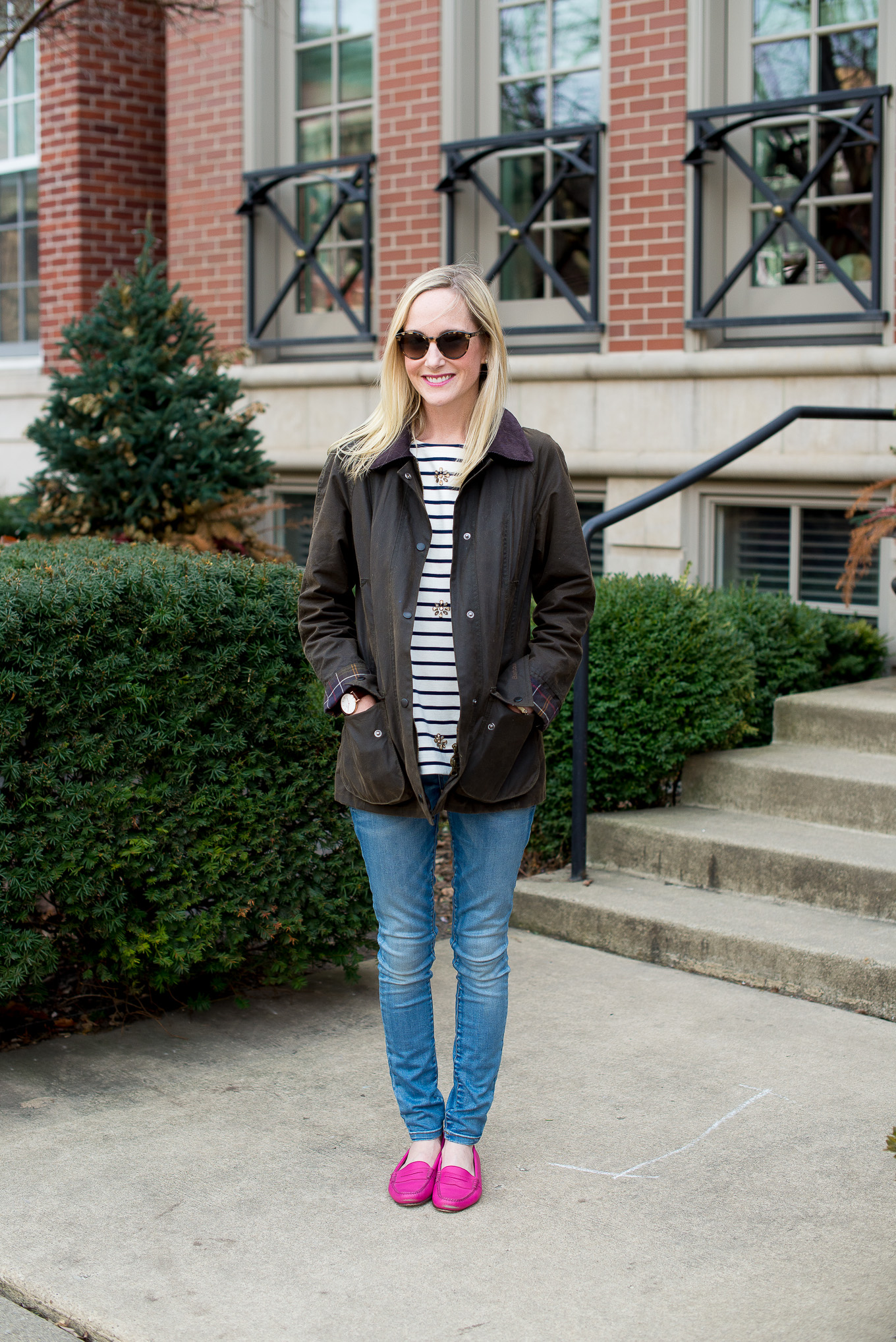 Barbour Jacket (c/o — In navy here. Size up! I typically wear a size XS or 0 in jackets, and I went with a U.S. 4 in my Barbour. If I'd gone smaller, wearing a sweater with it would have been challenging!) / Garnet Hill Top (c/o) / BlankNYC Jeans / Bass & Co. Loafers (Newer pink style here) / Henri Bendel Bangle / Daniel Wellington Watch (c/o, Use code "kellyinthecity15″ to take 15 percent off your order!) / Kate Spade Sunnies (Old, newer styles here) / J.Crew Pearl Earrings
Monday was such a good day.
Temperatures were in the 70s, and I was giddy with excitement and happiness from the moment I woke up. What was I so excited and happy about, exactly? I'm not sure. Good times to come, I suppose. Spring. Summer. Traveling. Friends. Family. Warm nights. Exploring the city in flip flops. Boat rides. Dresses. Going out for ice cream. Ocean City. The lake. Not being stuck indoors. Patrick and Kim's wedding. Toes in the sand. Seafood nights. Happy hour at my parents' house. New York. Charleston. Nashville. Photo hunts. Walking hand-in-hand, sans mittens. Sitting in coffee shops, windows open. Outside seating. Rooftops. Fireflies. Twinkle lights.
Okay. I'll stop. But all the extreme goodness that comes along with warm weather.
On Monday, I took Noodle on several long walks throughout the morning and afternoon, and chatted it up with other ecstatic dog walkers. At home, I opened up all the 1800s-era windows (which proved to be pretty challenging), lit some springtime-scented candles, and let the freshness waft into the apartment. I blasted Van Morrison–because Van Morrison is my happy music–and worked until Mitch got home.
We cooked, windows still open; chatted about our days; ate dinner; took Noodle on another long walk; and then sat with glasses of wine on the front stoop. (All I needed was my Barbour jacket, even at 9 p.m.! Such a nice change from my usual puffer coat getup.) Pedestrian traffic is pretty high on our street on nice days, which is something we love. Everyone stops to say hi and pet Noodle, and through her, we get to know so many people from the neighborhood! (High five, Chicken Noodle.)
Of course, typical March weather returned yesterday. But Monday was all I needed to be reminded that we're near the finish line. Soon, I'll spend more time out of my apartment than in it, I'll get the amount of sunshine I actually need, and everything will look alive and new.
Sigh. :) Spring, you're fabulous.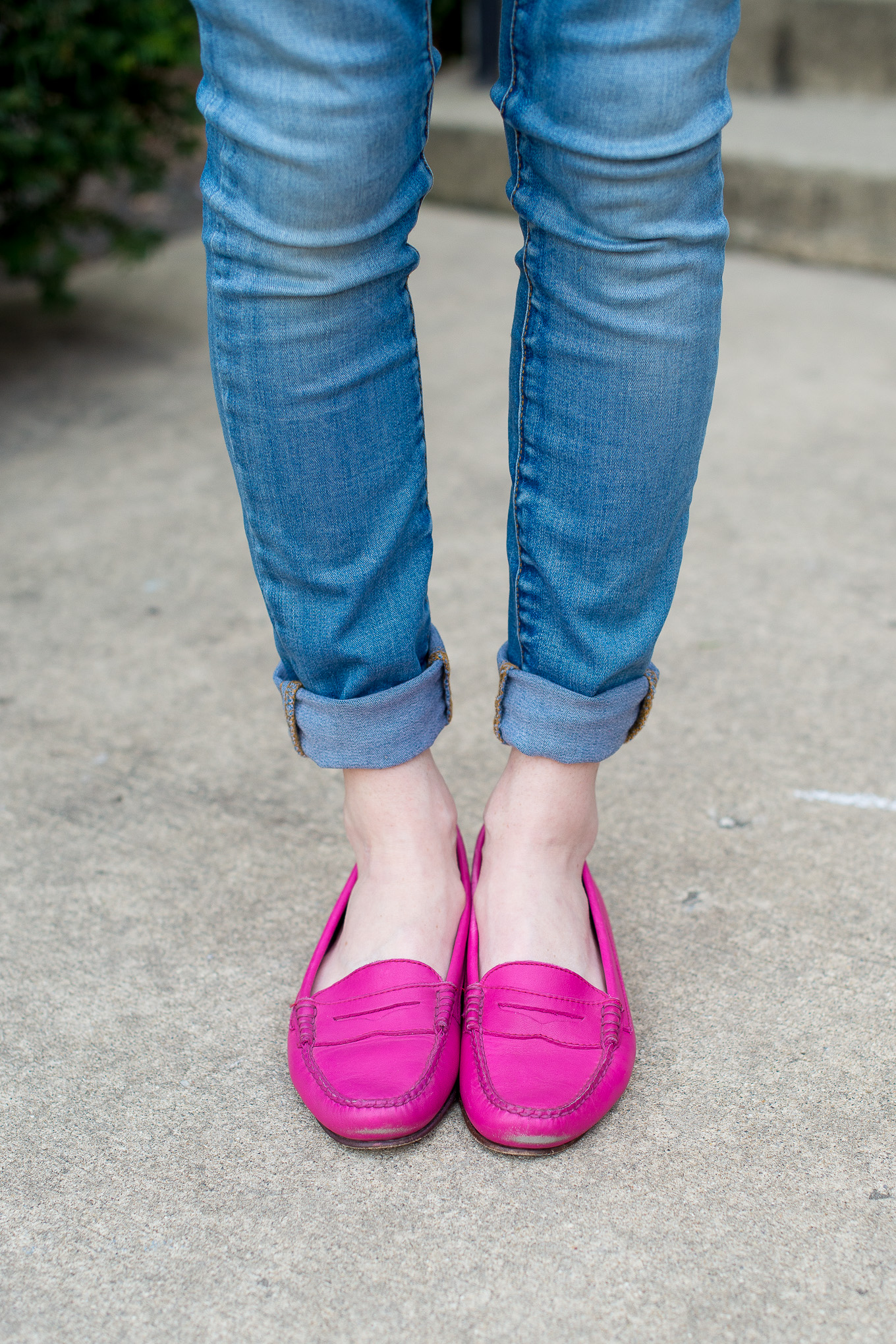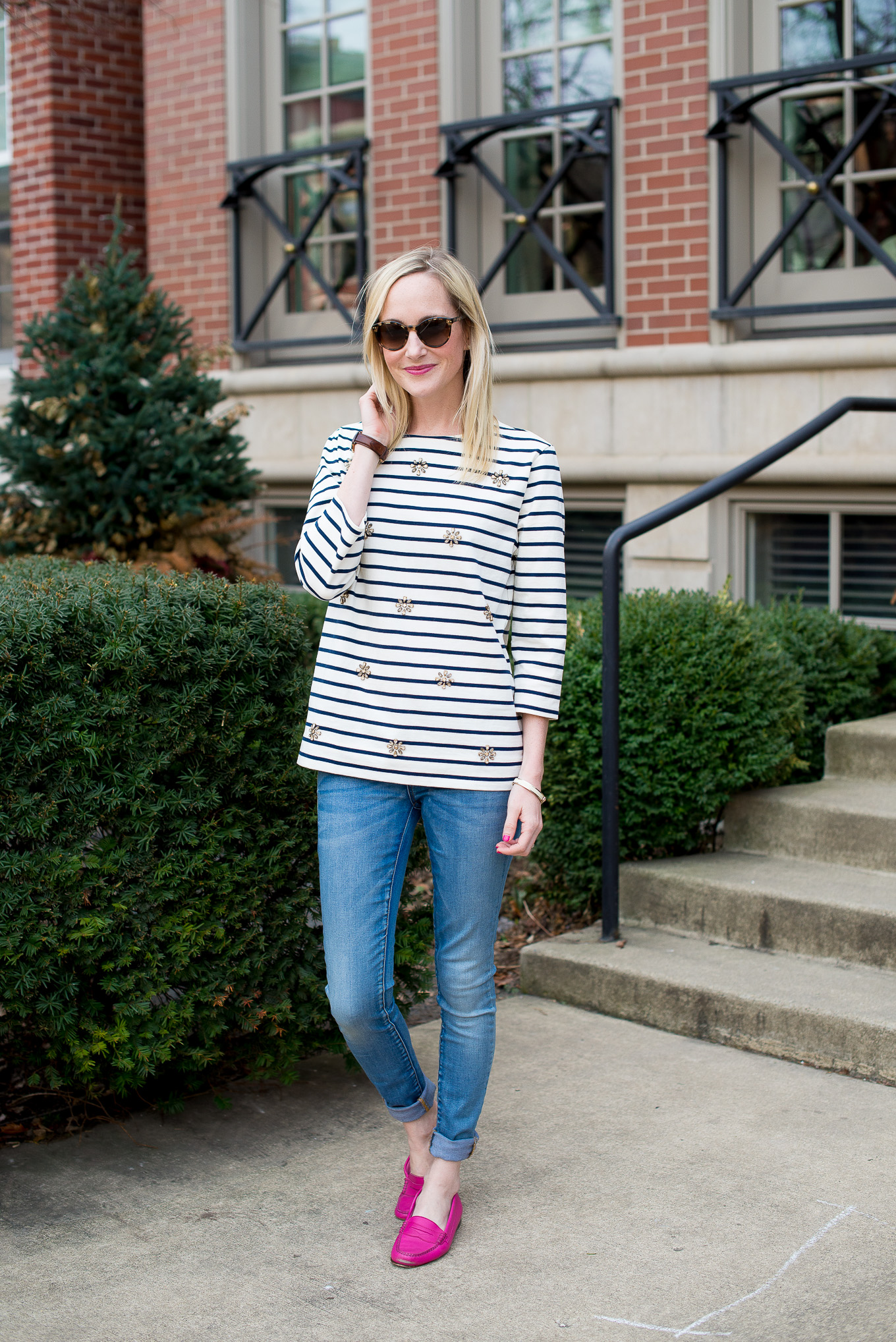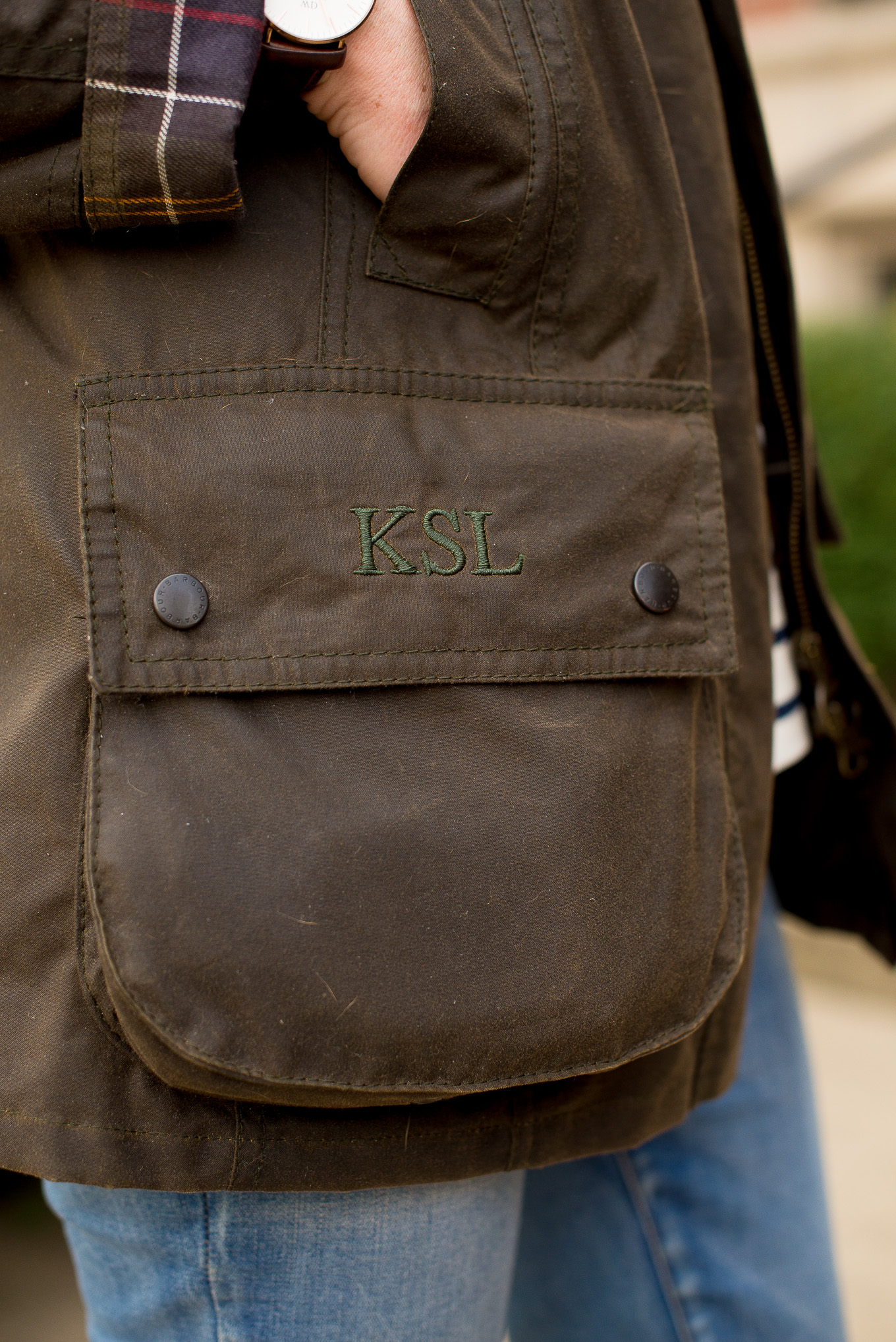 (Please excuse the dog hair. The struggle is real.)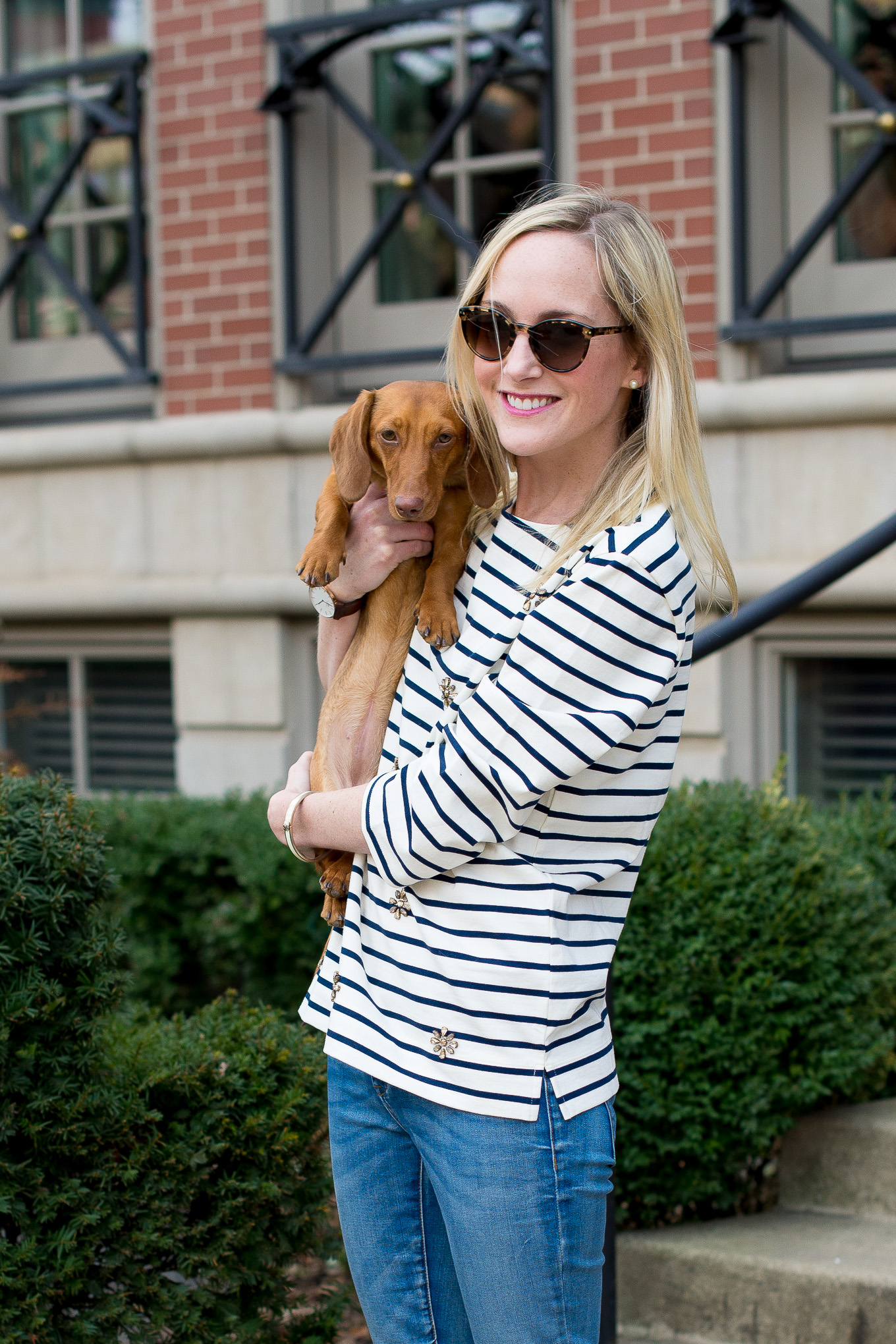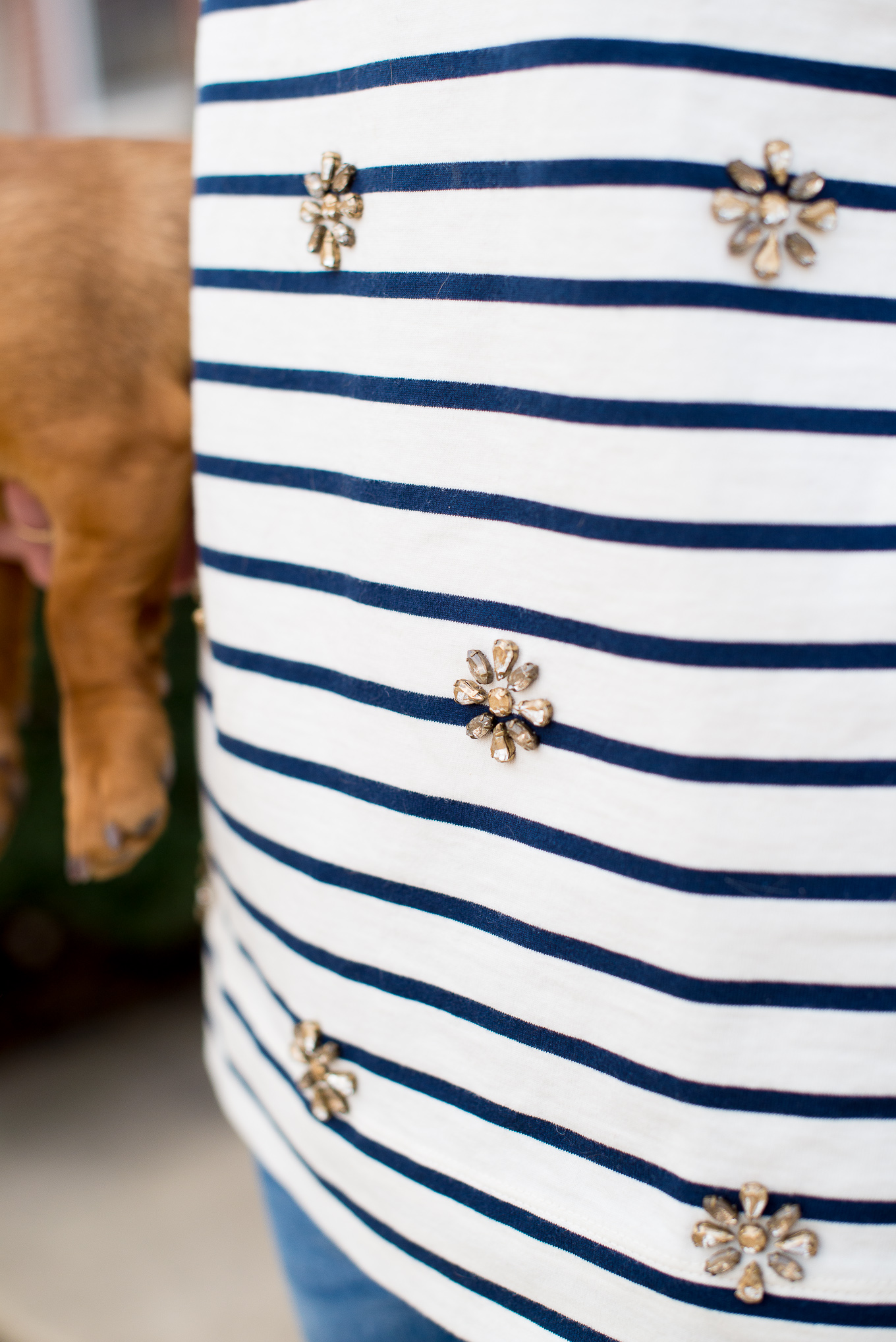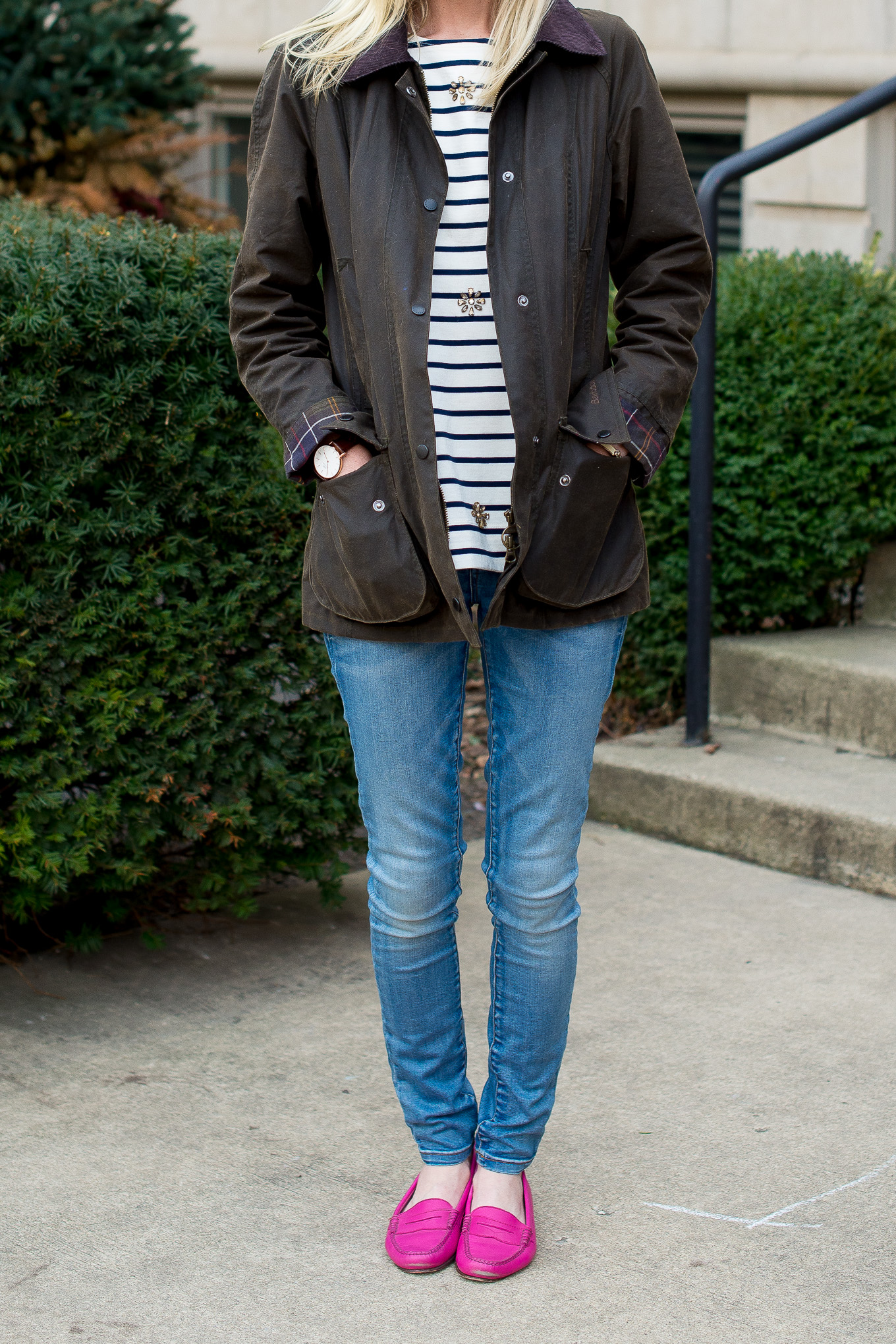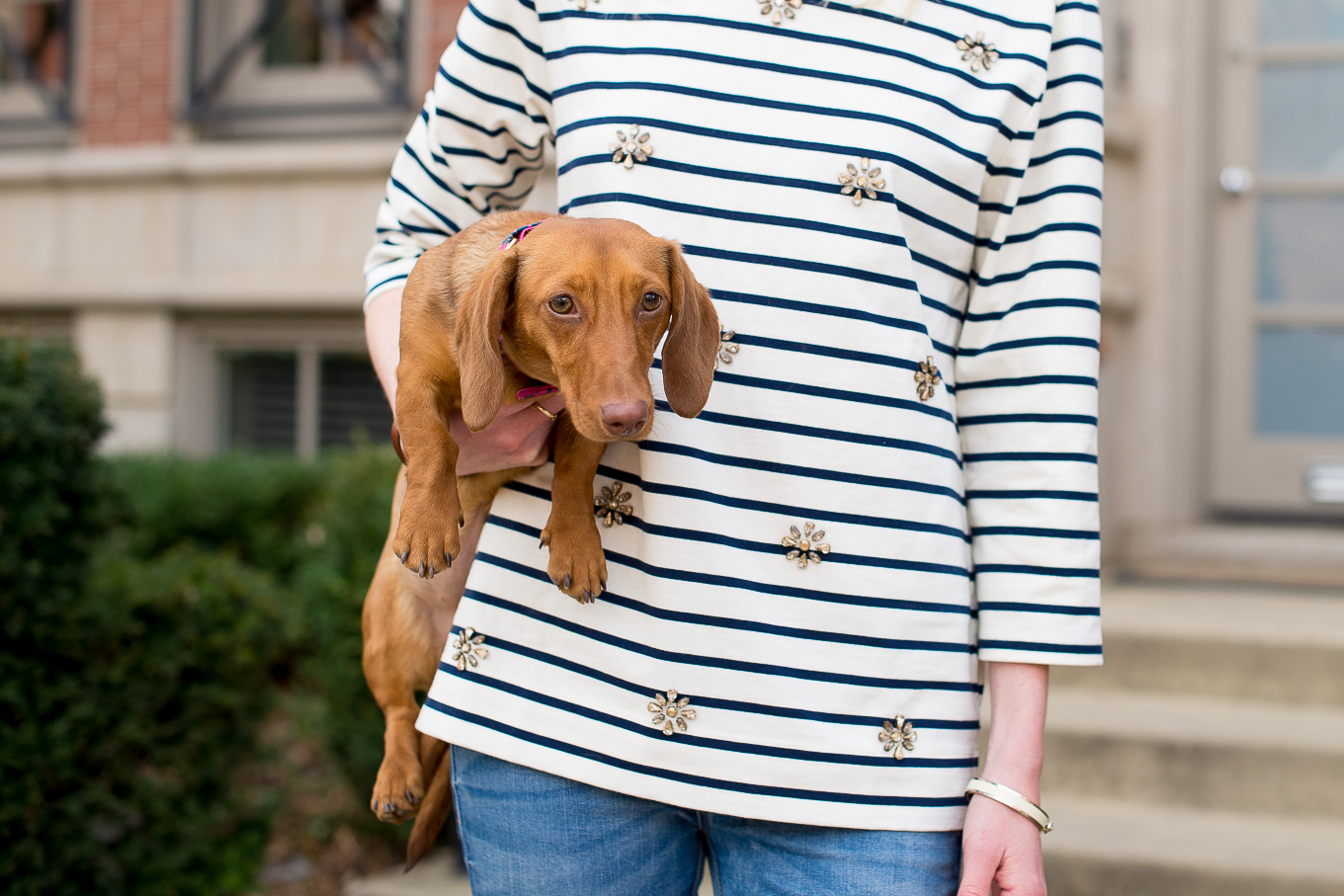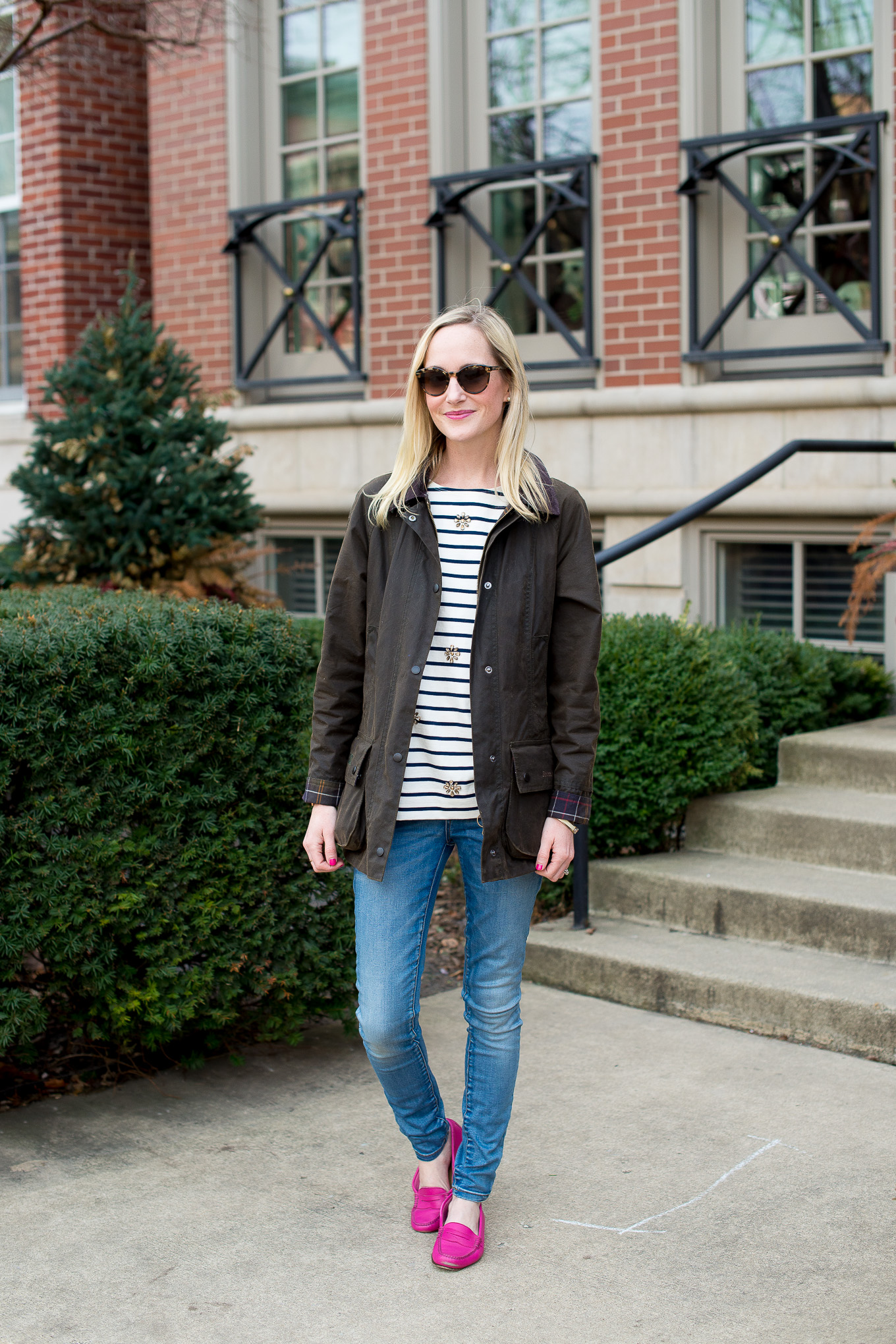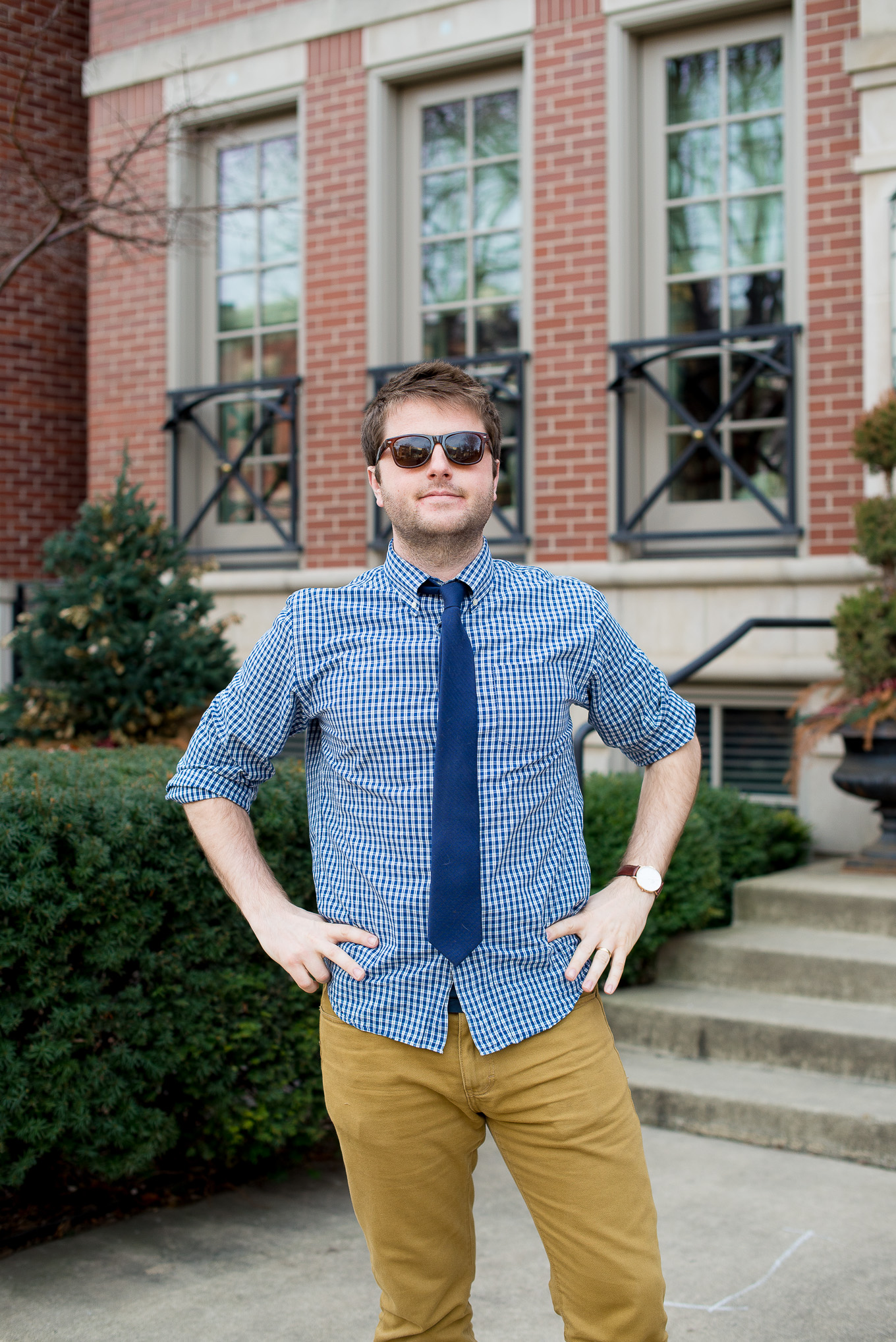 Love to the photographer. He's wearing J.Crew Factory Jeans and Shirt (Old, similar here) / Daniel Wellington Watch (c/o, 15 percent off with code "kellyinthecity15) / J. McLaughlin Tie (Old, newer styles here)