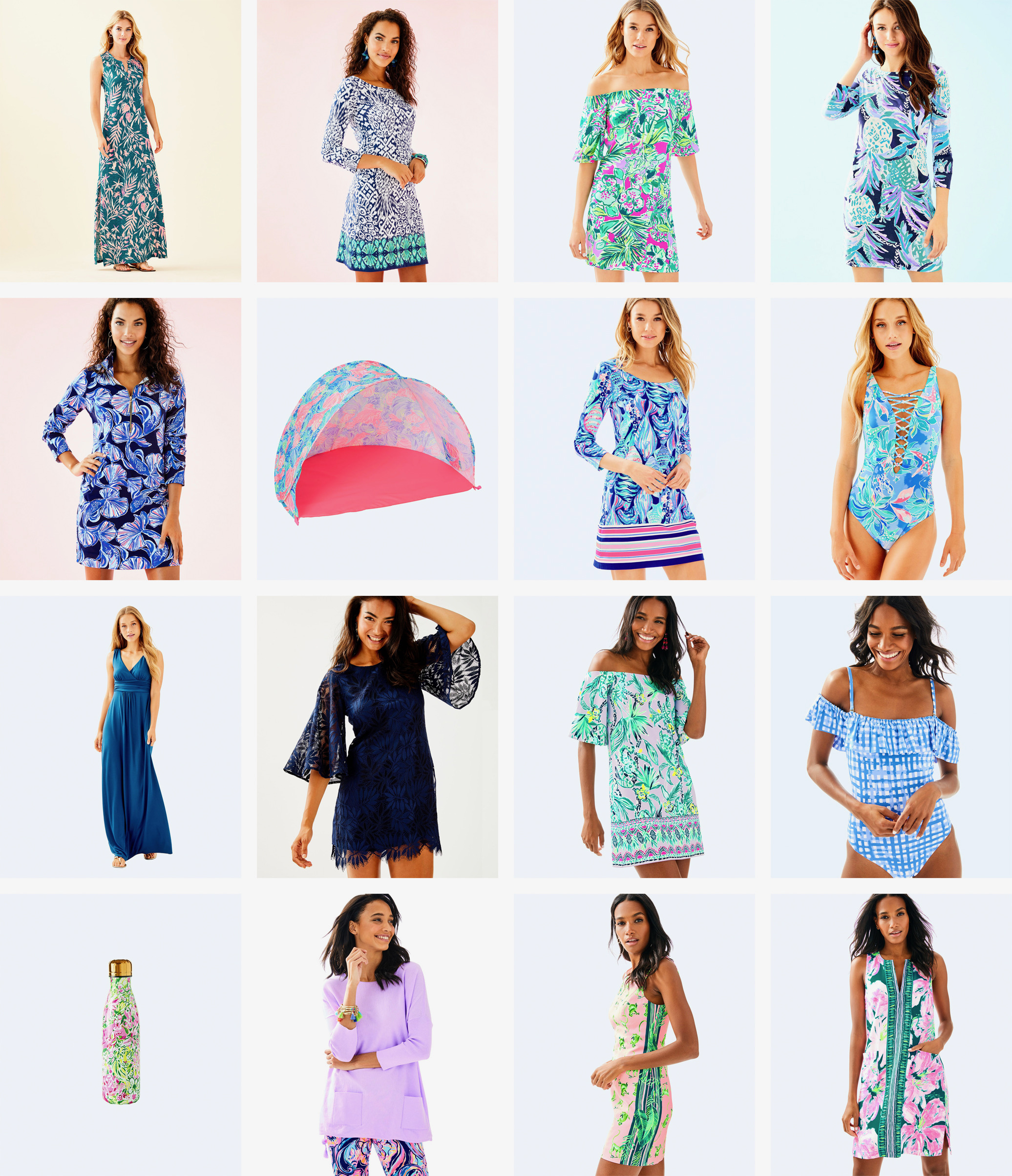 GUYS! I linked up with Lilly today, and I'm excited to reveal some of the products (with prices) that'll be included in the upcoming January 2019 Lilly Pulitzer After Party Sale! (Note: Be sure to read yesterday's massive post on it and enter to win my $500 giveaway to shop the event.) I'm also sharing some new insider information about the sale straight from the Lilly team!
Before we get to the the products and prices, here's the new info:
The sale will start online on Monday, January 7th at 8 a.m. (ish) EST and will end at 11:59 p.m. EST on Tuesday, January 8th. Online is where you'll find the majority of the merchandise.
The event will be taking place in-stores, and that will start at 9 a.m. on Saturday, January 5th and run through Sunday, January 6th. But there will be much more inventory and product online, starting on the 7th.
Confirmed: As always, there will be a virtual line.
I will be doing a try-on haul soon. Let me know if you have any specific questions about the products featured below, as I'll do my best to answer them in that blog post.
There will be multiple rounds of new products added during the event. A second round of product will be dropped on the morning of Tuesday the 8th. While I can't share what styles are included, I'll tell you that they're GOOD. Definitely worth shopping the second day of the sale.
Other products will likely be included in the same prints as those featured below. I don't know this for sure, but this is a trend I've noticed over the years. :)
The sale is going to be HUGE. I've honestly never seen the Lilly team so excited about an APS before. I mean, thought last year's summer sale was phenomenal; so much inventory that it was almost overwhelming, haha. I really can't wait for this one!
If you comment on this blog post with your favorite (current) Lilly print, I'll count it as an extra entry for my $500 giveaway. Woo! Just make sure to leave your email in the following non-spammy format so I can get in touch with you if you win: Kelly [at] gmail [dot] com. (Also, I promise not to do ANYTHING will your info. I'm far too disorganized to even pull something off like that, haha!) This is my fave because its reminiscent of early Lilly! Definitely want to bring the Elsa top in the print on my upcoming vacation.
Looking for more info? Check out my comprehensive guide to shopping the January 2019 Lilly Pulitzer After Party Sale, and don't forget to enter that $500 giveaway so you can shop your little heart out. ;)
Favorites
(It's linked both here and here, just in case one listing is sold out. It's also pictured above!) This is definitely my favorite Lilly dress in my closet. I love that it's simple yet has some adorable detailing down the sides; those bows at the very bottom are the cutest! I almost always pack this dress for vacations because it doesn't wrinkle as easily as my cotton dresses. Couldn't recommend it more! Because it's flowy, do not size up. (But I also wouldn't recommend sizing down.) Order your usual size!
I can't tell you how often I wore this dress this past summer. The fabric is a bit more substantial than regular t-shirt dresses, but the material keeps you cool even on hot summer days. If you look closely, you can see that the stripes are actually tiny scallops! I have this dress in a size small, and it's perfect. (XS hugged my body a bit too much.) Oh! And take a look at the back. Can still wear a bra since the twisty cut-out is so high up!
I was most excited to see this dress in the sail. I LOVE Lilly's line of skipper popovers and dresses, and my eye had been on this one for the longest time! Sizing: Runs slightly large, but it is intended to look that way. (I order an XS when I'm not pregnant.)
WHAT?! Solid silk Elsa tops are rarely included in the sale, so be sure to take advantage. This is one of the most versatile tops I own; can be dressed up or down. The blue is my favorite! Runs slightly large, but only because it's supposed to be flowy. I always order an XS because of that.
Remember how I was talking about how much I love the Essie line? It's probably Lilly's most flattering cut.
When Lilly comes out with gingham line, you do a happy dance. When Lilly puts said line on sale, you pounce!
THE SOFTEST LEGGINGS. I travel in them, take long strolls in them, and even sleep in them. I only have one pair but it might be time for a second…
I don't know about you guys, but I have tons of fancier dresses and simply not enough very casual daytime dresses to get me through the summer. This one comes in one of my favorite prints!
This sweater has been super popular for a while now, and for good reason! It hangs in just the right way and looks adorable with skinny jeans. I love the navy and the camel, but you really can't go wrong! Size down; it runs large.
My mom SWEARS by this dress. Isn't it stunning? Certainly a number you could wear to a spring or summer wedding. This one is gorgeous! (Runs TTS; do not order down, though. It's fitted.)
GREAT dress. I have it in a bunch of different colors/patterns because it's so insanely comfy. Its material is almost terry-like, but the detailing makes it look polished. I wear this in the summer whenever I'm not sure what the vibe will be. Works both ways! TTS.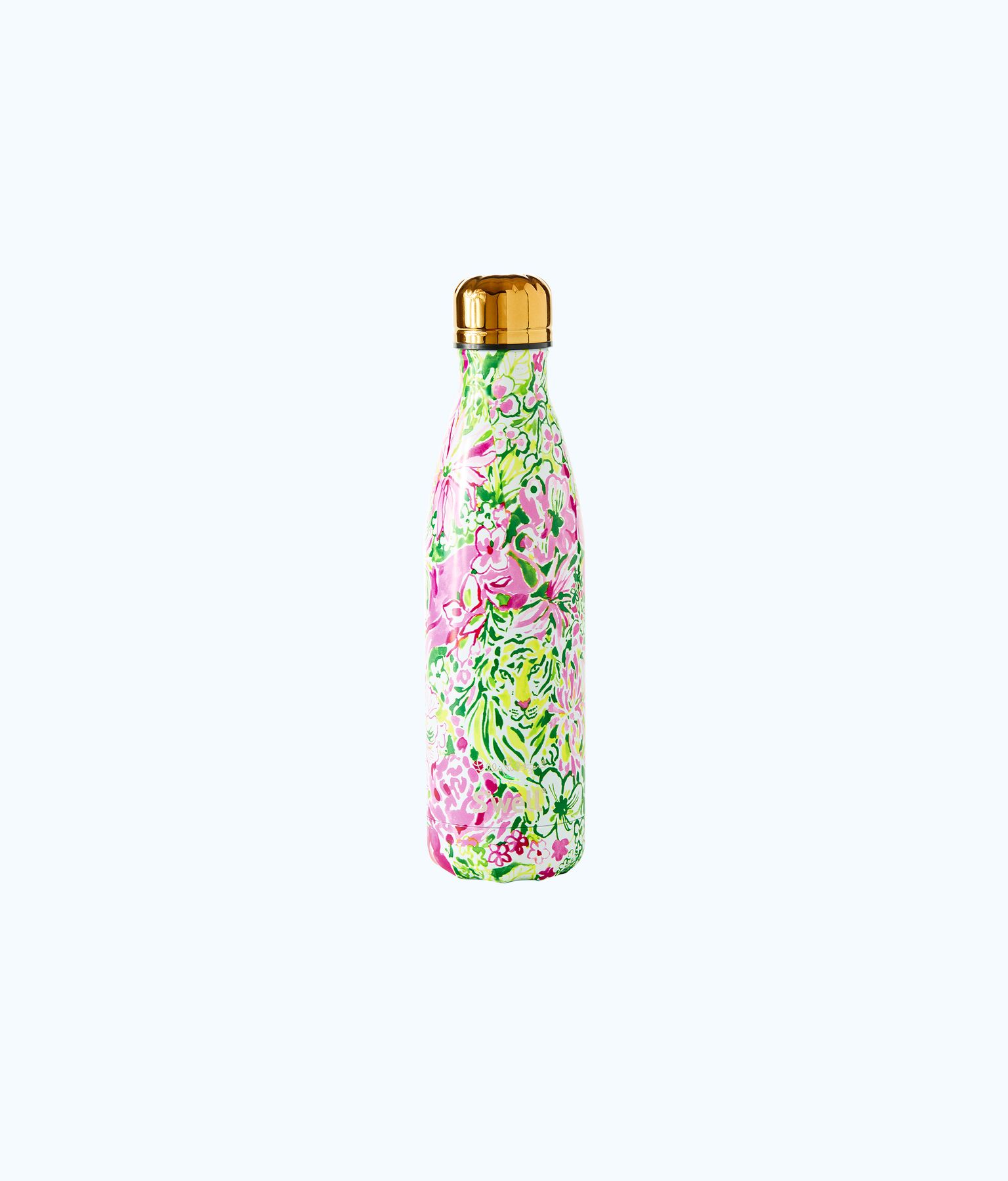 $42 normally, $20 during the sale
Fun fact: It keeps beverages cold for 24 hours and hot for 12 hours. I've used it in the past for soup, too! Makes for a great gift.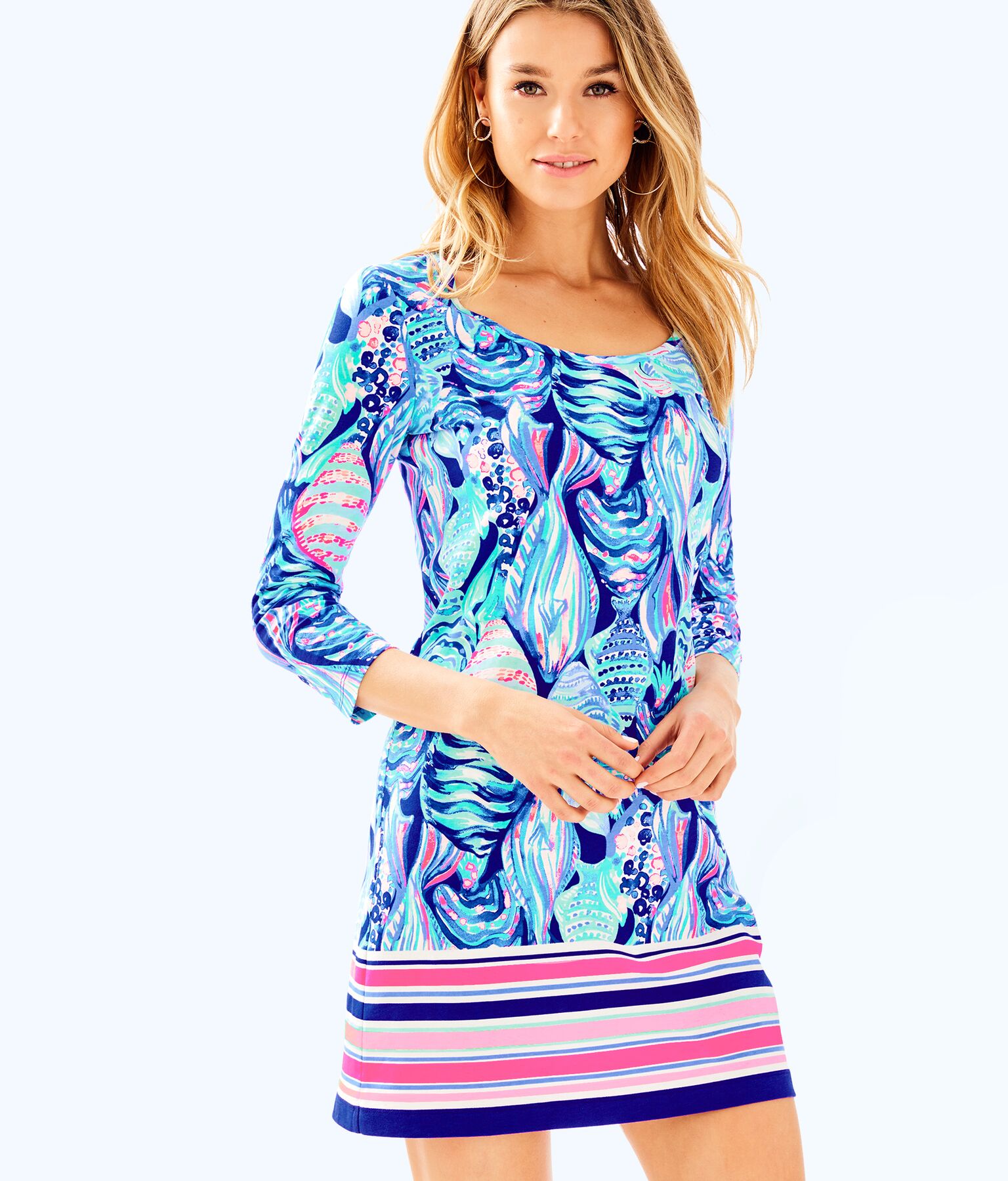 $108 normally, $49 during the sale
What I can tell you: It's Supima Cotton (100% Cotton), and machine-washable. I have a bunch of these! I love them because they're casual yet polished. Honestly live in them during the summer; they make me look like I've tried when I really haven't. ;) Sizing: The Beacon runs TTS. I order my normal size.
Print: "Twilight Blue Scale Up"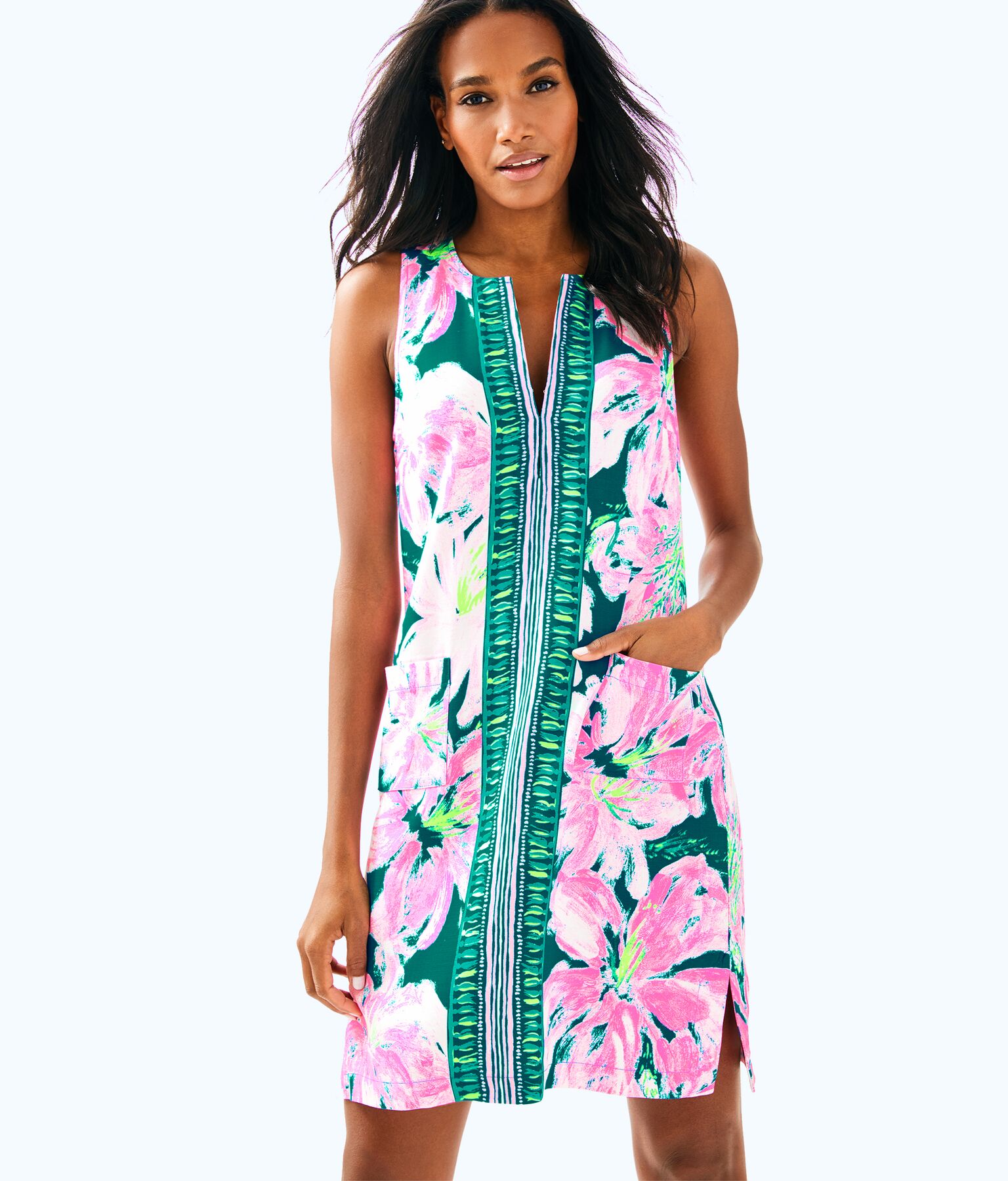 $218 normally, $59 during the sale
Print: "Pans Garden"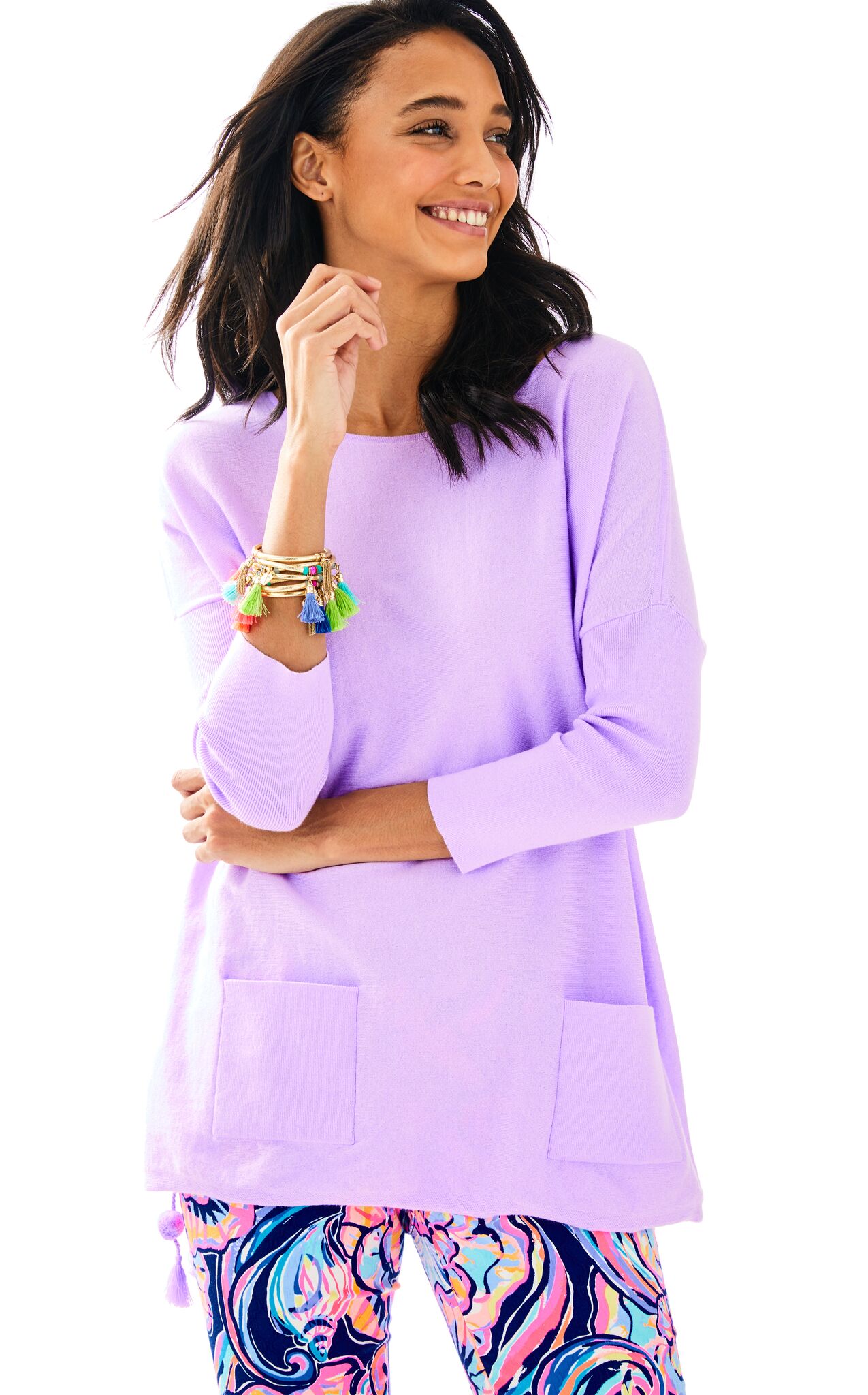 $138 normally, $54 during the sale
$148 normally, $59 during the sale
What I can tell you: This is one of the most flattering Lilly dresses ever. I LOVE the Essie cut, which has been used for tops and shorter dresses, too. It's very forgiving yet slimming! It's kind of a magic dress, and I highly recommend it. Also, it's made of a t-shirt material, so you'll get a ton of wear out of it during the summer. An everyday dress that can also be dressed up! My fave.
Fun fact: It actually works *really* well for pregnancy. And since there are buttons down the front, it's super functional once you have the baby. I lived in Essie dresses and tops toward the end of my pregnancy and right after I had Emma. (I'm wearing one in these photos!)
Print: "Tidal Wave It's Prime Time"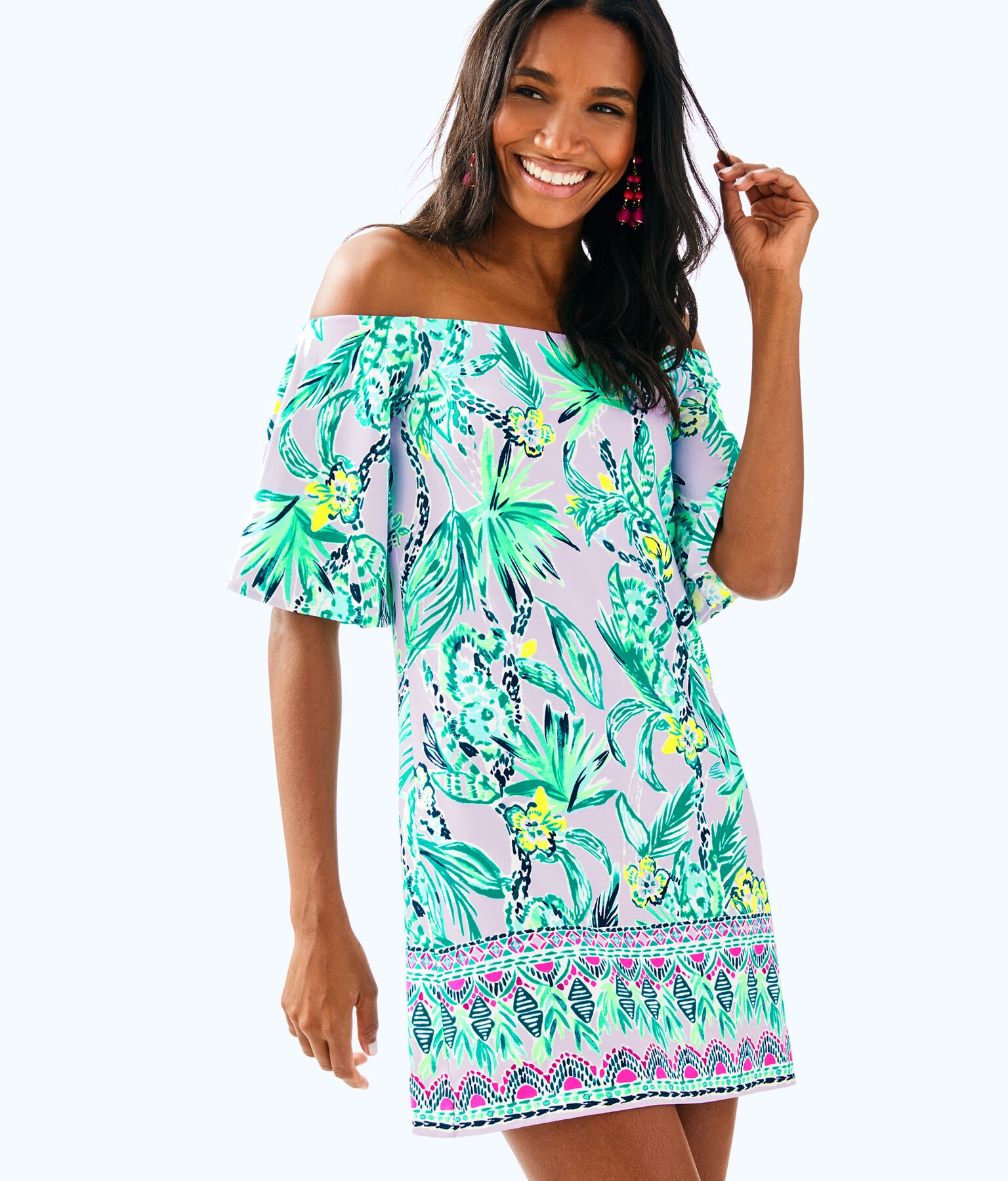 $178 normally, $54 during the sale
Print: "Light Lilac It's Impawsible"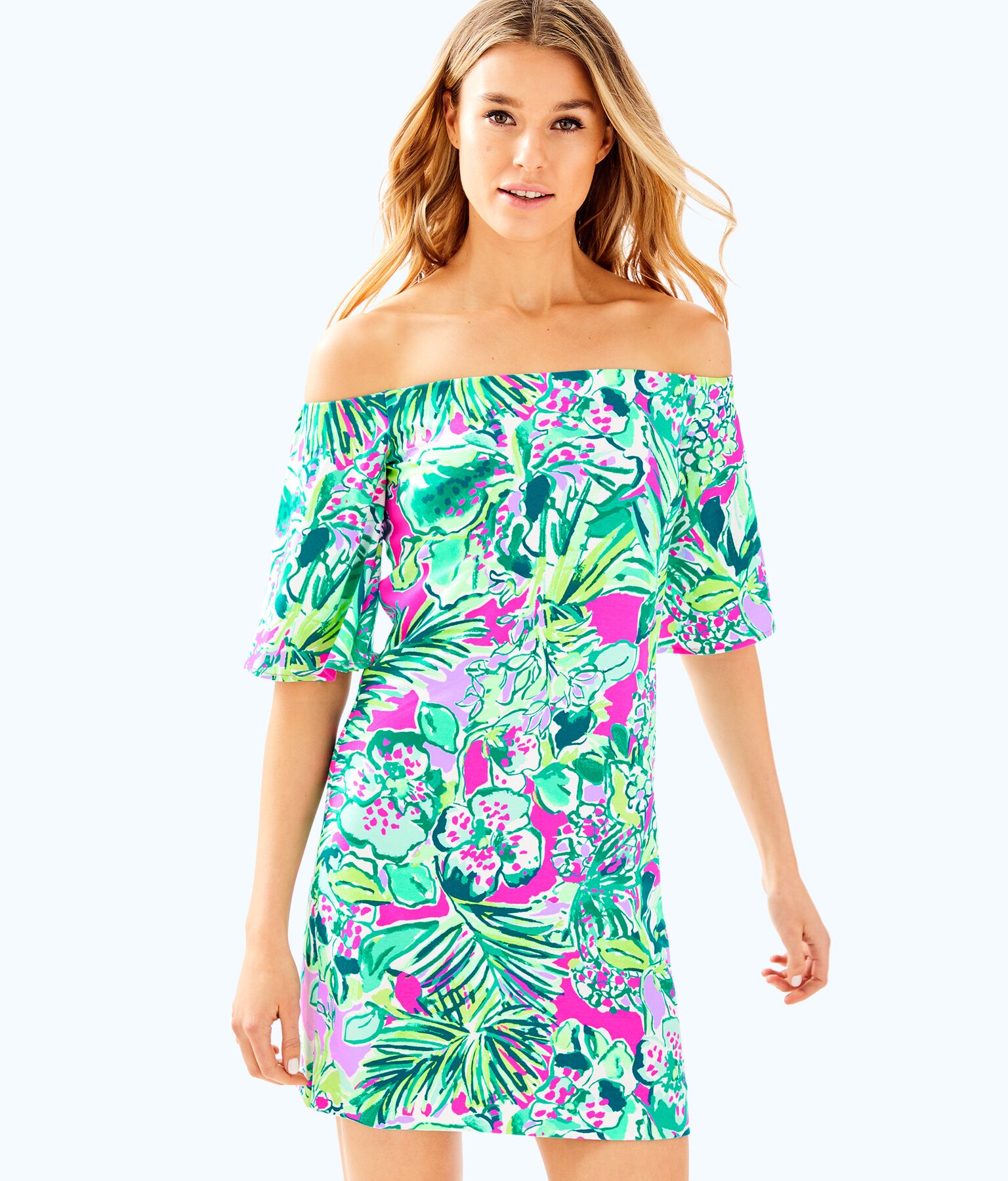 $168 normally, $54 during the sale
Print: Multi Early Bloomer
$138 normally, $69 during the sale
Print: "Bennet Blue Feelin' Beachy"
What I can tell you: I have a feeling that there will be a lot of gingham print products included. ;) YAY!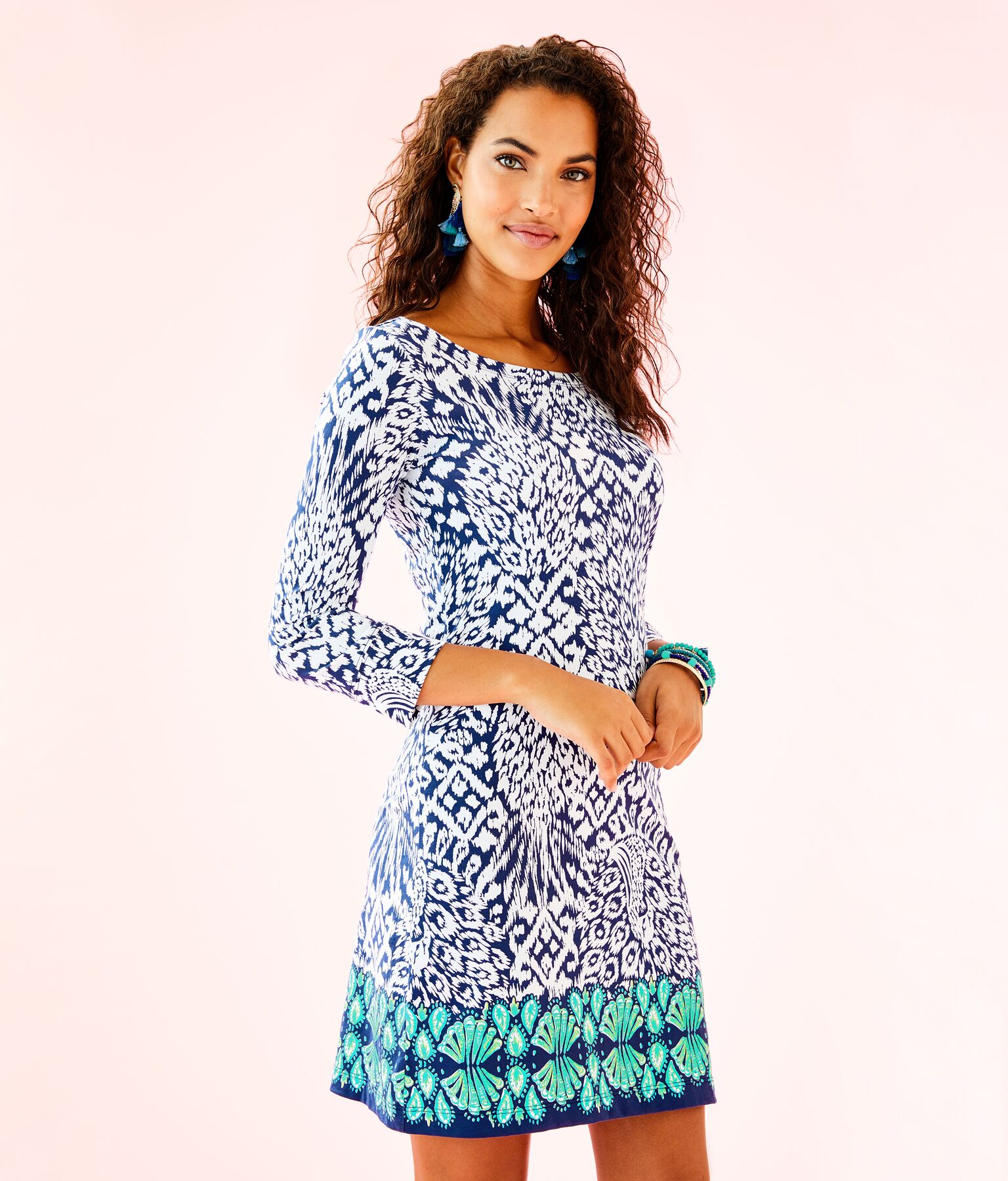 $108 normally, $49 during the sale
Print: "Pineapple Party"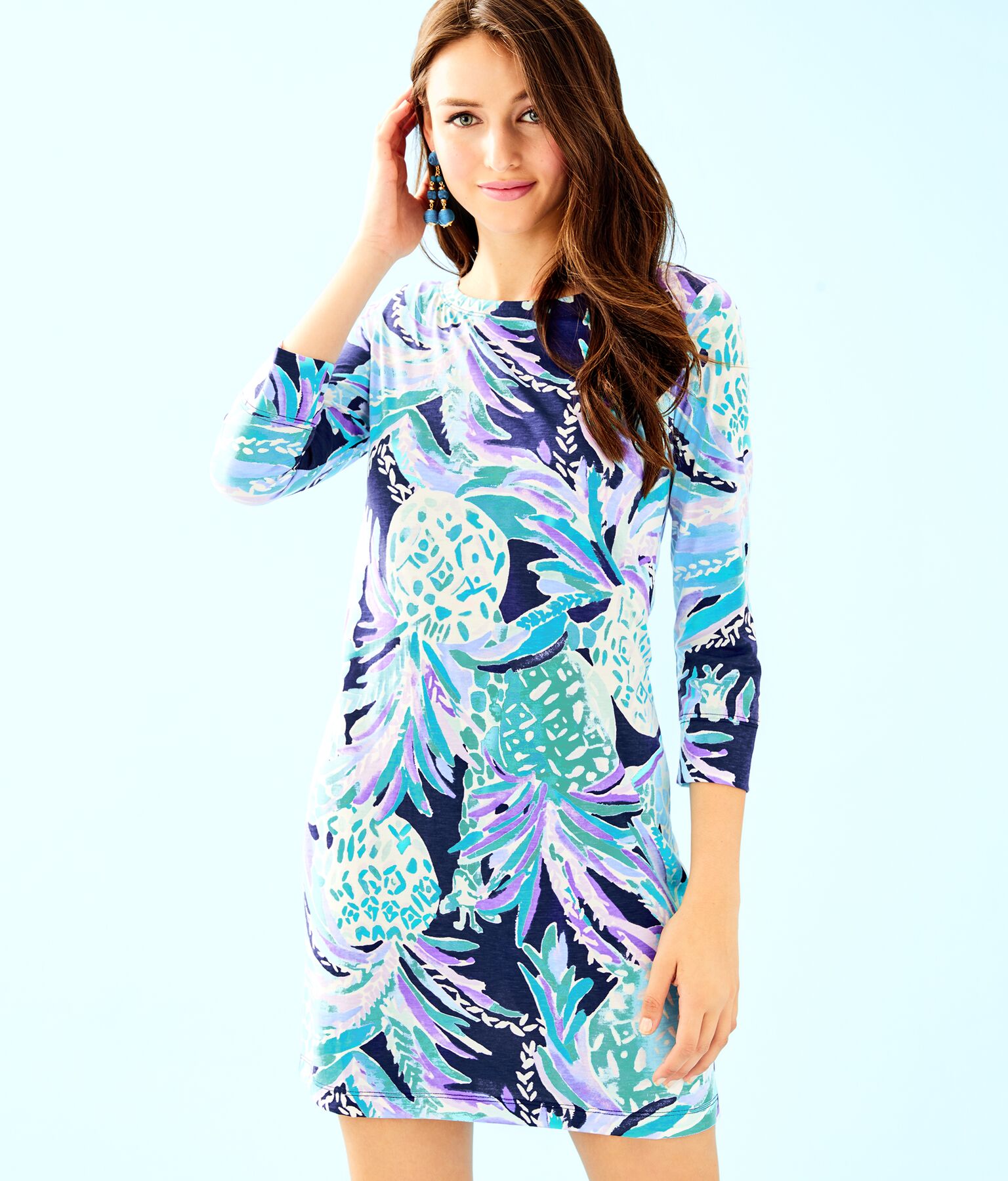 $98 normally, $49 during the sale
Print: "Bright Navy Alotta Collada"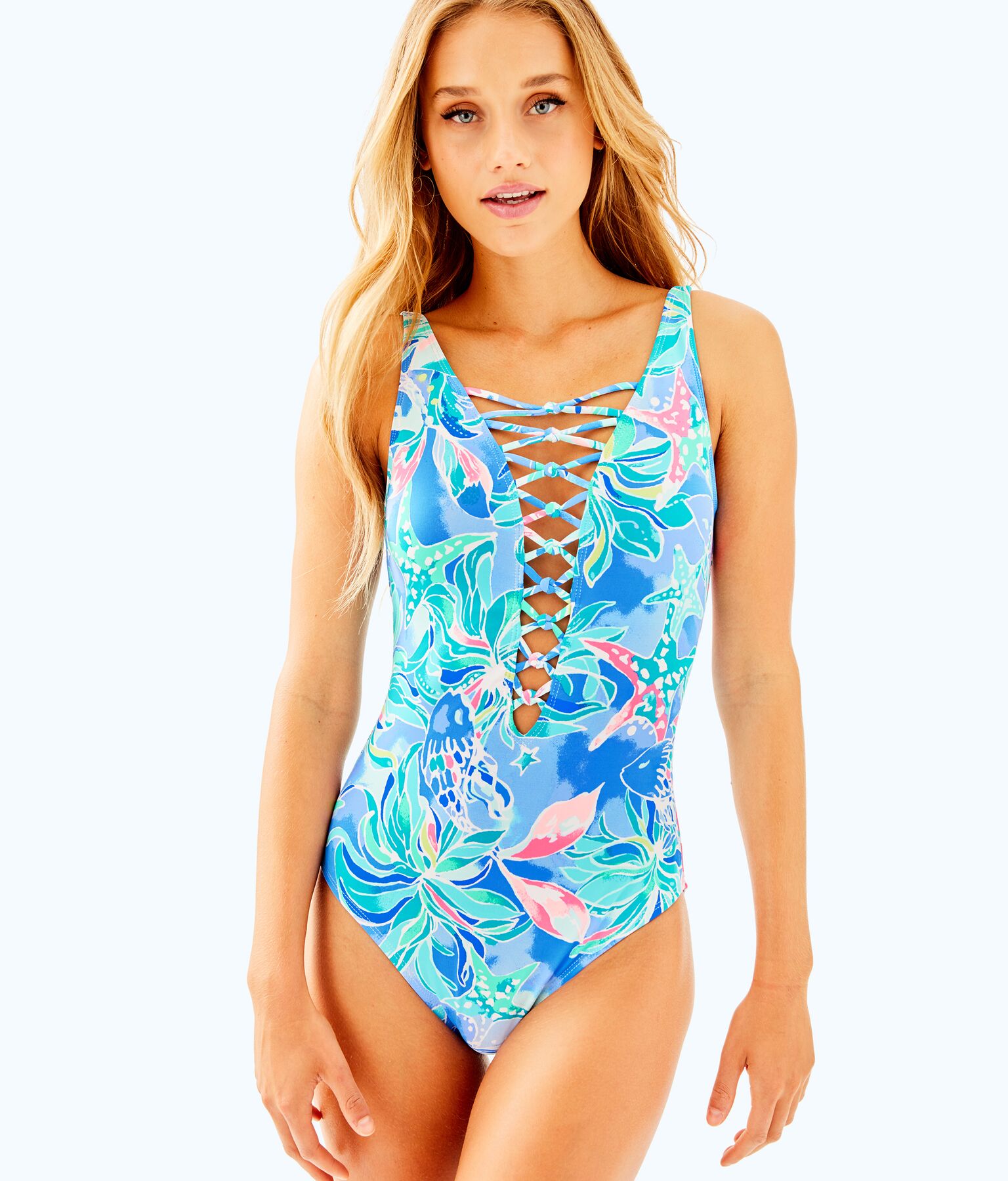 $138 normally, $69 during the sale
Print: "Bennet Blue Celestial Seas"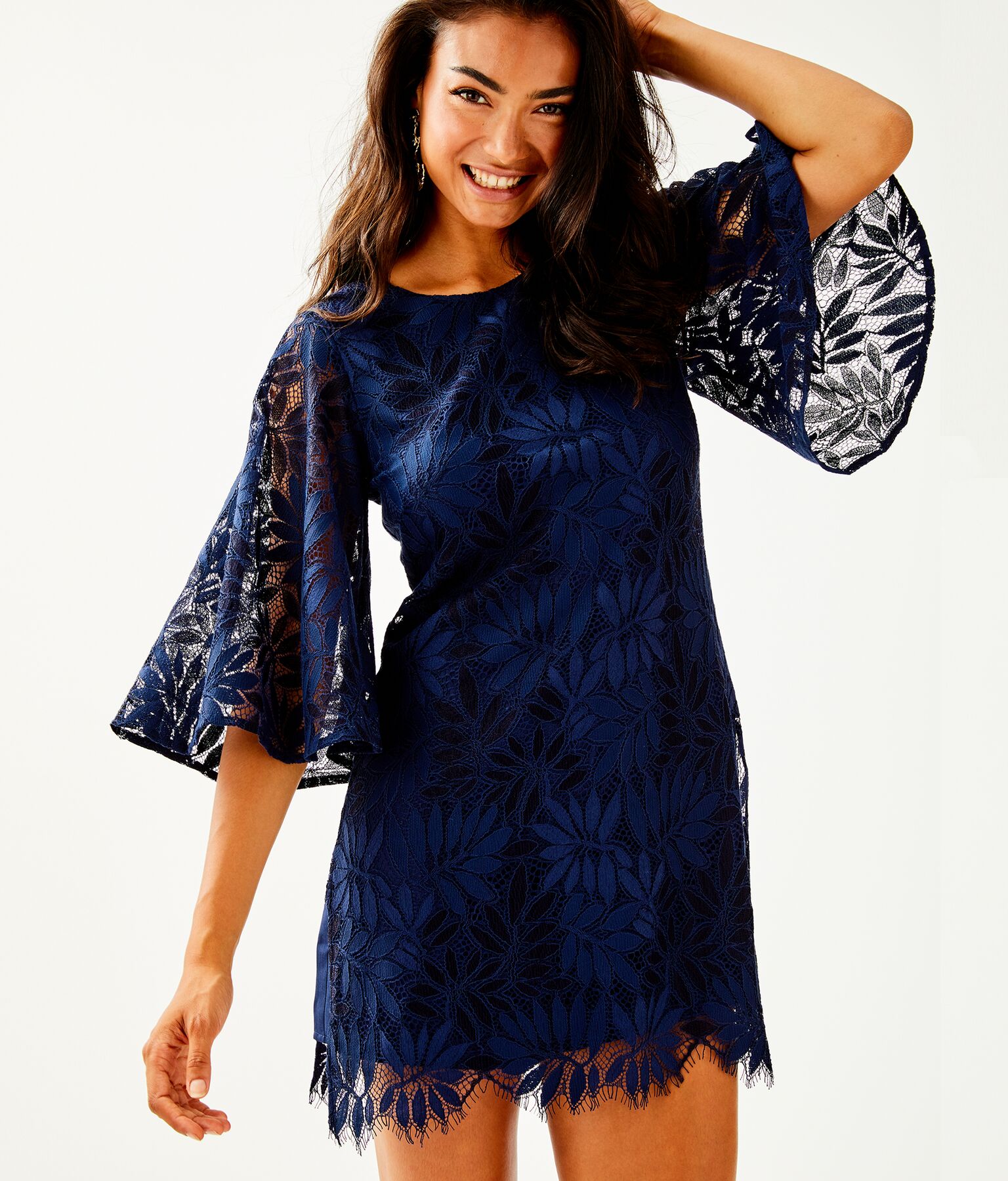 $238 normally, $79 during the sale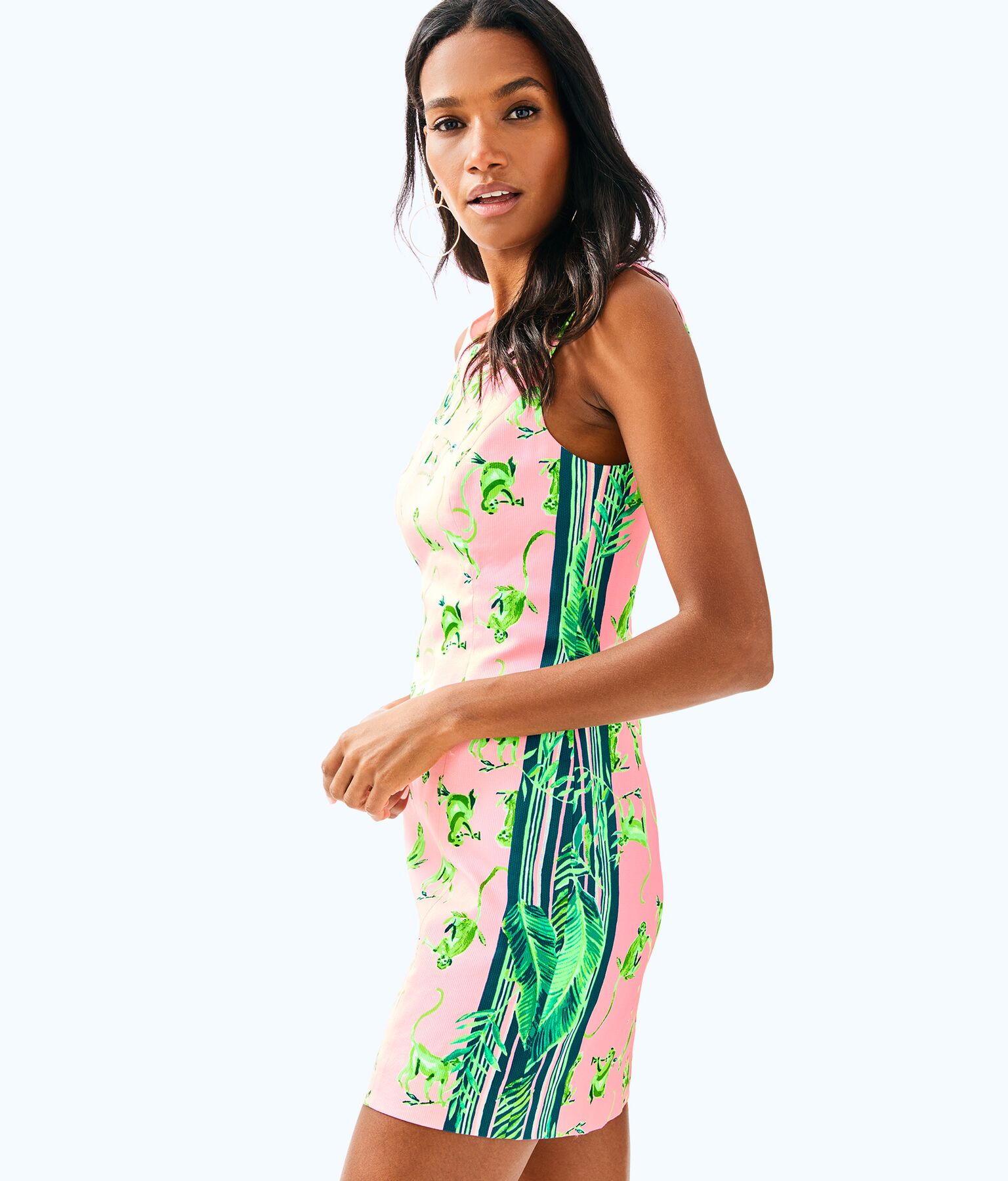 $178 normally, $59 during the sale
Print: "Coral Reef Tint Monkey Business"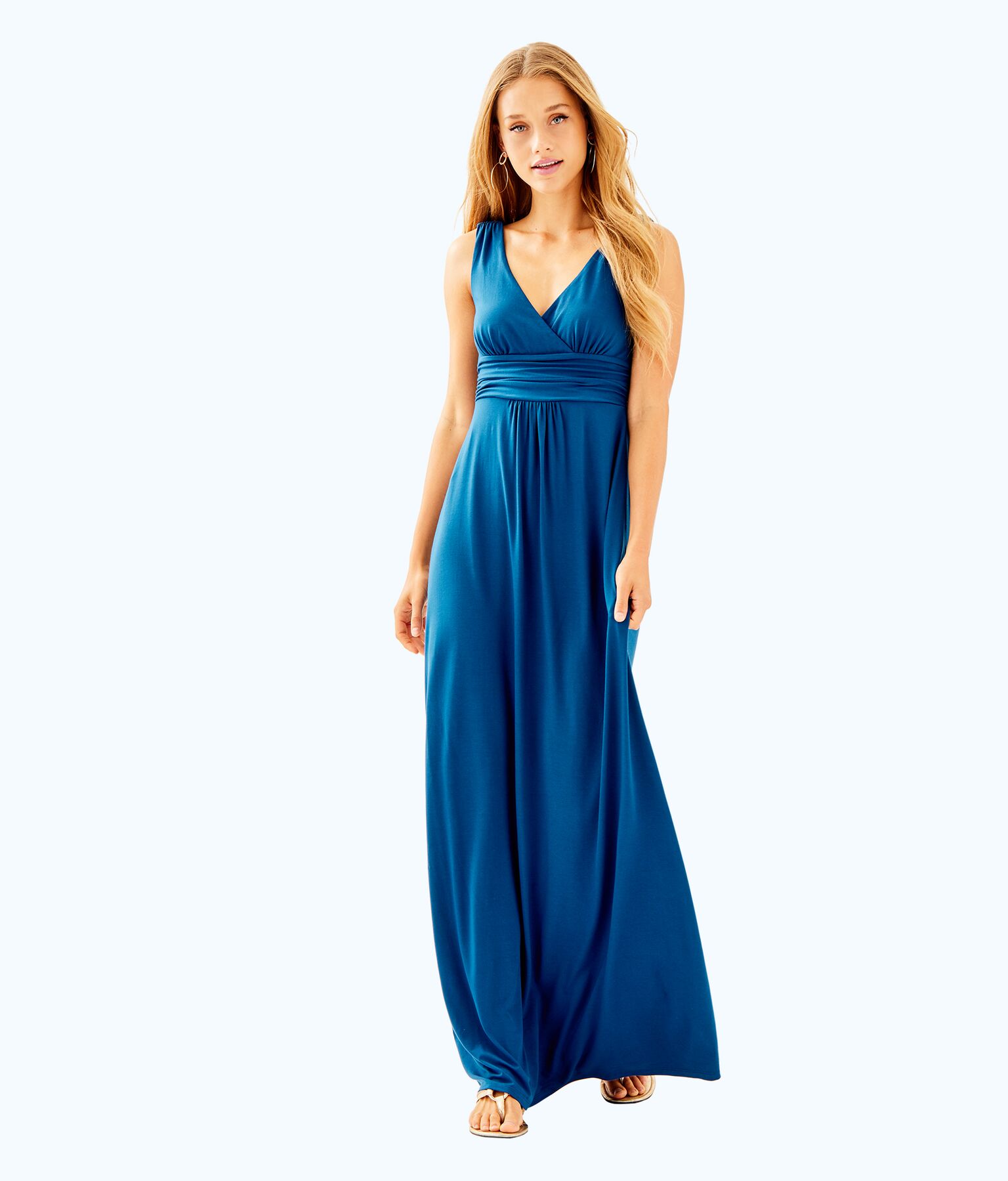 $198 normally, $74 during the sale
What I can tell you: This is another one of those dresses that looks good on EVERYONE. Again, it's a t-shirt material, so it can be dressed up or down… and the empire waist cut is extremely flattering. (Falls in JUST the right way.)
Fun fact: This is my #1 dress to wear while pregnant, and I normally scour eBay for them! This is must-have, pregnant or not. It runs TTS, but when I'm pregnant, I order one or two sizes up depending on how far along I am.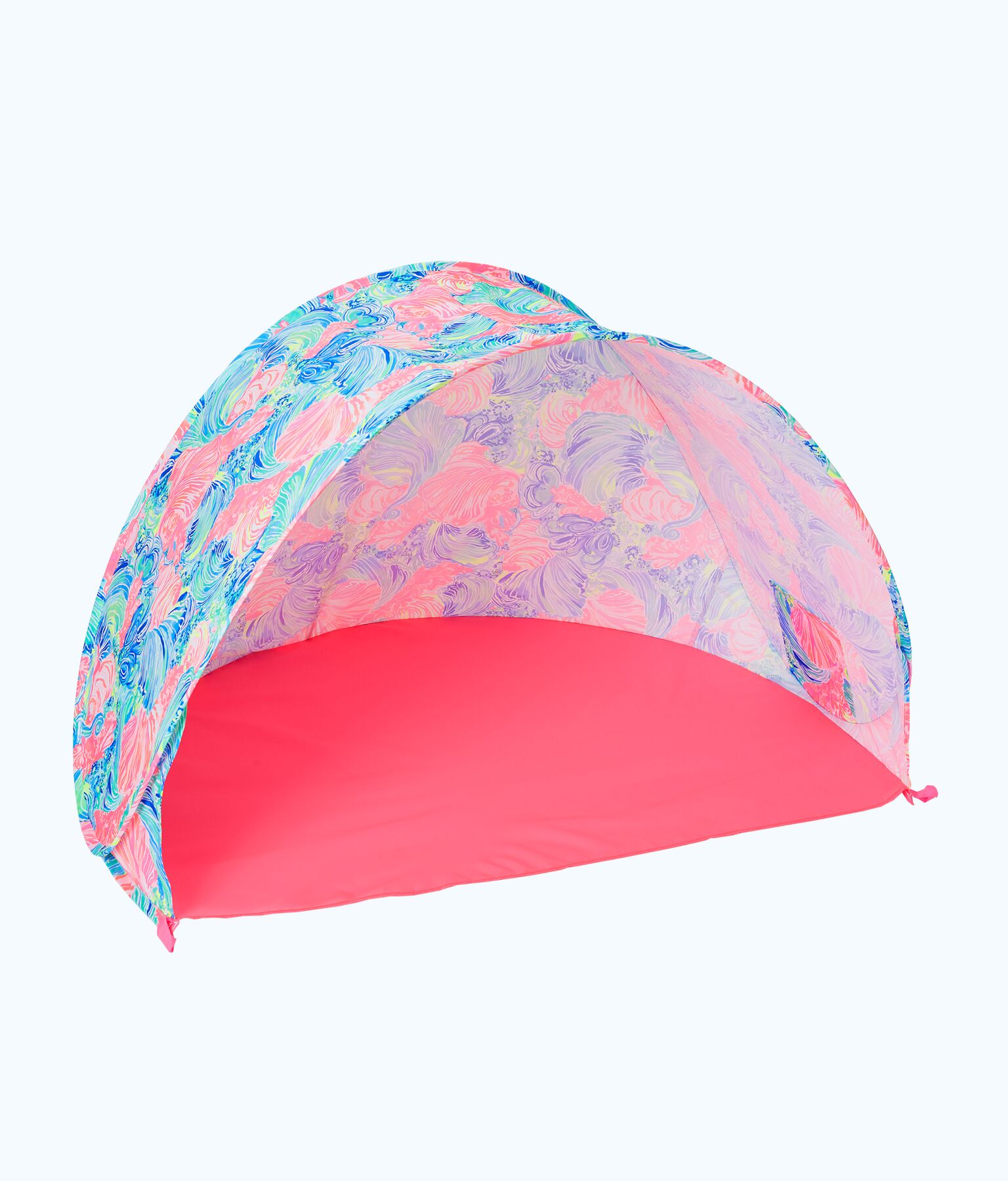 $54
Print: "Multi Beach Please"
Fun fact: Carly sent Emma a Lilly tent a few months ago as a special surprise, and we can't WAIT to bring it to Florida with us. THANK YOU, CARLY!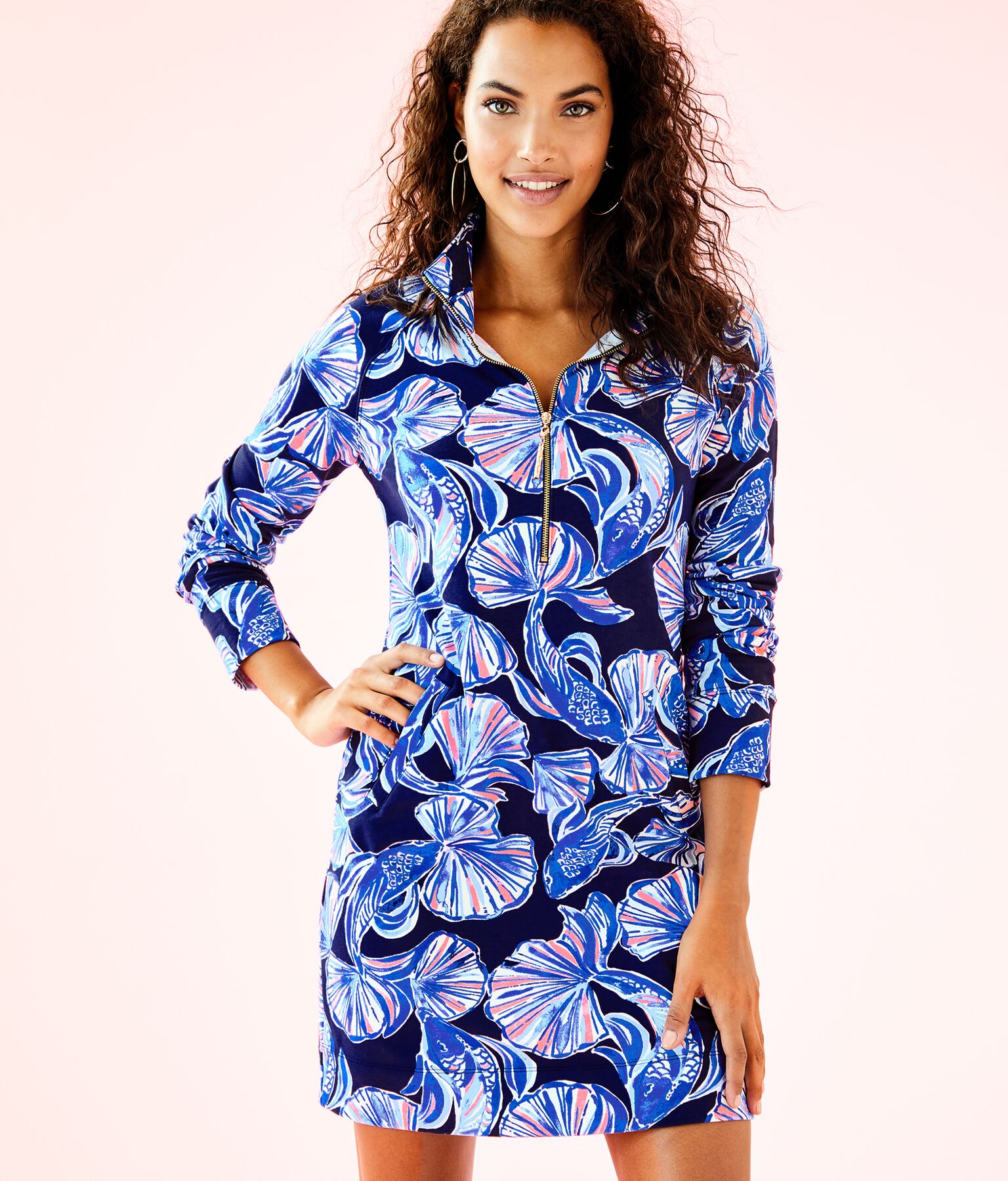 $158 normally, $59 during the sale
Print: "Bright Navy In Reel Life"
What I can tell you: I LOVE the Skipper line, so I was super psyched about this one being included in the sale. This dress is SPF 50+, making it extra safe for vacations, and I wear it as a day dress, coverup and even "going out" dress. Amazingly versatile! Runs TTS, though I usually go up one size for a more relaxed look.