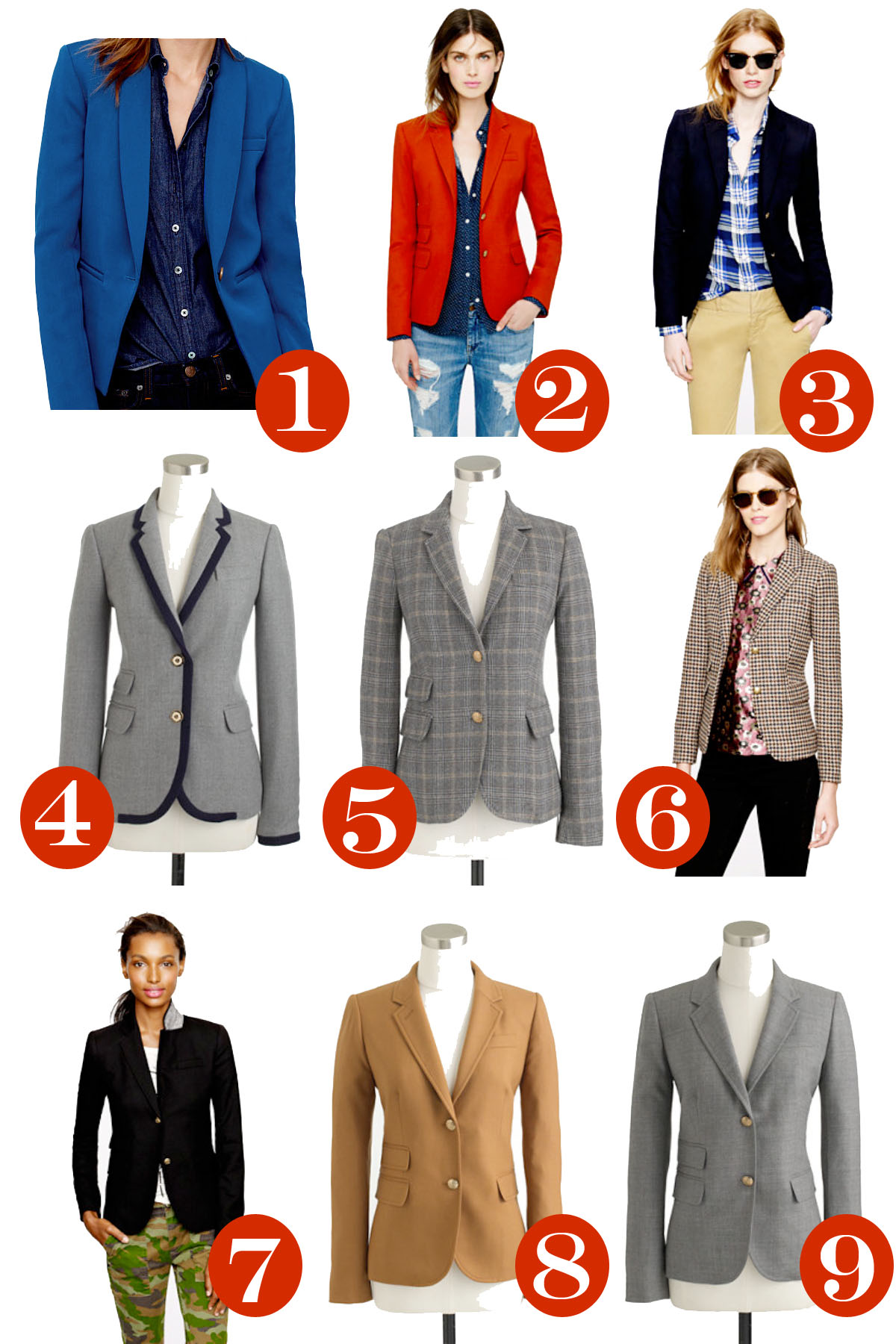 1. Cobalt blazer* / 2. Burnished rust blazer / 3. Navy blazer
4. Tipped wool blazer* / 5. English tweed blazer / 6. Houndstooth tweed blazer
7. Black blazer / 8. Caramel blazer / 9. Gray blazer
*Take 40 percent off with code "EXTRA40"
Well, today it poured here in New York City from 3 p.m. until 7 p.m.–the four hours during which I normally take photos. ;) So why don't we take a look at some of J.Crew's best blazers?! Ah, rainy day online shopping. So dangerous, yet so satisfying.
I'm in desperate need of a new blazer for this season (my current H&M blazer is wearing out), but I've been putting off purchasing one as they're a bit pricey and the weather has been unseasonably warm. Every girl needs a quality blazer to get her through the fall, though, right?! (And on Wednesday, the temperature is projected to dip down into the 60s! Gasp.) Anyway, right now I'm leaning toward #4: the School Boy Blazer in Tipped Wool. Or #3: the School Boy Blazer in Navy. I own a couple of J.Crew blazers, but they have to be at least seven years old at this point. Any advice on sizing for the new cuts? Let me know! I'll be forever grateful!
On a somewhat unrelated (yet fabulous) note, I'm helping Rebecca from
Preppy Panache
 host a one-week giveaway for a Phillip Lim for Target bag! The winner will have a choice between the taupe 
medium satchel
 and the taupe 
tote with gusset
. Enter today!
Co-hosts:
Preppy Panache // Coffee Beans and Bobby Pins // Petite Hues // Nightchayde // YCF