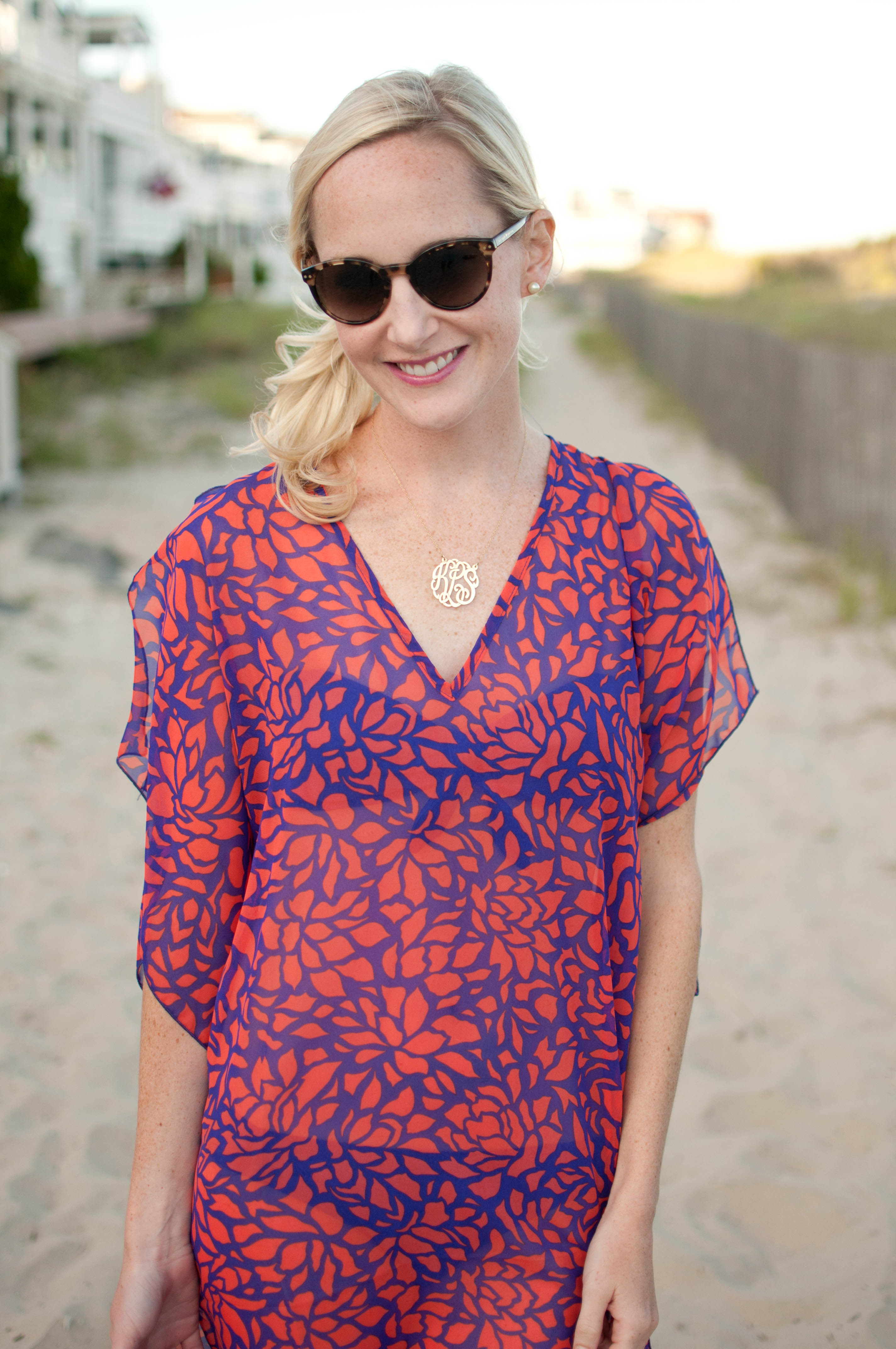 I can't believe this is my last weekend down the shore for the summer! We spent the day sitting on the beach and cruising around in my parents' boat. Loving my new Jordan Taylor coverup, which I wore for a long walk down the island with Mitch, and on the boat to protect my fair skin. ;) Looks like I'll have to take a vacation this winter so I can wear it again!
Coverup: c/o Jordan Taylor / Beach pouch: Scout, lots of Scout products in the same pattern here / Sunnies: Kate Spade (Sold out), available here / Earrings: J.Crew, less expensive version here / Sandals: Jack Rogers, same in white here, also loving the cork version (which I feel like I talk about ALL the time… sorry!), and the navy/white version (Swoon, swoon, swoon!)… New obsession: Nantucket gold version / Bathing Suit: Old Navy (Old) / Necklace: Paradise, similar here / Lipstick: Clinique
Oh–and my little Scout beach pouch–perfect for my cell phone and rings–was a gift from Beth and Tara, two of my amazing bridesmaids, during my bachelorette on Nantucket. Love the tiny dachshund on it. ;) #doxielove
Tonight, we're having some family friends–and one of my best friends from high school, Rebecca–over the beach house for the Notre Dame game. Go Irish!
Coverup: c/o Jordan Taylor / Beach pouch: Scout, lots of Scout products in the same pattern here / Sunnies: Kate Spade (Sold out), available here / Earrings: J.Crew, less expensive version here / Sandals: Jack Rogers, same in white here, also loving the cork version (which I feel like I talk about ALL the time… sorry!), and the navy/white version (Swoon, swoon, swoon!)… New obsession: Nantucket gold version / Bathing Suit: Old Navy (Old) / Necklace: Paradise, similar here / Lipstick: Clinique