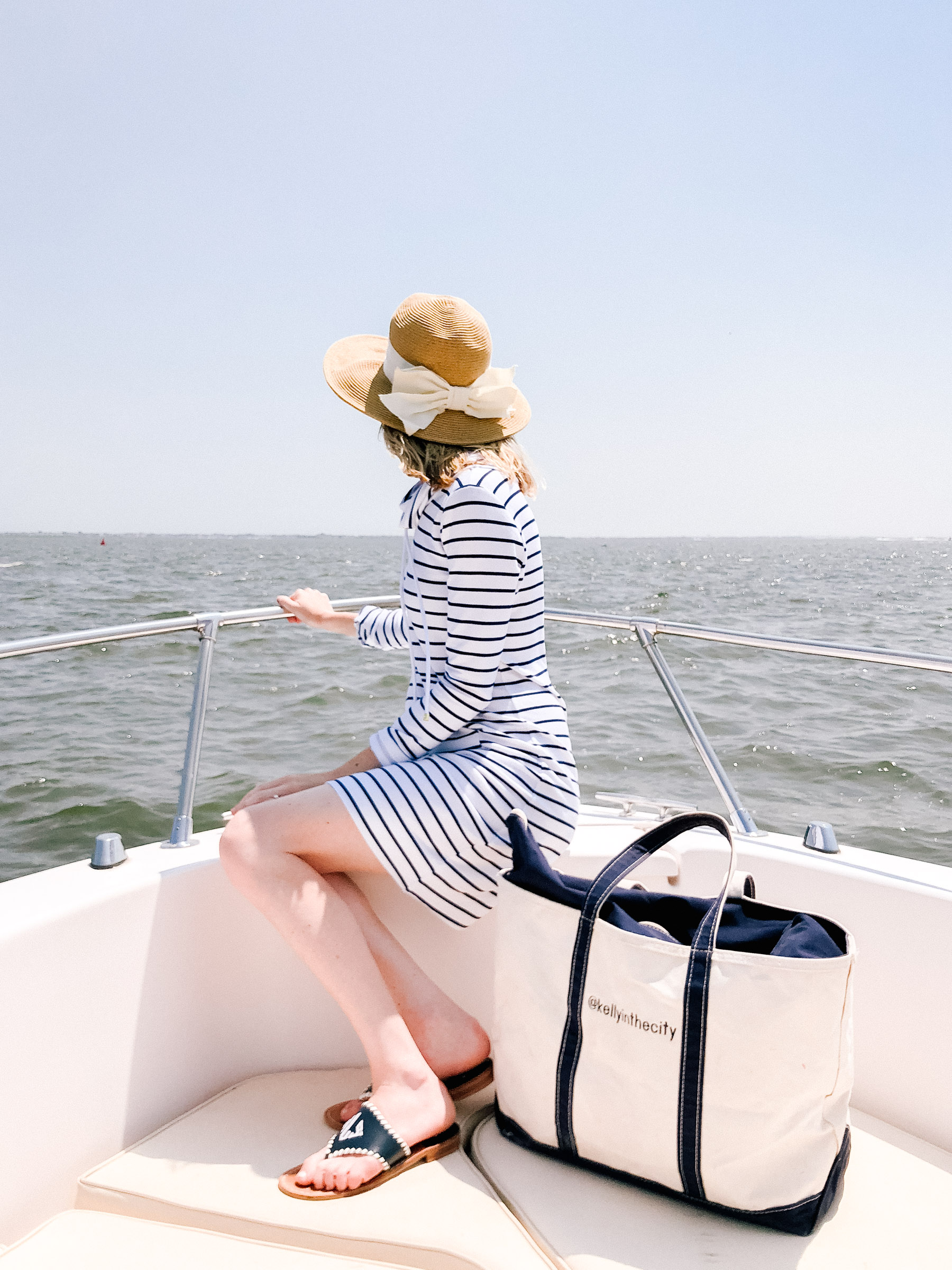 *Old photo. We're safe at home!
Current Favorite Striped Dress  / Jack Rogers / L.L.Bean Tote c/o (It was a gift from the brand, so don't judge me too much with the IG handle, haha.) / Tuckernuck Packable Hat

Highlighting a few great long weekend sales today:
Style
"Lauren" Jack Rogers: Amazing price! One of the comfier styles, in my opinion.
Platinum Jack Rogers: Even better price.
L.L.Bean tote: Couldn't live without ours. It's a family staple.
J.Crew slide slit jeans: LOVE THESE. They look like boyfriend jeans on me.
J.Crew gingham pants: What?!
J.Crew linen tee: Have wanted to try this (in white) for a while now.
Bamboo bag: Adore. And the fact that it's now hands-free!
Sailor cable knit sweater: Isn't this adorable?
Scalloped coat: One of my favorite coats. Perfect for fall!
Chambray shirt: Timeless.
Wide-leg soft jeans: THESE ARE PHENOMENAL. If you've been wanting to try the trend, start with these because they're so soft. They run a little big.
Seafoam Lululemon Align pants: Worth every penny. And some colors are on sale!
"The Shirt": A favorite in my closet.
Navy bow-back dress: A classic dress you'll have forever.
Patterned bow-back dress: But this one. SIGH!
Everyday black dress: This one, too.
Floral dress: How fun! Great housedress or in-your-garden number.
Madewell skinny jeans: Madewell is my #1 jeans brand. Great deal!
Madewell white skinny jeans: And in white.
Button-front dress: LOVE this! So simple.
Striped linen tee: Can't get enough of linen tees.
Soft tweed sweatshirt: For lounging at home.
Softblend sweatshirt: Ditto.

For kids
Banwood balance bike: This is a great deal! This is how Emma is learning how to ride a bike.
Bunny bean bags: We love these. They immobilize children, haha.
Play kitchen: A gift from my parents. Beautiful.
Projector: Bring the movies home! Amazing family activity.
Foam blocks: Lucy got these for her birthday and she plays with them all.the.time. Emma, too.
Teak stool: We have these in the girls' bathrooms; safest we've found! We also love how they look.
Trunk: The girls' play trunk!
Canopy bed: Dream beds. They MAKE the girls' rooms.
Bunny wallpaper: This is the peel-and-stick wallpaper in Emma's bathroom.
Noodle shirt: I mean…
Baby shark towel: Such a cute gift!
Jack Rogers: YES! Sadly, they don't carry the version with the back anymore. But these are adorable and would be great for older children!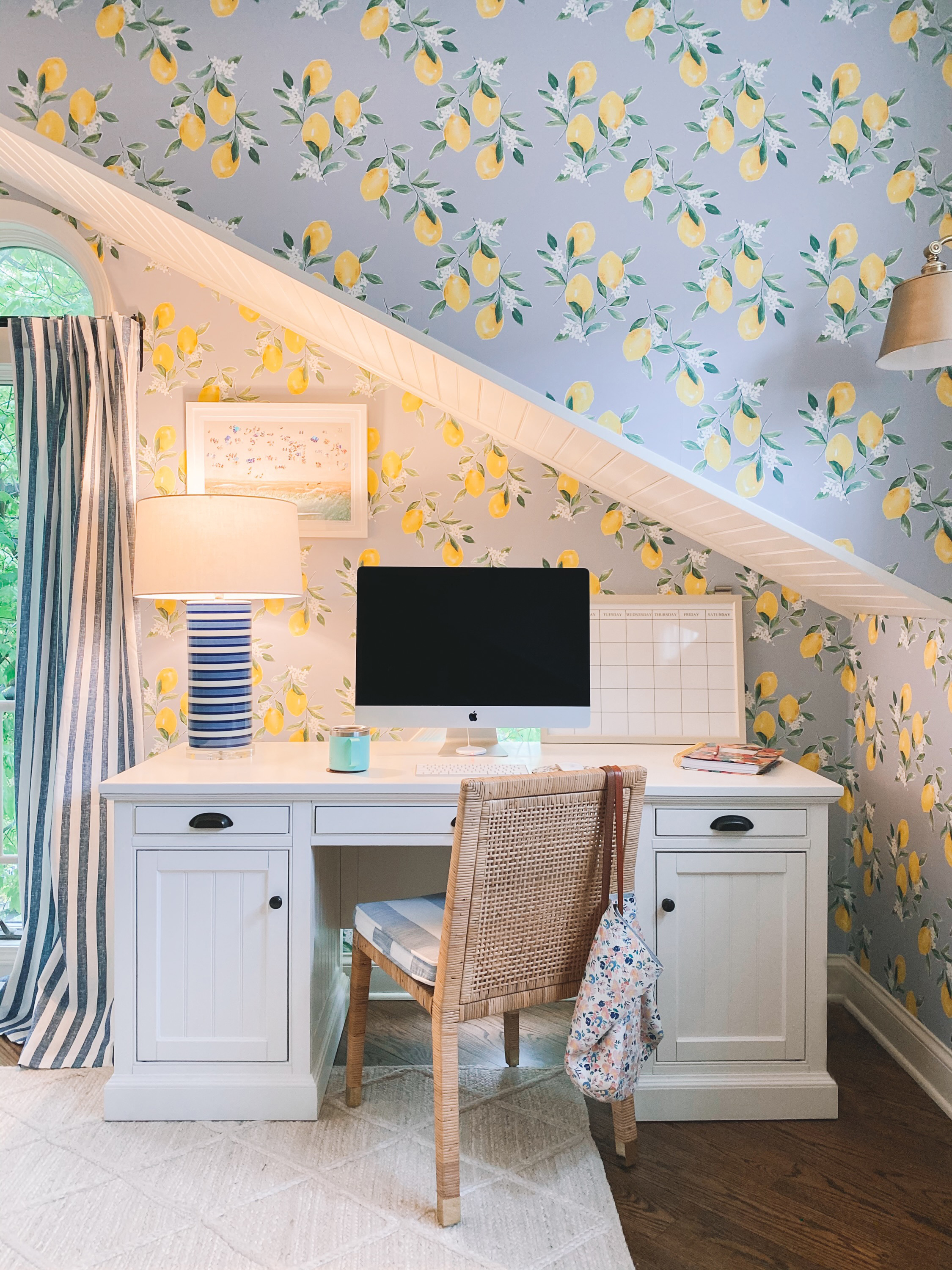 Desk / Rug / Gray Malin Print (Thank you SO much to Gray Malin for this!) / Brooke & Lou Lemon Wallpaper / Chair (Older chair from IG here.) / iMac / Lamp / Calendar (Clearly brand new. 😂 Also love this one.) / Day Designer Planner / Coasters / Striped Curtains / Sconce / Yeti Mug / Tote

For the home
Large wooden duck and small wooden duck: Don't even get me started, haha. I've given them to everyone and now I have them, too.
Little Nomad Everly mat: Use code "CLASSIC20." We love this thing! It's super thin but super durable and you can fold it up and shove it under the stroller. Game-changer.
Dyson vacuum: This is our vacuum! Crazy good deal.
Cornhole set: If you're turning your backyard into a summertime oasis right now, this would be such a fun activity!
Bamboo tray: So pretty, right?! Great for lunches and dinners outside.
Chinoiserie soap dispenser: My mom gave me this for Mother's Day! So in love. Thank you, Mom!
Chinoiserie planters: We have these on our patio. They held up great during this past Chicago winter!
Marble coffee table: We had this in our old house and loved it.
Cane dining chairs: Our dining chairs!
Secretary desk: We have this in our foyer. Kind of looks like an antique!
Tic Tac Toe: Fun for kids, pretty for mom.
Spindle chairs: We have spindle chairs as well. These are stunning!
Down comforter: We have these down comforters in all our bedrooms.
Tortoise coasters: I use these in my office.
Hooked whale mat: My mom has this in her Shore house and I've always loved it!
Container Store Linus line: These are the containers I got to organize our kitchen desk. They haven't come yet but I'm excited!
Adirondack chairs: Another great yard addition.
Nautical sheets: Omg.
Decorative basket: Organize, organize, organize.
Cane basket: Wish this were still available. :(
Faux fiddle leaf fig tree: We have one in our hallway and it really makes the space!
Croquet set: Could be fun! My grandparents had a set growing up and we really loved it.
Whale cribbage: Such a good price! I think there was a far more expensive set circulating a while ago.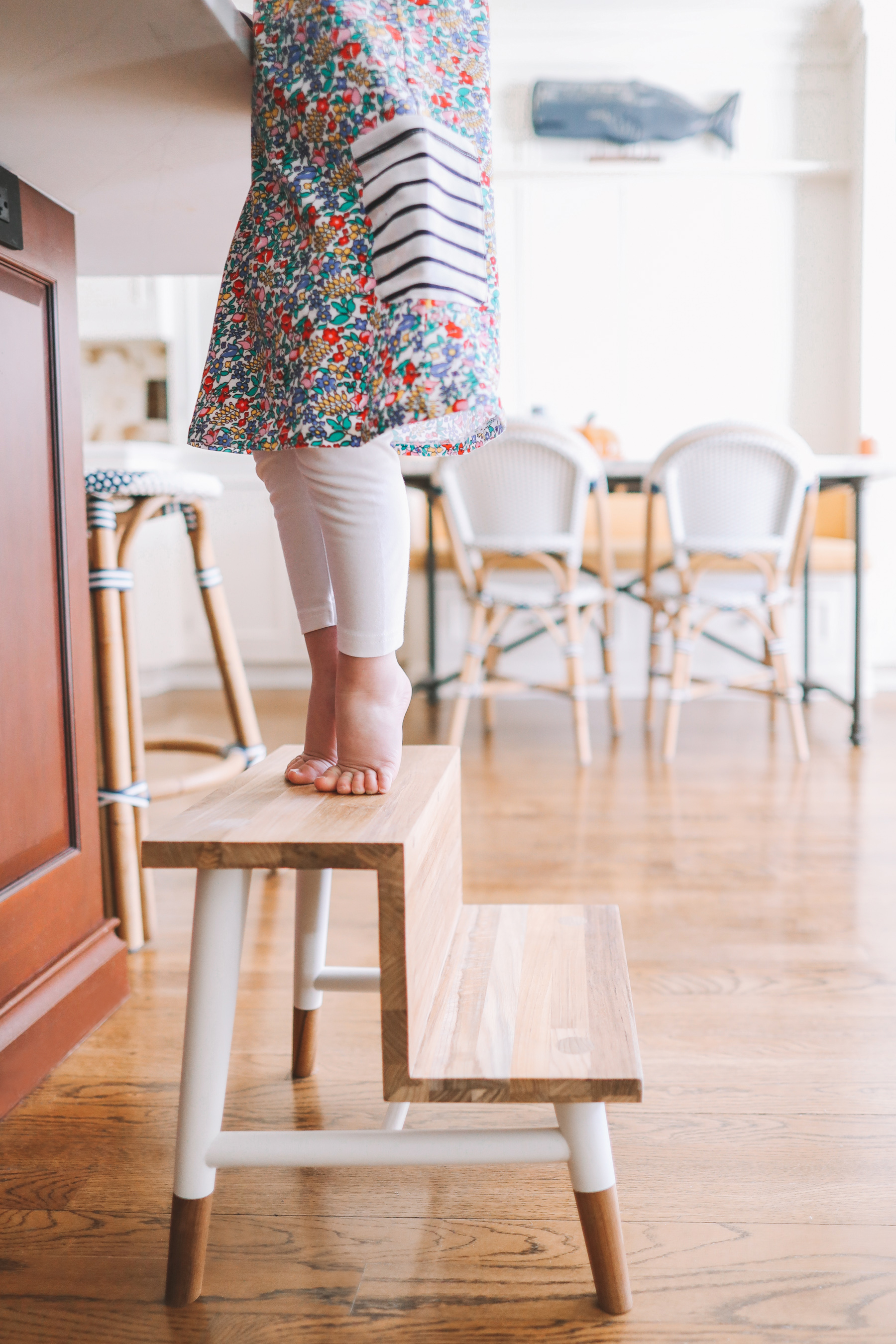 Serena & Lily
Trunk: We use this as a toy chest. It's so well made and it closes extremely slowly, so little fingers never get hurt.
Riviera line: In general, such an amazing line. We have a lot of it in our home because it's so easily mixed and matched with other pieces. So versatile!
Chandelier: This was an investment, but it makes the dining room, in my opinion! Such a great statement piece.
Westport duvet: So soft. Best duvet cover we've ever had.
Jute rug: This is in our dining room! A very good deal for a rug.
Teak step stool: Again, love this thing. So well made and safe for kids.
Outdoor kids' chair: We just got these for our deck! They're metal and plastic so you don't have to worry about it.
Outdoor kids' table: And this is the picnic table.
Kids' Riviera chair: Play chairs. Too cute, right?!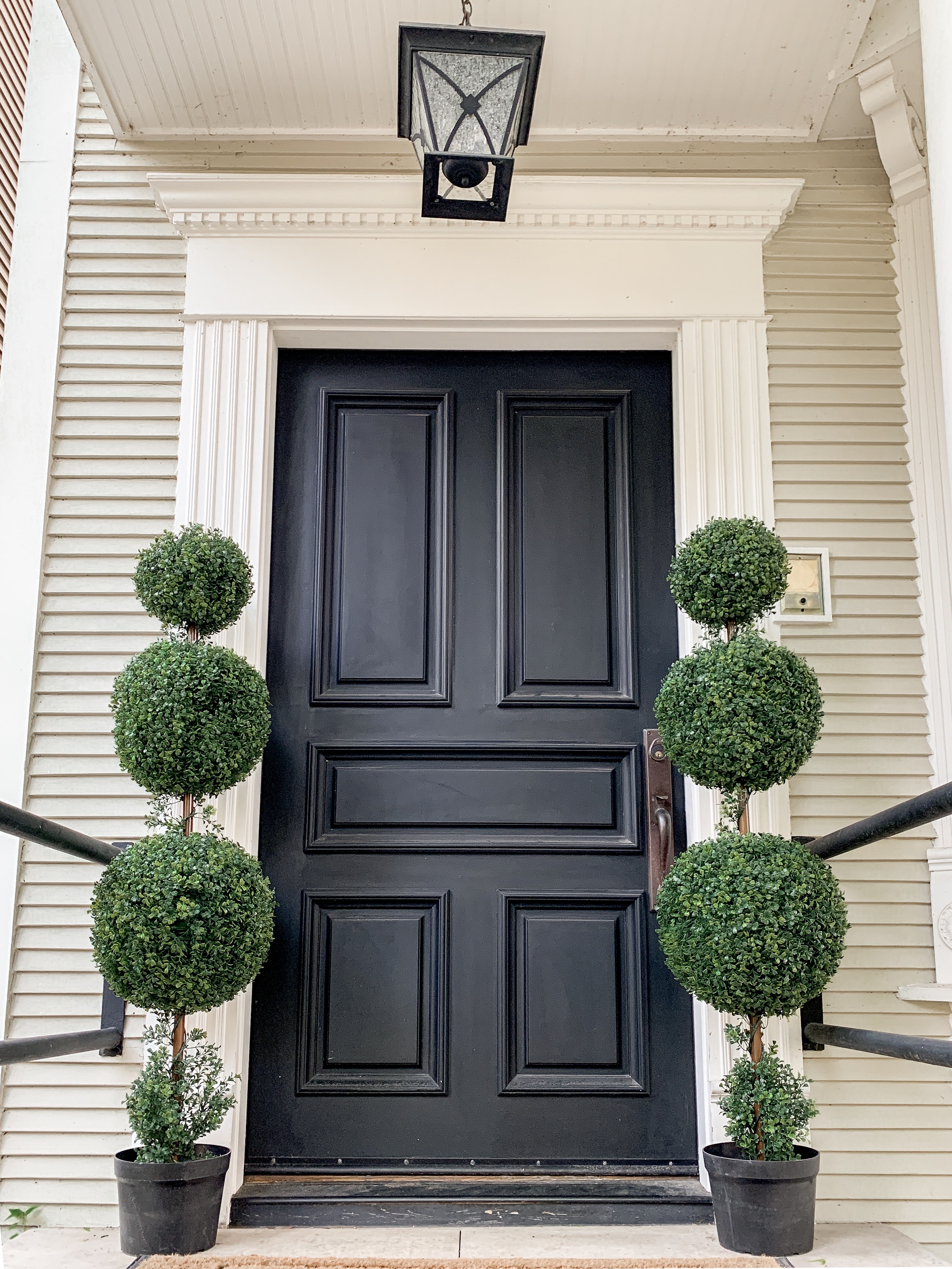 *Old pic. We've since cleaned, haha!

Wayfair
Our dining room table: We took a chance on this but so glad we did! Love the finish, and kids really can't destroy it. Comes in three colors.
Our dog crate: Why did it take us so long to ditch the metal crate and get a nice one?! Such a big difference.
Our playroom sconces: Aren't these so pretty?!
Our living room end table: We have this between the spindle chairs in the living room.
Our outdoor sconces: Just upgraded to these.
Console table: Thinking about this for our hallway upstairs!
Our scratch-proof leather Chesterfield sofa: It's ACTUALLY scratch-proof. Can't recommend it more. Looks a zillion times better than it does in the photo; I think that one was computer-generated?! The leather (in Steamboat Chestnut) is stunning!
Darby Home faux boxwood topiaries: We use these outside because we can't keep real plants alive.
My striped office couch: Love it! Brings some personality to the space. And you can't beat the price for a custom piece.
Pineapple door knocker: Going to put this on the door to the garage even though that makes NO sense. I bought it when I thought we were moving to Charleston, haha.
Preserved boxwood wreath: Love this!
Faux boxwood wreath: But got this since it's plastic and let's be serious, I need plastic. ;)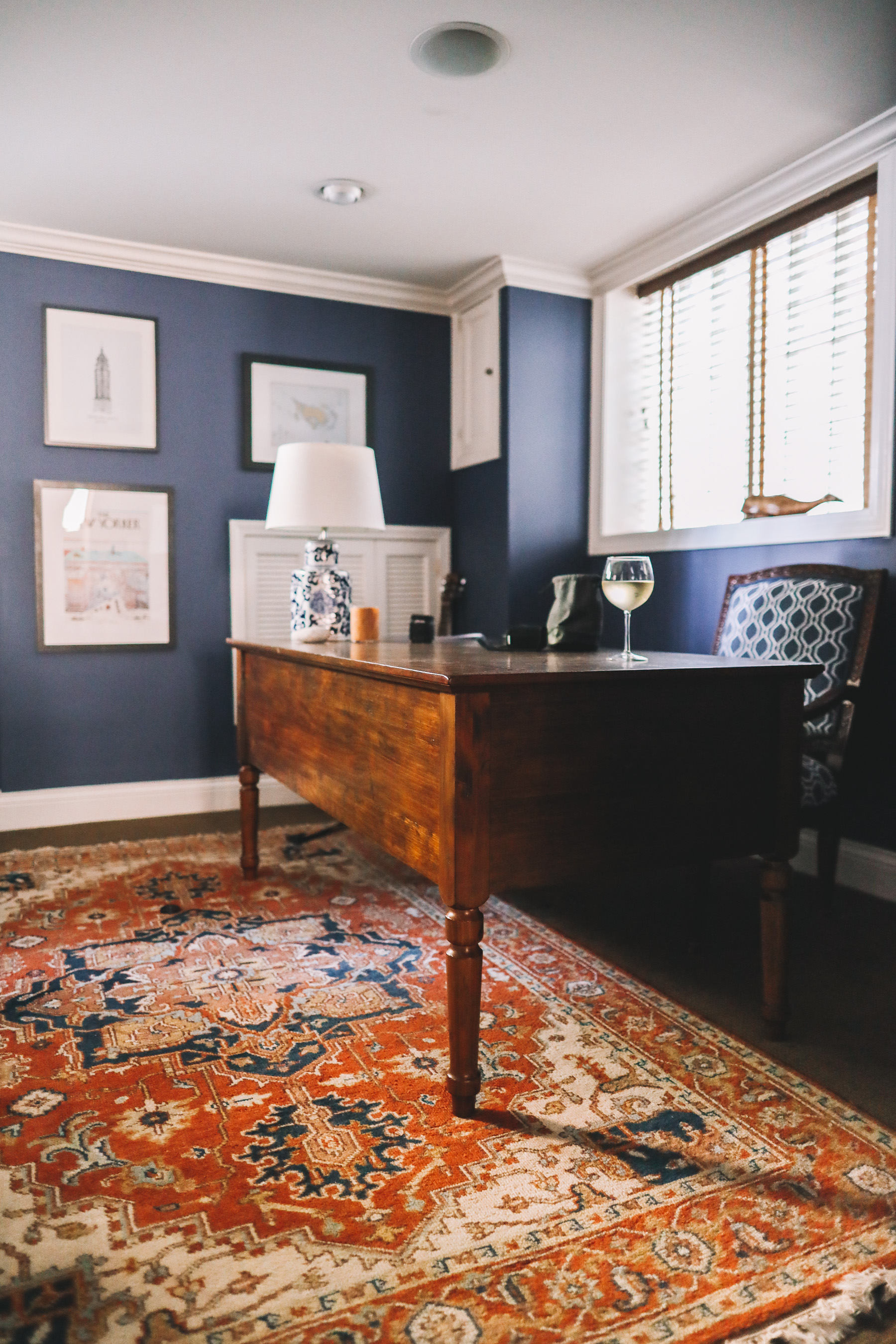 Pottery Barn
My desk: It's as amazing as it looks. Can't recommend it more.
My wipe board calendar: This has been helping during quarantine!
These stunning sconces: These were the inspiration for the basement lighting.
Mitch's desk: This thing is gorgeous. Mitch loves it. So much workspace.
My office sconces: Aren't they cute?
Classic stripe pillows: We have these outside.
Hurricane candle holders: And these in our dining room!
Master bedroom sconces: They're beautiful.
Striped curtains: Such a great deal! Have them in my office.
Faux magnolia + lemon wreath: Really cute for spring and summer.
Faux boxwood wreath: Year-round.
Indoor/outdoor sconce: Need to replace one sconce on our deck so maybe this?!
Savannah baskets: Thinking about these for downstairs toy storage because the dimensions work for a weird shelf.
Murano lamp: We have a similar lamp in our living room.
Brass lanterns: These are on our patio! They're insanely beautiful!