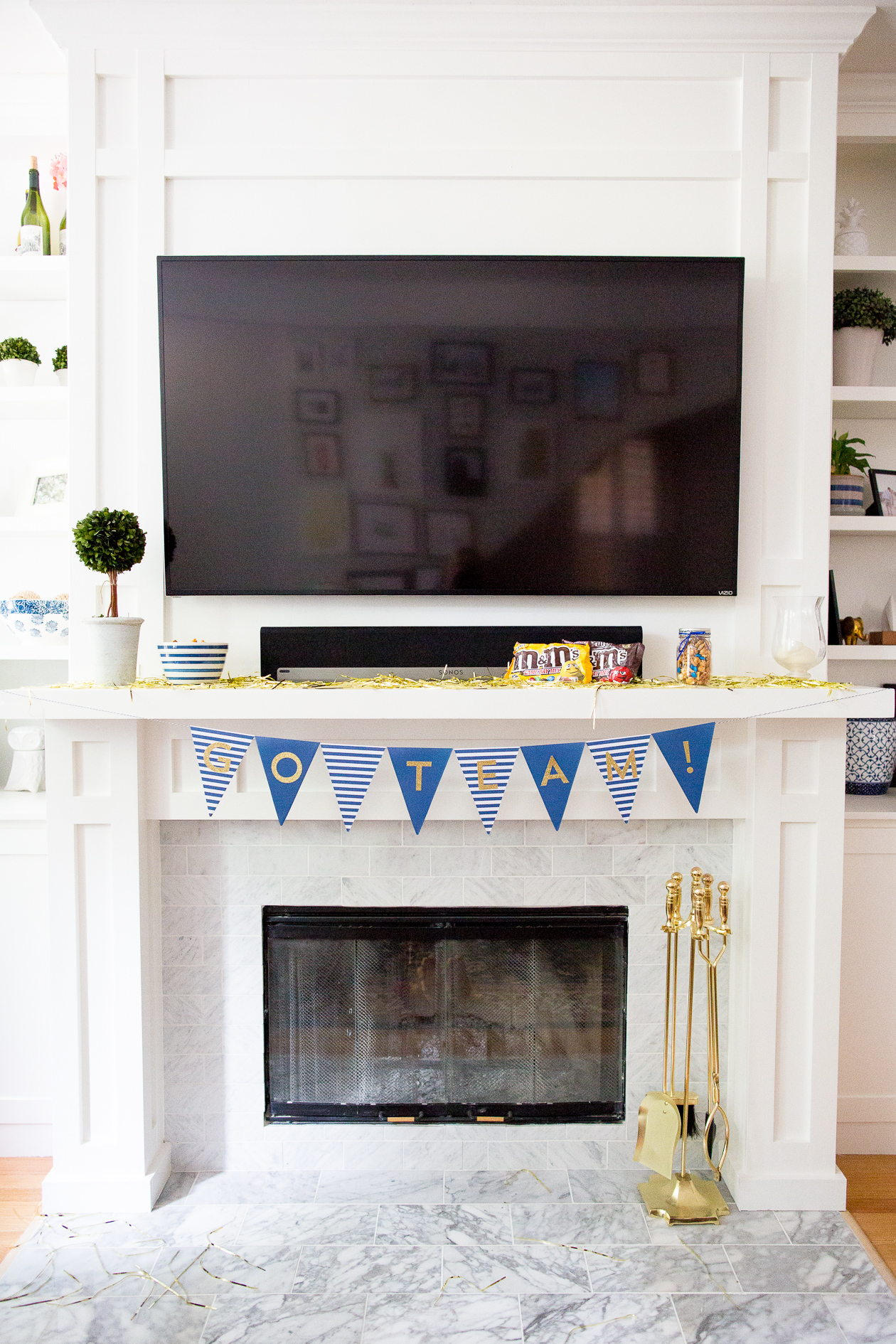 This post was sponsored by M&M'S®, but all opinions are my own. As always, thank you so much for supporting the partnerships that keep Kelly in the City up and running!
Let's just put this out there: I know nothing about sports. Yes, I played field hockey and lacrosse when I was in high school, but I made the teams by the skin of my teeth. And yes, I love following gymnastics, but it's not televised very often, and I kind of have to beg Mitch to watch it with me when it is. ;)
That said, I love football season. While I may not enjoy watching the actual games, I love having them on the television in the background. I love having the windows open, with the cool, crisp air flowing into the house. I love having friends over, the smell of game day appetizers, and the sound of cheering that can be heard up and down our block. Even for someone who isn't a fan, football season is a blast.
As Mitch went to the University of Illinois and we now live in Illinois, you'd better believe that we're Fighting Illini fans! Admittedly, they're not the best, but there's something about rooting for the underdog. And so many of our friends are Illinois fans, which makes parties extra fun.
As the season is upon us, here are my best tips for throwing a quick and easy (and fun) football party. I promise they'll make for a great time, even if you're not super into sports!
Make fun snacks
Short on time? M&M'S® Brand Milk or Peanut Chocolate Candies Game Day Mix (exclusively available for a limited time at CVS) is a lifesaver, as you can mix it with nearly anything. Not only that, the candies themselves are colorful and feature football imagery, and therefore double as decor! (Sometimes I separate the blue ones from the rest of the bag, and use them to decorate. But I might be a little crazy, haha.)
For this party, I integrated the M&M'S® into snack mixes that I put in decorated popcorn boxes and mason jars. I used corn cereal, pretzels, caramel popcorn, peanuts, miniature breadsticks, rye chips and–of course–the M&M'S®. These treats are always popular because each guest can simply grab one, and the mess is minimal. I also love how quick and easy the "recipe" is! If I'm in a bind and don't have much time to get snacks together, M&M'S® Brand Milk or Peanut Chocolate Candies Game Day Mix is a guaranteed crowd-pleaser. That said, I also think the candies would be great to use as toppers for other desserts!
If you're searching for last-minute entertainment ideas, you can stop in at the nearest CVS and pick up your own M&M'S® Brand Milk or Peanut Chocolate Candies Game Day Mix for a quick and creative solution.
Decorate
Now that we have Emma and spend a lot more time at home, I've gotten pretty into DIY projects. I love going to our local craft store; it's a manageable trip from our home, even with a baby… and it gets me out of the house! It's also really nice to have something relaxing and mindless to do while I'm feeding Emma.
Recently, I made a bunch of decorations for our next Fighting Illini party. My absolute favorite was the banner, which was super easy. While I bought pre-cut triangles because I'm often working with one hand, you can easily cut your own triangles out of construction paper. I used pre-cut glittery sticker letters to write "GO TEAM" across the banner, and used twine to string it across the fireplace. I also picked up some blue-and-white striped napkins, some gold tinsel, and some felt football stickers to put on… well, everything. Finally, I used the M&M'S® Brand Milk or Peanut Chocolate Candies Game Day Mix, popcorn boxes and mason jars as decor. While the crafts totaled no more than $30, I think they add so much to the party atmosphere!
Dress the part
The Larkin family is always clad in University of Illinois jerseys (and onesies). I used to think that sports attire was super expensive, but I've learned that you can find affordable gear if you just know where to look! I'm a big fan of using Amazon and eBay (which is where we got a onesie for Emma), but there are also a few shops in our neighborhood and in Wrigleyville that have great deals. Encourage your guests to wear the team's gear, or at least wear the team's colors. Believe me: it adds excitement to the party!
Other ideas? Leave them in the comment section below!