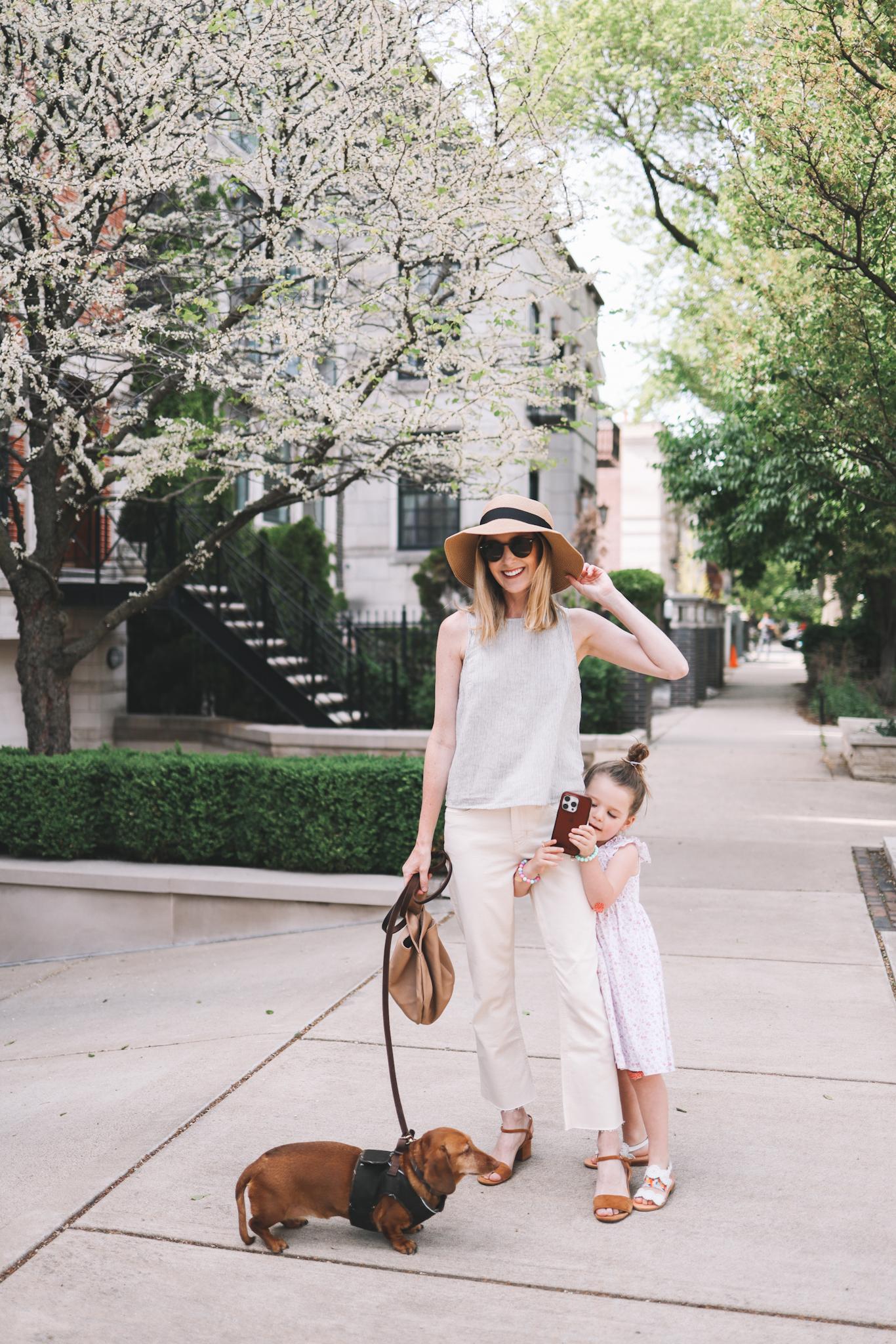 Lucy taking a photo of Mitch because he's taking a photo of us. ;)
Linen Button-Back Top (Comes in so many different colors!) / Ecru Demi-Boot Jeans / Sandals / $23 Amazon Packable Sun Hat / Amazon Bag / Lucy's Dress and Sandals / Noodle's Harness
A tad off-topic, but I can't wait to share my little DIY mudroom facelift with you. It's all I can think about. 😆 We have an extremely small "mudroom," which is really just an entryway with a deep coat closet, off the back of the house. And while we feel very lucky to have a spot to kick off our shoes, the space isn't very functional, and we've actually suffered a couple of falls because there just isn't enough room for both girls to safely unload their stuff at the same time.
So this past week, I got inspired and Mitch and I ripped most of it out, including the shelving, closet doors, granite ledges, and tile baseboards. What a rush, haha! (But seriously.) Our plan is to install a bench and hooks in the closet so the girls can safely take off their shoes and hang up their backpacks. And to spruce the place up a bit, we're putting down new floors and putting up wood wall paneling (among a few other updates).
I'm fully aware that this is going to be a slow-moving project, as we're learning as we go. But so far so good, and we're thrilled about how much money we're going to save since we're doing it ourselves! As a homeowner, I also just want to have some of these skills. It's time. ;)
Anyway, when I'm not covered in tile dust and floor primer, I'm wearing this. 😜 A few details:
Linen Button-Back Top: How CUTE is this little affordable number?! I've been bitten by the linen bug this year, and it's always nice to find quality linen pieces that don't break the bank. This is one of them. I love the classy buttons down the back, and the fact that it comes in so many different colors. Runs slightly large; I went down a size.
Ecru Demi-Boot Jeans: These jeans are perfect. Truly. I love white jeans as much as the next gal, but the natural color of this pair adds interest and looks great with white tops. (I'll totally wear white jeans and white tops, but the contrast the natural pair provides is  lovely!) Take note that these also run slightly large. I think I probably should have down a size.
Sandals: I'm wearing an older version of these sandals, but guys. You need them. They're the only heeled sandals I own because they're so comfy and go with everything! (I even wear them to summer weddings.) They have a chunky low heel that provides comfort, and the suede adds texture to outfits. Huge fan. TTS, but I always go a half size up in sandals because why not? ;)
$23 Amazon Packable Sun Hat: I'm a Peter Beaton Girl, through and through. But I wanted one to leave at my parents' home, and couldn't justify another Peter Beaton. This $23 Amazon hat is perfect, though!
Amazon Bag: I got this bag after seeing my cousin Sammy carry it on Nantucket last summer. It's only $39, and it's even cuter in white. Sam has the best taste.
Lucy's Dress + Sandals: Petite Plume is a Chicago-based women-owned company we adore so much, and Jack Rogers brought back their wonderfully comfy toddler sandals. (They're velcro now!) Huzzah.
Noodle's Harness: We transitioned Noodle into a harness this year as she's getting older and we're worried about the typical dachshund back injuries. But I think she looks adorable in it!
xoxo
Shop the post:
Linen Button-Back Top (Comes in so many different colors!) / Ecru Demi-Boot Jeans / Sandals / $23 Packable Amazon Sun Hat / Amazon Bag / Lucy's Dress and Sandals / Noodle's Harness