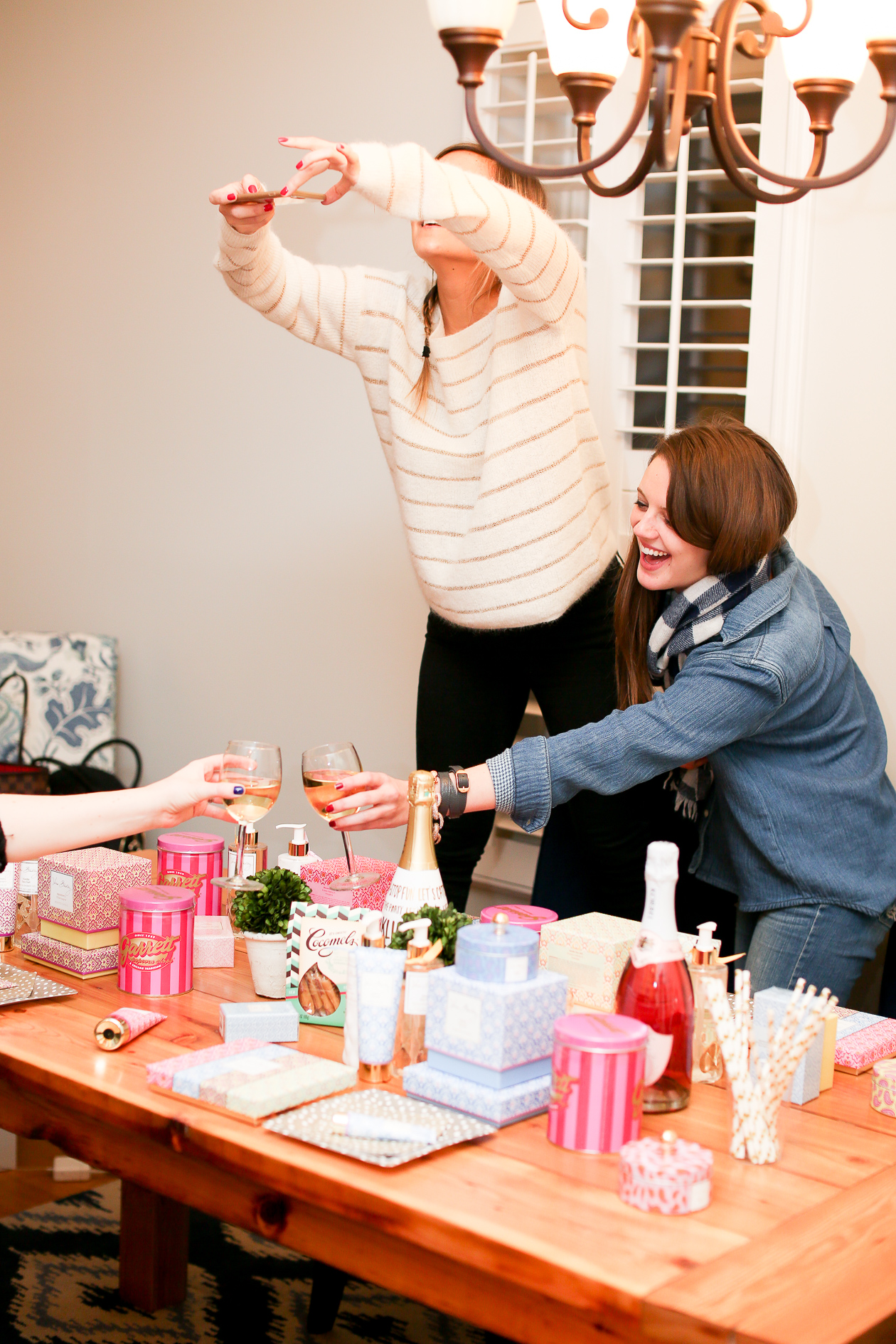 [dropcap]O[/dropcap]n Wednesday night, I had a few of my best Chicago girlfriends–Jess of The Golden Girl, Maya of Charmingly Styled, Lauren of Lakeshore Lady and Kit of The Kittchen–over for a little party to celebrate the launch of Vera Bradley Fragrance: a beautiful new line of scents, candles, soaps and lotions.
I have to say: mad respect for Chicago residents who've been able to maintain positive outlooks over the last two weeks. Because it's been rough! And to be honest, I'm not sure what I would have done had my favorite ladies not joined me on Wednesday night. Wait, yes I do. I would have crawled back under my down comforter, haha.
Anyway, what a fun night! Amidst the laughter, chatter and cheers-ing, I think we almost forgot about those single-digit temps. ;)
But first, I should mention how absolutely amazing Vera Bradley's new fragrance line is. The girls and I spent a long time sniffing and testing out the various products, and I think we all fell in love with a different scent. We tried out four fragrances: Vanilla Sea Salt, Macaroon Rose, Appleberry Champagne and Cotton Flower… my favorites being Vanilla Sea Salt and Cotton Flower. So pretty! And you know how smell is closely tied with memory? Vanilla Sea Salt brought me back to the the Jersey Shore, and Cotton Flower brought me back to springtime in Lincoln Park. Sigh. We can do this, Chicago!
Below are some of our favorite products. We loved how beautifully packaged they are, making them perfect gifts for the special women in our lives, and we couldn't get over the quality! I've been using the hand cream religiously because I've been suffering from dry skin lately, and lighting the candles–which take my home from smelling stuffy to fresh nearly instantly–daily. And the shower gel and body lotion? They've been making my morning routine so much nicer.

For dinner, I made homemade pizzas, complete with fresh dough, mozzarella and veggies. (This was a serious feat for me, as my friends are outstanding cooks, I burn everything. #Success!) There were macaroons and caramels, and a whole lot of wine and champagne. And SO much Garrett's Popcorn. (If you've never tried it, order it now. Heavenly!) Midweek pick-me-ups are the best.
Oh, and I can't forget about Noodle. She was on cloud nine in the girls' laps, and she even insisted on sitting at the table with us. Normally, I don't allow her to do that, but it was just too funny. And, I mean, it was a girls' night. So… ;)
What do you guys have going on this weekend?! Mitch and I are off to a lake in Wisconsin for a little getaway, and we're seeing my cousins who are visiting from Long Island. Can't wait!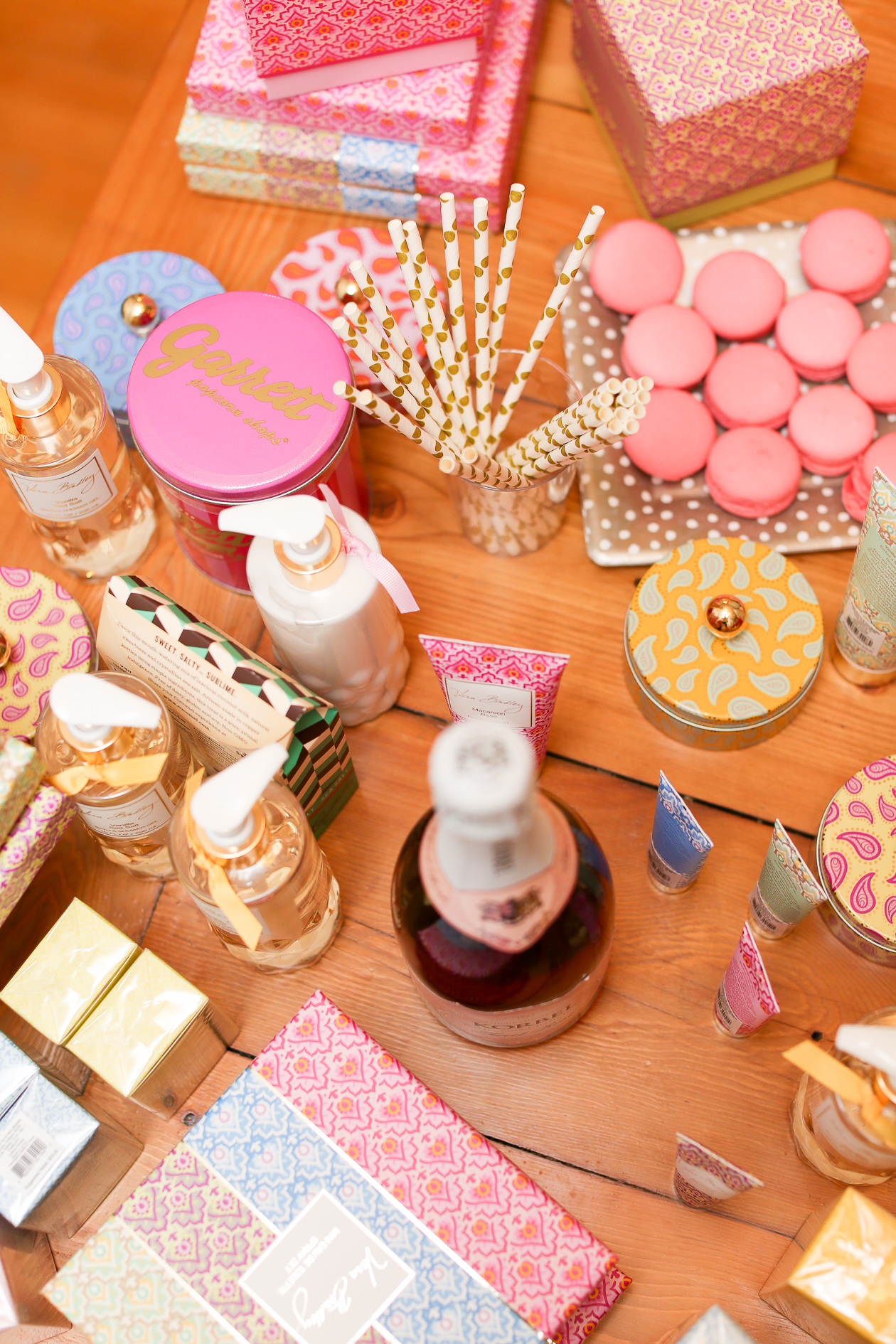 (Mitch made the dining room table, and the chairs and rug are from Pier 1.)
(Oops. Really need to get my hair highlighted!)