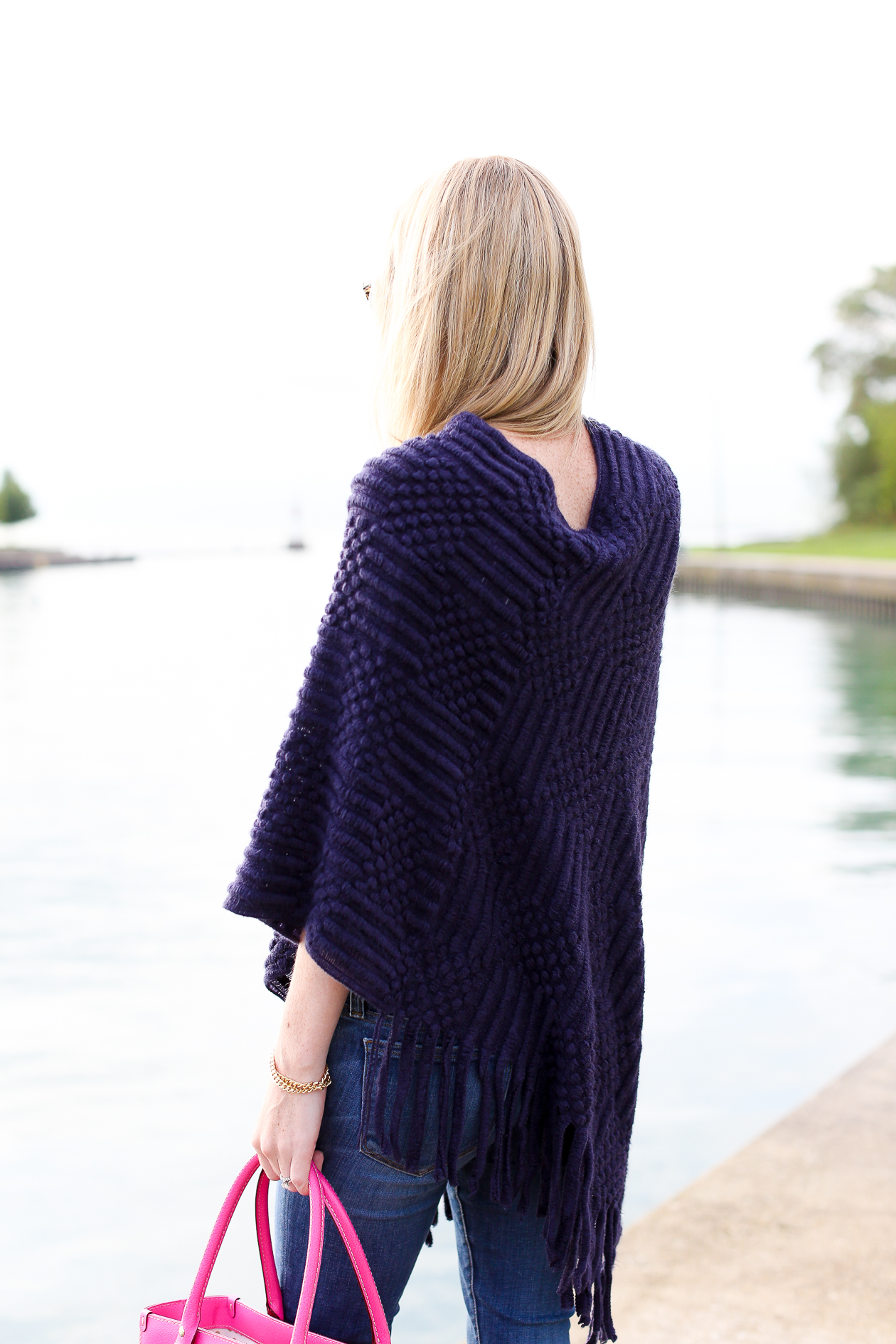 Unplugging and spending time on the harbor with Mitch is one of my favorite weekend activities. :)
INC Poncho c/o Macy's / J.Crew Jeans / Hush Puppies Booties c/o  (They're insanely comfy! Couldn't recommend them more!) / Emma McKinstry Bracelet c/o / Moon and Lola Earrings c/o Tuckernuck / Kate Spade Sunglasses (Old, similar here and here)
If I've learned anything over my last year of full-time freelancing, it's that I need to unplug every few days. While I definitely get my fair share of "field time," I find that it typically comes in spurts: one week I'm out of the house every day; the next, I'm holed up at home, stuck behind a computer for 10+ hours at a time. It's those weeks that the unplugging is so crucial, and as I just wrapped up a two-weeker, this girl is itching to get out!
That said, I've found that telling myself to walk away from the computer at 5 p.m. on Fridays is far easier than actually doing it. I almost always bite off more than I can chew, and it's the end of the week when I really start to feel it. If I don't wrap up the work I've committed to, it'll hang over my head over the weekend and make for an absolutely hellish Monday morning. And if I don't meet certain deadlines, welp–I simply don't get paid. And, you know, #mortgage. ;)
I love working from home. It's much less stressful than what I was doing in New York, and I genuinely think my happiness is at an all-time high because of it. (There are obviously a lot of other contributing factors, but it's playing its part, for sure.) And while working from home comes with SO many perks, it also presents its own set of unique challenges. One of the biggest ones? Unless the stars align and I can somehow get it all done during normal business hours, I find myself working nights and weekends–time that I'd much rather spend with my husband and friends.
Yesterday was one of the first Fridays I had in a long time when I managed to "get it all done." Heck, I even wrote this post before logging off for the weekend! (Edit: But forgot to schedule it, haha.) And while there were a few panicky moments, I think I learned a very valuable lesson: I'm only capable of so much, and realistic scheduling is crucial. I can't cross 35 tasks off my to-do list in a day, so I shouldn't make a to-do list with 35 tasks on it. I also need to treat every day like it's Friday: what are today's most crucial tasks? What absolutely needs to get done?
Something that worked for me this week was creating daily and a secondary to-do lists, and trying my best to cross off one or two tasks from the secondary list every day. Dedicating chunks of time to each task has helped, too. (For example, from 9 to 10 am, I'm editing photos and sending to client. From 10 to 11 a.m., I'm responding to emails and handling contracts and invoices. From 11 to 11:30 a.m., I'm walking and playing with Noodle.) Having set times to check email has also increased my productivity. (Anyone else feel like Gmail is such a time-suck?!) Oh! And working at coffee shops once or twice per week has helped with cabin fever, and having set working hours has been great. (I'm trying my best to work from 8:30 a.m. to 6 p.m., though not returning to my computer around 10 pm has been quite the struggle.)
Of course, stuff comes up, and the best laid plans of humans and dachshunds often go awry. (September makes me miss teaching!) My basement floods, or an opportunity that I can't turn down presents itself. Maybe a family member comes to visit, or my website breaks and I have to commit a couple of days to its restoration.
C'est la vie.
But finding a balance between work and life is ridiculously important, even if my job has a lot to do with life, and my life has a lot to do with my job.
Does any of this make sense? If not, it's because I'm writing this on Friday aaaaaand I've had two glasses of wine. ;) Do you have any productivity tasks to share? I've love to hear how you guys "get it all done"!
Over and out, Friends. I'm unplugging!