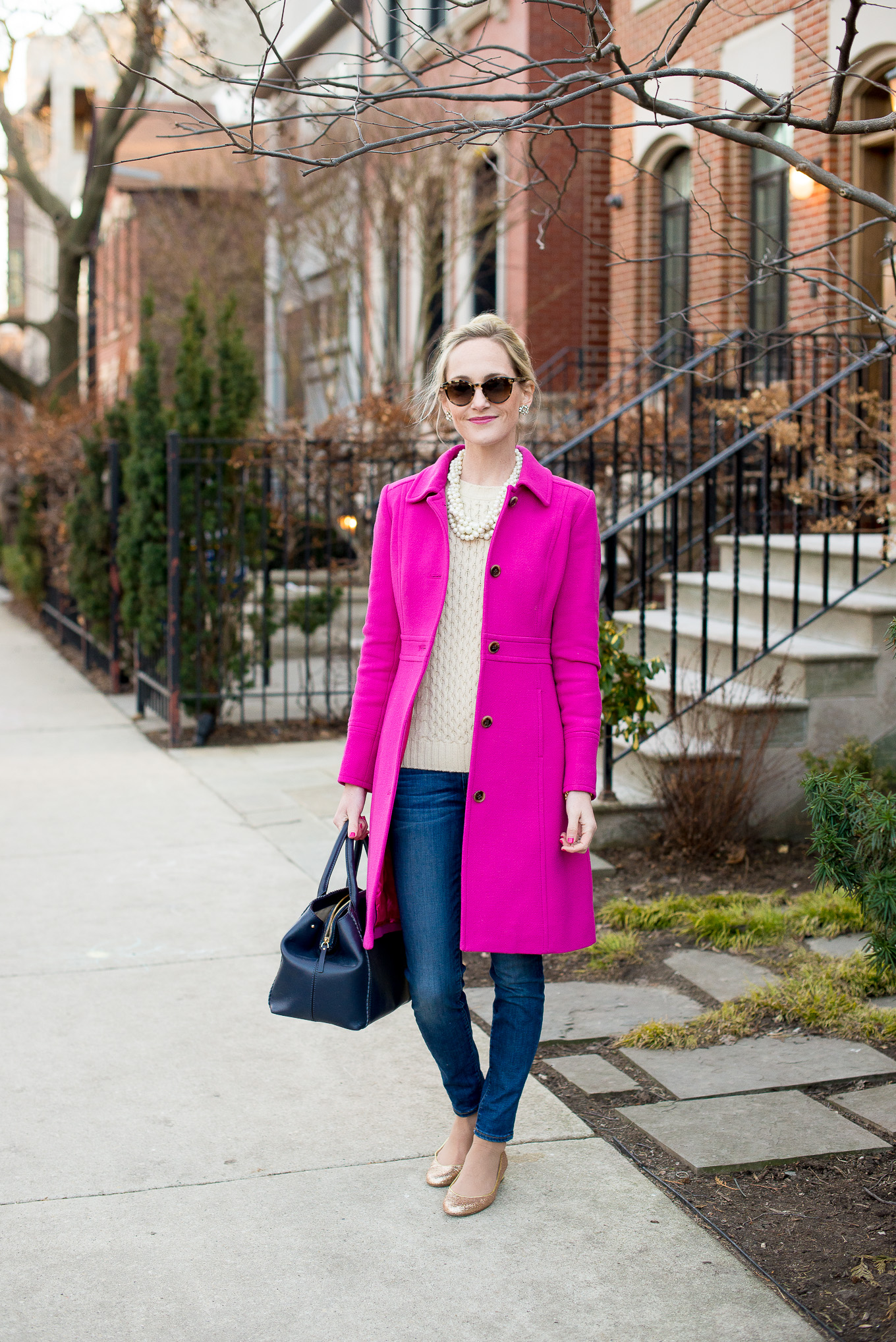 J.Crew Lady Day Coat, Janey Flats (Old, similar here and here, and obsessed with these J.Crew scalloped flats!), Pearl Necklace and Toothpick Jeans / Kate Spade Sunnies (Old, newer styles here) and Scalloped Bag (Old, newer scalloped Kate Spade products here) / Joyiia Elephant Bracelet (c/o) / Shokay Sweater (c/o) / Moon and Lola Carnegie Earrings (c/o)
Well, my friends… Chicago has been blanketed in many inches of snow once again, and this girl is feeling down in the dumps about the whole thing. March 16th was such a tease. (Remember this post?) So let's throw it back to last week, when I was under the impression that winter was over.
Sigh.
One of the many reasons I love spring is because I can break out my wool coats. I've talked about this before, but I'm definitely not someone who can get by without her puffer during the winter months. It's practically surgically attached to me from late October to mid to late March, and I hate that. It's not exactly the prettiest thing, and I tire of it quickly. But my pink J.Crew Lady Day Coat that I got on clearance right before I started this blog? Swoon.
Colorful wool coats are the best! I only have two–this pink one and a purple one from J.Crew Factory from my college years–and I can only wear them when on 30- and 40-degree days. Which, in Chicago, are a rarity. (We get two weeks, tops, of this weather before it's too warm to even wear a coat!) But they make me so happy. Especially when everything around me looks so dreary.
Next week, though, temperatures are projected to be in the 40s and 50s. So pink J.Crew Lady Day Coat, get ready. We're hittin' up the town!
;)